Rawpixel - Fotolia
New integration brings Fuze meetings to Slack app
Users will be able to join Fuze meetings by clicking on the phone icon in Slack. It is Slack's latest integration with a voice and video meetings provider.
An integration unveiled this week will make it easier for Slack users to launch and join Fuze meetings. Zoom Video Communications Inc. rolled out a similar integration with Slack over the summer.
Slack is increasingly making it clear that it intends to incorporate voice and video capabilities into its team messaging app through integrations and partnerships, rather than by attempting to build the technology on its own.
Fuze Inc.'s announcement also underscores how big a player Slack has become in the business collaboration industry. Fuze, a cloud unified communications (UC) provider, opted to partner with Slack, even though it sells a team messaging app with the same core capabilities.
The integration lets users launch Fuze meetings by clicking on the phone icon in Slack, instead of typing a command. They will also see details about an ongoing meeting, such as how long it's been going on and who's participating.
Furthermore, Slack's Microsoft Outlook and Google Calendar apps will let users join scheduled Fuze meetings with one click. Slack previously announced support for that capability with Zoom, Cisco Webex and Skype for Business.
No formal partnership
Slack gave Fuze special access to the set of APIs that made the latest integrations possible, said Eric Hanson, Fuze's vice president of marketing intelligence. But the companies later clarified there was no formal partnership between them.
The vendors apparently miscommunicated about how to frame this week's announcement. Within hours on Tuesday, Fuze updated a blog post to remove references to a "partnership" with Slack, instead labeling it as an "integration."
In contrast, Slack and Zoom signed a contract to align product roadmaps and marketing strategies earlier this year.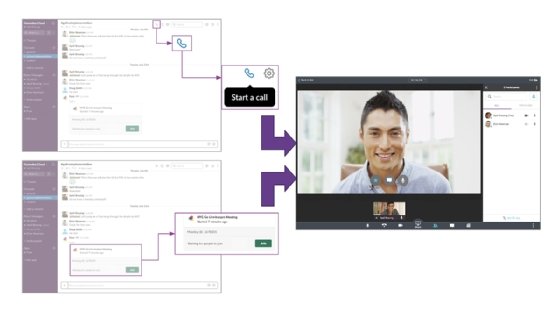 In the future, Fuze hopes to give users the ability to initiate phone calls through Slack. Previously, Slack said it would enable such a feature with Zoom Phone, the video conferencing provider's new cloud calling service.
Slack declined to comment on any plans to expand the Fuze integration.
"There are still some things that Slack hasn't made available through this set of APIs yet," Hanson said. "They have a roadmap in terms of where they want to take this."
Making it easier for users to pick and choose
The voice and video capabilities natively supported in Slack are far less advanced than those available from main rival Microsoft Teams, an all-in-one suite for calling, messaging and meetings. But users want to be able to easily switch between messaging with someone and talking to them in real time.
By integrating with cloud communications vendors like Fuze and Zoom, Slack can focus on what it does best -- team-based collaboration -- while still connecting to the real-time communications services that customers need, said Mike Fasciani, analyst at Gartner.
"One of Slack's advantages over Microsoft Teams is its ability and willingness to integrate with many business and communications applications," Fasciani said.
Fuze also competes with Microsoft Teams. Integrations with Slack should help cloud UC providers sell to the vendor's rapidly expanding customer base. Slack now has more than 100,000 paid customers, including 720 enterprises that each contribute more than $100,000 per year in revenue.
"Even though Fuze has its own [messaging] app, it doesn't have anywhere near the market share of Slack," said Irwin Lazar, analyst at Nemertes Research. "I think this shows Slack's continued view that they don't want to compete directly with the voice/meeting vendors."