Sergey Nivens - Fotolia
Google announces G Suite overhaul with Google Workspace
The new Google Workspace will let people use Meet or Chat to collaborate on projects while working in the office suite's other products, including Docs, Sheets or Slides.
Google has overhauled G Suite to let users work together seamlessly on projects. The redesigned office productivity suite, now called Google Workspace, is designed to provide project teammates with real-time communications while working on documents and presentations.
Announced this week, the software will let users collaborate without shuffling between apps in the suite, including Gmail, Docs, Slides, Sheets, Chat, Meet and Calendar. Google plans to roll out Workspace over the next few months.
"[It's] everything you need to get anything done, now in one place," Workspace General Manager Javier Soltero said in a blog post.
Within Workspace, users will be able to open and work in tools such as Docs, Slides or Sheets directly from Chat. They will be able to boot up video conferencing service Meet without leaving a document -- a feature the company is calling "picture-in-picture."
Users will also tag other users with @ signs within documents instead of just in comments. Hovering over the @ symbol will show a "smart chip" with user contact information and suggestions like "Share Documents." And instead of having to open up the documents, users will be able to preview them by hovering over the links with their mouse.
"Overall, I think it reflects a better integration among the different applications," said Nemertes Research analyst Irwin Lazar. "It reduces the need for people to task switch."
Workspace comes four years after the rollout of G Suite and months after Google updated its Gmail interface to include business messaging, team channels and video conferencing.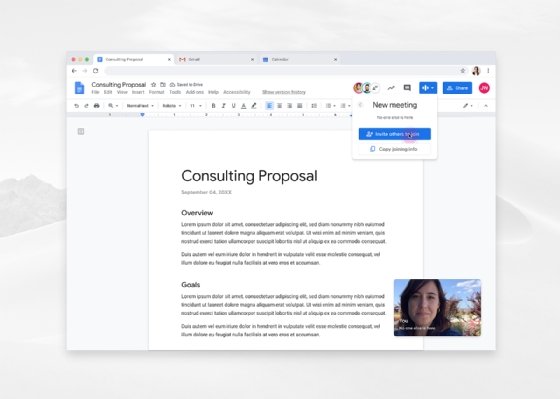 According to analysts, Google's latest effort is meant to better compete with Microsoft 365 and win over more paying customers. G Suite has 2.6 billion users every month, but only about 6 million are paying customers. Microsoft has 75 million paying customers.
While businesses have favored Microsoft 365, startups and educational institutions have turned to G Suite's lower prices and cloud-based environment. With Workspace, Google is trying to build a more competitive product, Techanalysis analyst Bob O'Donnell said. "[But] I think they have a ways to go."
Workspace shows Google placing more emphasis on its collaboration applications, which is more in line with where the industry and its competitors are heading, Lazar said. Before the latest release, Google focused too much on its email client, Gmail.
"While the rest of the world has moved to a team messaging-centric way of collaborating, Google has been stuck on email," Lazar said.
According to Lazar's research, companies that adopt a team messaging-centric way of collaboration have lower costs and record "measurable improvements" in productivity, sales and customer service. The collaboration apps also provide an easier way to communicate than email.
With the introduction of Workspace, Google added a fourth pricing tier for the productivity suite. The Business Plus plan costs $18 per user per month and supports 250 participants in video meetings. It also comes with 5 TB of cloud storage per user.
Google also dropped unlimited storage from its Business Standard plan. Instead, customers get only 2 TB of cloud storage per user for the same monthly subscription fee.
As part of the switch to Workspace, the logos for Gmail, Drive, Meet and Calendar will change to include the red, blue, yellow and green colors of the Google logo.