p0temkin - Fotolia
Google to roll out new privacy settings for Workspace
Google will soon provide controls for turning off Workspace app features like smart compose, smart reply and tabbed inbox in Gmail to allow for more user privacy.
Google plans to roll out new settings for Workspace that will let users disable all smart features at once in the office productivity suite. The move gives users more control over their privacy as Google faces criticism for its handling of user data.
Google announced this week that it would roll out the new controls for Workspace apps over the next couple of weeks. The settings will affect reply and writing suggestions in Gmail, Chat and Meet, and automated email sorting in Gmail. Other features turned off by the settings include reminders when bills are due in Google Assistant and restaurant reservation options in Google Maps.
While turning off each of these features was already an option, the new settings let users turn them all off at once by disabling the machine learning engine that drives them. Users have complained that the ML technology compromises user privacy by tracking users' behavior and habits.
Maalika Manoharan, a product manager at Google, wrote in a blog post that the company designed the smart features to help people save time while using Google Workspace apps. Manoharan assured users that Workspace products are "secured by design" and played down the new settings' privacy aspect.
"Because smart features rely on your data to save you time and provide a more helpful experience, we want you to use them because you find value in using them, not because they're simply there," Manoharan wrote.
Raul Castanon, an analyst at 451 Research, said the changes addressed users' privacy concerns while also making the Workspace products seem less invasive.
"It's an important step for public relations, [but] I don't mean it is just for their image," he said. "The argument that they present for using information sharing is a very compelling argument."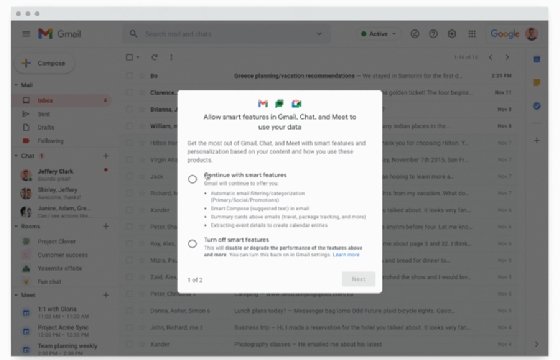 Nevertheless, Google faces several lawsuits for alleged privacy violations. A class-action lawsuit seeking $5 billion was filed in June, which accused the company of tracking search engine users even when they had turned on its incognito mode. In July, another lawsuit alleged that Google followed mobile app users after they had turned off web activity monitoring. The suit accused the company of violating federal wiretap laws and California privacy law.
Google's smart feature updates follow a recent overhaul of what was formerly known as G Suite. Google Workspace, the new name for the product, provides interoperability among Gmail, Docs, Slides, Chat and Meet. Google also recently announced that it is discontinuing its unlimited data storage, a popular feature of G Suite.