georgejmclittle - Fotolia
UC trends revealed in top news stories of 2017
Take a look at the top UC news stories that affected the industry in 2017 -- from the growth in the team collaboration market to vendor mergers and acquisitions.
Microsoft migrating Skype for Business to Teams, Avaya filing for Chapter 11 bankruptcy protection and Slack unveiling...
Continue Reading This Article
Enjoy this article as well as all of our content, including E-Guides, news, tips and more.
an enterprise-grade team collaboration platform were some of the headlines that dominated the unified communications and collaboration market this year. These stories reflect the UC trends in a rapidly changing market that is shifting toward cloud and team-based collaboration.
As 2017 comes to a close, take a look back at the top five news stories that reflect the UC trends and topics most important to enterprise decision-makers and IT leaders.
1. Microsoft Teams to replace Skype for Business
Microsoft dominated UC news this year with the announcement that Microsoft Teams would replace Skype for Business Online as its core communications tool within Office 365.
Skype for Business customers will have to re-evaluate their UC strategies, as they might have to overhaul their infrastructure for the migration to Teams. IT leaders also voiced their concerns about the telephony tools in Teams. End users, too, may need additional training to help them adjust to the new interface.
In October, Microsoft released a roadmap that offered customers insight on the Skype for Business features that will be rolled into Teams over the next year, such as audio conferencing, call queues and voicemail.
The Teams migration has led to speculation about how Microsoft might further consolidate overlapping features in its collaboration portfolio, such as possibly replacing Outlook and Yammer with Teams.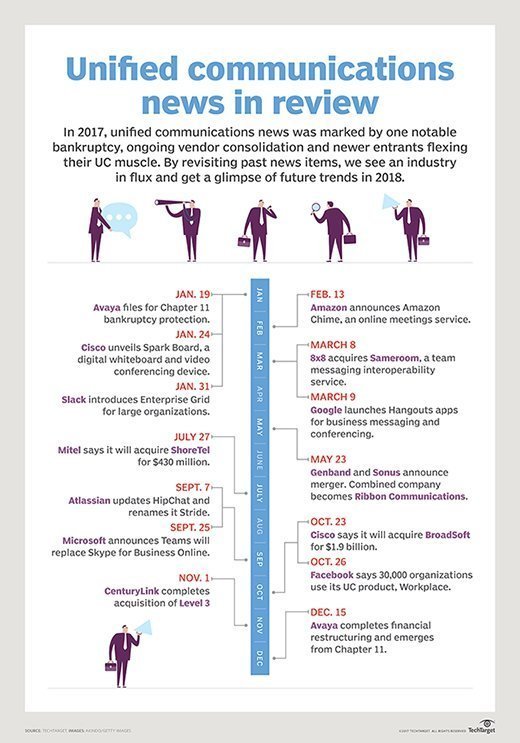 2. Avaya files for bankruptcy
Longtime business communications provider Avaya filed for Chapter 11 bankruptcy protection in January, as it faced a $6 billion debt and declining revenue in a market shifting from hardware to software. The UC vendor planned to revamp its portfolio to focus on software, cloud and managed services.
However, the bankruptcy filing left customers wondering what would happen to their UC environment if Avaya did not exit bankruptcy, or if it sold key pieces of its portfolio. With four possible outcomes of the bankruptcy filing, many customers were creating backup plans to prepare for the worst-case scenario.
In November, the bankruptcy court approved Avaya's plan, and the vendor officially emerged from bankruptcy in December.
Avaya will re-enter a competitive UC market dominated by Microsoft and Cisco. The vendor saw declining revenue, as organizations balked at buying their products amid the bankruptcy. Avaya could be buoyed by its presence in the growing markets of communications platform as a service and unified communications as a service (UCaaS) with its wholly owned subsidiary, Zang.
3. Cisco boosts Spark capabilities
Cisco was a top UC topic this year, with several developments around its cloud-based product, Spark. In January, Cisco announced the Spark Board, an interactive display screen and video conferencing system. The Spark Board can also be used as a whiteboard or presentation screen for a laptop or mobile device. Cisco's Spark Board aims to compete with Microsoft's Surface Hub.
In March, Cisco unveiled hybrid video conferencing hardware, the Spark Room Kit and Room Kit Plus. The hardware is controllable through the Spark Cloud or Cisco on-premises UC equipment.
In May, Cisco announced it was acquiring AI vendor MindMeld for $125 million. Cisco plans to integrate MindMeld technology with Spark for voice-activated personal assistants.
In August, Cisco made security updates to meet requirements for organizations in regulated industries, such as healthcare, government and finance. The updates include content protection for mobile devices, legal-team access to all documents and messages, and on-premises deployment of Spark Key Server for data encryption and decryption.
4. Vendor acquisitions and market consolidation
Vendor consolidation remained a top UC news item in 2017, with several vendors acquiring or merging with other companies.
In May, Genband and Sonus announced the two companies were merging to create a provider that would support communication service providers and enterprises as they transition to cloud-based communications. The combined company rebranded as Ribbon Communications in October.
Mitel made two acquisitions to boost its cloud offerings. In May, the vendor acquired Toshiba's UC assets, which included small and large customers with a mix of on-premises, cloud and hybrid deployments. In July, Mitel said it was acquiring ShoreTel for $430 million to double its cloud business and support hybrid cloud UC deployments.
In October, Cisco announced it would acquire BroadSoft for $1.9 billion. Cisco has traditionally focused on larger enterprises, while BroadSoft catered to the SMB space. The acquisition lets Cisco offer a cloud communications portfolio that can support organizations of all sizes. However, the acquisition could create conflict with BroadSoft's partners that compete with Cisco offerings.
In November, CenturyLink completed its $34 billion acquisition of Level 3. The two companies will merge under the CenturyLink brand. The merger has left questions of what will happen to Level 3's UC partnerships, which include Unify Square and Amazon Chime.
5. Cloud-based team collaboration gains momentum
As one of the major UC trends in 2017, the team collaboration hype train rolled through 2017, with new offerings entering the market and new capabilities to boost adoption across organizations. Slack, for instance, released its enterprise offering, Slack Enterprise Grid, which offers regulatory compliance, security and added integration with other business apps.
Slack and Teams unveiled new capabilities to support collaboration with external users. Slack added shared channels that are public and can be set up by an administrator to work with third-party apps. Teams' guest access lets administrators add to Teams anyone listed in an Active Directory account in Microsoft's Azure cloud.
Google released Hangouts for business apps, which include chat for team messaging and video and audio conferencing. Google has had an inconsistent track record in the enterprise and is playing catch-up to Microsoft, Cisco and Slack. Amazon also entered the cloud UC market with Chime, a conferencing and collaboration service. While Amazon faces competition from the major UC players, the company could gain market share through the clout and financial prowess of delivering Chime through Amazon Web Services.
Cloud UC continued to be a top UC trend in 2017, as adoption grew among organizations of all sizes. A report from IHS Markit found on-premises UC usage will shrink as organizations consider private cloud, UCaaS and hybrid deployments -- a trend expected to continue in 2018.