Definition
user environment management (UEM)
User environment management is a technology designed to allow IT to oversee a user's complete desktop experience, including the profile, any policies IT applies and customizations the user makes.
The software allows IT administrators to control all of the personal and corporate settings, personas, access controls and more that are unique to each user on their Windows desktops. This includes aspects such as display, folder and application settings.
User environment management software pulls out the policies, data and settings from the operating system and applications from a centrally managed location, and stores them to an individual user profile. This process creates a personalized environment for each user when they access their desktops -- whether the desktop is virtual or not. It even allows for personalization in nonpersistent deployments.
IT administrators can also use the data from user environment analytics to better adapt desktops to fit users' needs.
What goes into managing an environment
User environment management typically offers a GUI for IT to control permissions on multiple levels, from the individual user to groups or departments to specific applications and geographic locations. IT can also work with user environment management tools to disable certain peripheral devices, prevent users from consuming too many resources and override Group Policy. In addition, IT can create logon scripts that enforce certain security policies.
A user environment management tool can translate a user profile so it works across multiple versions of an operating system. It can also give users elevated privileges for specific applications and for specific periods of time.
How user environment management evolved
IT can manage user profiles with tools such as folder redirection and Group Policy, but these measures are all encompassing. If IT denies a user administrator privileges, for example, he is denied across the board even though he may need privileges in a specific application or in a certain circumstance. The larger the user base gets, the easier it becomes to have contradicting Group Policies.
Roaming profiles, which allow for a central file system to hold the information of a user's profile and policies -- or user environment -- without downloading multiple profiles onto one hard drive, are another approach. Roaming profile management can get complicated as organizations grow and add more profiles, which bloat as users personalize their desktops.
The need for something more effective than these built-in Windows methods made room for third-party profile management software, and the term user environment management expanded upon profile management around 2007.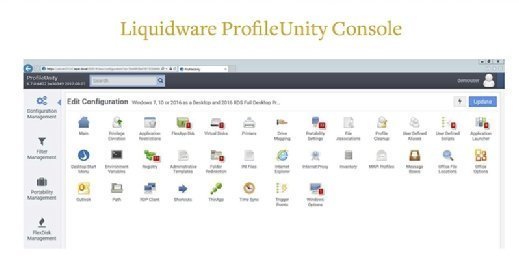 User environment manager software
Citrix acquired Norskale to improve user environment management in XenDesktop and XenApp, and renamed the software Workspace Environment Management. VMware bought Immidio and RTO Software, changing Immidio to VMware User Environment Manager. Finally, Microsoft has UE-V.
Liquidware, AppiXoft's Scense Workspace Management and Ivanti -- formerly LANDesk -- with AppSense and Workspace Control powered by RES are a few other tools available.
This was last updated in
April 2018
Continue Reading About user environment management (UEM)
Dig Deeper on Virtual desktop delivery tools