Definition
Microsoft Log Parser Studio
Microsoft Log Parser Studio is a front-end utility that features a graphical user interface, report builder and query repository for Microsoft's Log Parser application.
Log Parser is a free command-line tool that can run queries based on SQL syntax against log files for diagnostic and troubleshooting purposes. Administrators can also use Log Parser to examine data sources from the Windows operating system, such as the Windows registry; Internet Information Services (IIS); Exchange; and other applications to locate specific entries or conditions.
Log Parser Studio builds on the capabilities of Log Parser and comes with more than 180 pre-defined queries. The Log Parser Studio GUI features a number of icons tied to specific actions, such as "show chart" and "export CSV." Administrators can write, execute and manage queries in the GUI. The Log Parser Studio can store queries in a centralized repository.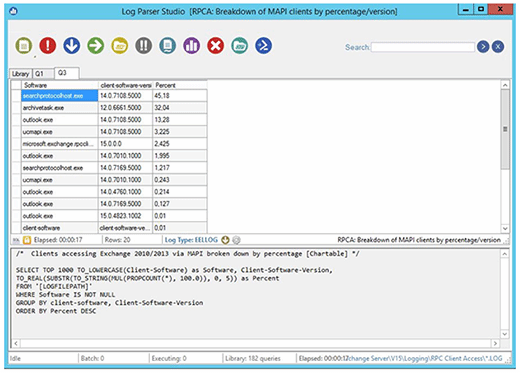 Log Parser Studio provides other features and functionality, including the ability to import multiple XML files; context-aware searching; support for all Log Parser formats; support for Exchange logs, such as EEL and EELX log formats; the capacity to export queries as PowerShell scripts; and query logging, which saves all query work. Log Parser Studio can run a collection of queries in a batch job and execute queries automatically for use in daily reports.
Microsoft released Log Parser Studio in 2012.
This was last updated in
April 2017
Continue Reading About Microsoft Log Parser Studio
Dig Deeper on IT operations and infrastructure management