News
Stay informed about the latest enterprise technology news and product updates.
UMD CIO Forum highlights the role of IT innovation, Web 2.0 potential
Last week at the University of Maryland's 10th Annual CIO Forum, a succession of CIOs from the government, health care and publishing industries described how they are harnessing IT innovation with limited resources during the recession. The featured speakers also discussed what they see as the future of Web 2.0 in the business.
Bipin Patel, CIO of ProQuest, spoke to the audience about the ways that Web 2.0 is changing business and usage patterns at his company. As he observed, "the inflection point [for Web 2.0] has been met and passed. The old model of publishing is gone." So, what has replaced it? "The users themselves – the researchers – are creating information and reacting with each other," he said. "They are the publishers now." They're working collaboratively with their community to identify and feature useful information. As part of his company's Web 2.0 efforts, Patel's team has created an online community for graduate students, where they can publish their dissertations for public view. The online community, called GradShare, has been rolled out in about 30 schools.
Premal Shah, formerly of PayPal and now the president of Kiva, offered another example of how to leverage Web 2.0. He described how the "eBay for microfinance," as he put it, has leveraged Web 2.0 to both sustain innovation and build out features that Kiva's resources could not provide. Kiva has grown rapidly since its founding and now has made more than $100 million in loans from more than 600,000 people, with 103 microfinance partners globally. Shah said the microcredit model is working, citing a 98% repayment rate for Kiva loans, and that transparency in results is crucial to success. "Imperfect credit is OK, but imperfect data is not OK," he said. "The donors of the world want transparency."
"Radical transparency," in fact, was one of three Web 2.0 principles that Shah listed, along with providing an addictive user experience and crowdsourcing against constraints. Since engineering resources were scarce for IT innovation, Kiva opened up its API to crowdsource development. As a result, Kivadata.org is online. Shah said that Kiva now also has about 500 volunteers that work as "virtual translators," helping to translate profiles so that their projects can get funded.
Shah also offered advice on growing Web 2.0 communities: identity the influencers and power users. "Cater to your addicts," said Shah. "Keep short feedback loops."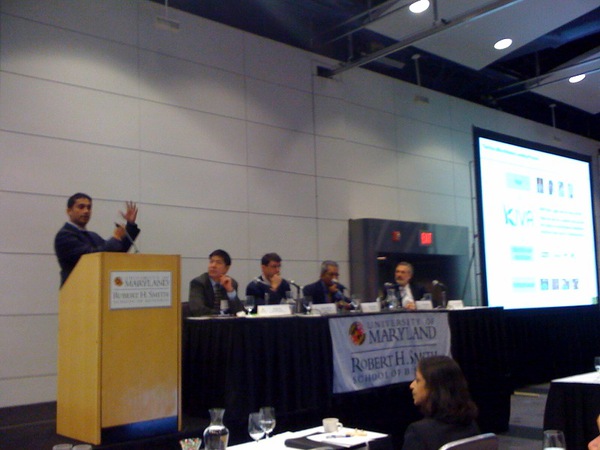 Douglas Abel, CIO of Anne Arundel Health System, focused his remarks on how to manage growing demand for health care at a new health care campus in downtown Annapolis. He's seen success using targeted IT innovation, like bar-coding medicine at the bedside to "check to see if it's the right patient, right dose." Now, as electronic healthcare records (EHRs) enter the system, he says the effectiveness of sharing data depends on standards, identifying bad data and avoiding duplicate records. Should his efforts succeed, Bell said that Anne Arundel Health System will be in the top 10% of automated hospitals. "It's about building an infrastructure that's patient-centric," he said, "not venue-centric."
Web platforms for health care information exchange are growing outside of major hospital systems. David Horrocks, former CIO and president of CRISP, discussed the ways that he's building out Maryland's statewide health information exchange and maintaining privacy. CRISP is Maryland's statewide health information exchange, which moves clinical information electronically among disparate health information systems.
New models for IT innovation in telemedicine also are also emerging. Dr. Sean Khozin presented on Hello Health, a pilot practice in New York that uses a Web-based platform for primary health care. Hello Health requires an in-person initial checkup, after which virtual follow-ups use telemedicine, unified communications and EHRs.