Definition
chief procurement officer (CPO)
What is a chief procurement officer (CPO)?
The chief procurement officer, or CPO, leads an organization's procurement department and oversees the acquisitions of goods and services made by the organization. The CPO ensures that purchases will meet organizational needs while helping to reduce costs, give higher profit margins or both.
The role is strategic, with the CPO establishing the processes and policies used to guide acquisitions throughout an organization. The CPO does not handle each and every purchase. Instead, the CPO is only directly involved in transactions that involve a strategic partnership with a supplier or have high costs.
Moreover, the CPO's policies and procedures determine which acquisitions require the procurement department's involvement and which are handled exclusively by end users. These rules typically require a purchasing department's involvement for complex, expensive and long-term purchase transactions; end users are usually left to handle simple, low-cost and one-off transactions.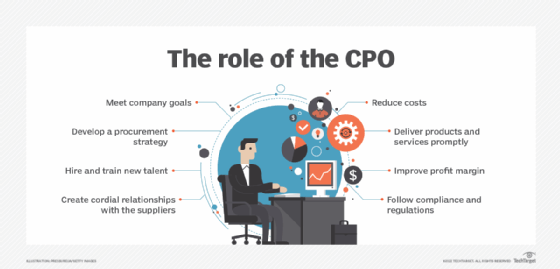 Duties of a chief procurement officer
As key leaders in an organization, CPOs have a wide range of responsibilities and are expected to have various procurement skills. Following are the essential duties of a CPO:
Develop a procurement strategy. The CPO is expected to produce a procurement plan and strategy to reduce and contain costs; evaluate and help select suppliers; ensure excellent supplier performance; oversee and sometimes participate in contract negotiations; guarantee the highest level of ethics in every transaction; and ensure procurement policies and procedures meet internal and external compliance requirement around diversity initiatives, social responsibility goals and other such programs.
Ensure products and services are delivered promptly. The CPO is responsible for guaranteeing diversity of suppliers in terms of numbers and ensuring that supplies continue if a first-choice provider is unable to deliver the needed goods or services.
Manage supplier relationships. The CPO should have great communication skills so they can build and maintain long-term, fruitful relationships with suppliers. This ensures that the organization's supply chain is managed efficiently.
Manage procurement projects and teams. A CPO must lead and manage the procurement projects. This includes managing the procurement staff members and their training, hiring new talent and optimizing their performance and workflows.
Follow compliance and regulations. The CPO must be well versed in regulations and compliance as well as the various laws and requirements governing the procurement process. For example, organizations may have internal policies as well as government requirements around diversity of suppliers to ensure nondiscrimination against minority- and women-owned businesses as well as others.
Align the procurement strategy with company goals. While developing a procurement strategy, a CPO should ensure that it is aligned with the business goals and strategies of an organization. Besides the dollar amount and quality, a CPO should consider other factors as well. For example, while setting up a procurement strategy for a company that represents sustainability and green practices, a CPO should take that into account when researching suppliers.
What training is required to become a chief procurement officer?
The CPO is expected to have, at a minimum, a bachelor's degree in a business or finance discipline, although many organizations also require the CPO to have a master's degree in business, finance, procurement or supply chain management. For example, for one of its job postings, Indeed.com lists the minimum requirements of a CPO position to be a bachelor's degree and preferably a master's degree. Also, more than eight years of experience in a leadership or procurement type of role is required.
Additionally, the CPO is expected to have experience working in purchasing departments and should be skilled in strategic sourcing, decision-making, project management and negotiation, as well as cost and price analysis. While CPOs are considered procurement leaders, they should be able to work collaboratively and across various functional areas, too.
What types of companies have a CPO?
Some procurement departments have hundreds of employees across the globe, while smaller departments may have only a handful of staff members. Depending on the size of the organization, the CPO may oversee a purchasing department that includes purchasing managers, directors of purchasing, contract administrators and purchasing assistants.
The CPO commonly reports to the chief executive officer; however, the CPO at some organizations reports to the chief financial officer, the chief operating officer or another executive or senior vice president position.
The position is most common in larger companies, where the volume of purchases justifies the need for an executive position and staff to handle those acquisitions. The position sometimes has an alternative title, including vice president of procurement and vice president of sourcing. Smaller companies may also employ a CPO, although smaller companies are likely to give the position a different title, such as procurement director or contract manager.
What's the difference between a chief procurement officer and a chief product officer?
The terms chief procurement officer and a chief product officer are sometimes used interchangeably, which can create misinformation. The following is a clear distinction between the roles and responsibilities of each position:
A chief product officer refers to an executive role that leads the entire product department of an organization. The chief product officer is sometimes also referred to as vice president or head of products. The role of a chief product officer is diverse and entails overseeing many facets of production, including product innovation, product vision, product development, project management and product marketing. In tech companies, this position is sometimes also responsible for product distribution, procurement and manufacturing.
In short, a chief product officer is the leader of a product management team who stabilizes the needs of both the product and the business and is involved in all stages of product development -- from inception to beyond the product launch.
A chief procurement officer manages the procurement teams and all aspects of procurement and supply management. Their main duties include managing the overall procurement strategy; producing strategic objectives; balancing a budget; improving the efficacy of processes; ensuring systemic procurement and supply chain improvements; developing goals and keeping track of key performance indicators.
In a nutshell, a chief procurement officer is the manager of procurement teams and is responsible for doing market research, evaluating suppliers and vendors, developing contracts and conducting spend management, which entails obtaining the highest quality resources for the best value.
CPOs are high-level executives who are expected to follow compliance and privacy laws surrounding the procurement process. Learn about the challenges of compliance in a shifting regulatory landscape.
This was last updated in
May 2022
Continue Reading About chief procurement officer (CPO)