Definition
information technology (IT) director
What is an IT director?
An information technology (IT) director is the person in charge of technology within an organization. IT directors manage technology resources and employees to ensure that IT operations run smoothly. They also aim to improve IT processes.
IT directors are responsible for ensuring all parts of a company's IT infrastructure function effectively. This includes managing networks, servers, storage, security and applications.
In some companies, the IT director and the CIO are the same person and the two terms are used interchangeably. In other organizations, the two titles are separate roles. The CIO focuses more on technology strategy while the IT director works with the technology tools.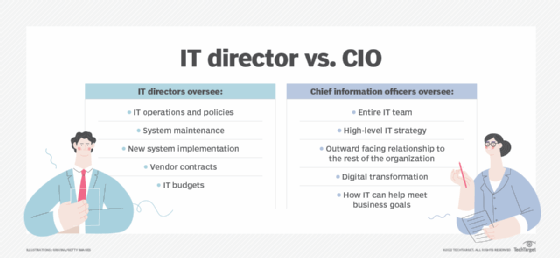 Role and responsibilities of an IT director
To ensure the functioning of IT infrastructure, the IT director must work closely with all parts of the IT organization within a company to ensure they receive necessary resources and function as part of the whole effectively. IT directors also work closely with the chief technology officer (CTO) and other C-level employees to ensure IT operations run smoothly.
Some of the responsibilities of the IT director are the following:
determining and achieving SMART goals for IT systems;
handling capacity planning;
managing IT staff, including hiring, direct supervision, facilitating collaboration among departments and managing employee concerns and performance;
developing cybersecurity strategy, and eliminating security risks and vulnerabilities;
overseeing deployment and upgrades of IT hardware and software;
overseeing IT help desk;
preparing financial budgets and presenting proposals to executives and stakeholders;
coordinating IT tasks, such as software updates, to ensure maximum availability and minimal downtime;
working with external vendors and advisors;
managing networking, development and disaster recovery processes; and
communicating with other departments when there is a problem.
Key skills of IT directors
IT director job descriptions require that they have strong technical knowledge, as well as technical experience in several areas of IT. They also must have solid people management and communication skills.
Some specific skills IT directors need to prioritize include the following:
Budgeting. IT directors often oversee and manage an organization's spending on IT resources and personnel.
Problem solving. They usually take a strategic, rather than tactical, approach to solving technical problems and must take into account business goals.
Policy setting. They develop, implement and scale up IT policy.
Business analysis. They analyze business intelligence and performance patterns and use that information to find solutions to business problems.
Team leadership skills. Team management is a key part of the job, as are effective delegation skills.
Vendor management. Negotiating working with vendors, service providers and consultants is also a key part of the job.
Communication skills. Directors must have the interpersonal skills to effectively communicate and coordinate process and strategy among various other managers and departments.
Industry knowledge. They must stay up to date on changing trends in their industry and in technology.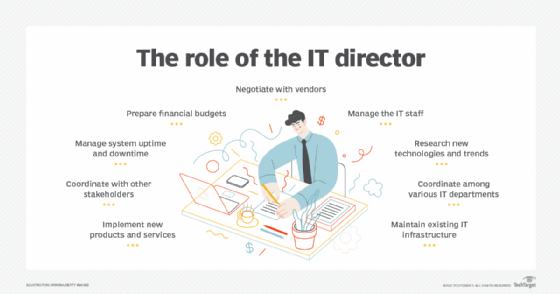 IT director qualifications and career path
Many directors of IT work their way into the job from lower IT manager positions, such as leadership roles in software development and project management. The position generally requires a bachelor's degree in a related field such as computer science, engineering or management information systems. Many organizations require a master's degree as well.
The role usually requires at least five years of experience. New IT directors often have spent their careers in one industry and have gained expertise in IT issues and strategy related to that industry. For example, a healthcare company's director of information technology would have risen through the IT ranks in one or more healthcare companies.
IT directors often pursue professional development while in the role. IT changes constantly, and IT professionals must stay up to date on the latest trends and developments. IT directors can continue learning through IT certifications such as the following three CompTIA certifications:
A+ ensures a person can solve technical problems with a variety of technologies.
Network+ validates a candidate's ability to configure, maintain and troubleshoot networked devices.
Security+ makes sure an individual understands best practices for data security and compliance.
IT directors often move on to more senior level positions, such as chief information officers and CTOs.
IT director salaries
IT director salaries vary, depending on the industry and size and type of organization. Data on salary ranges for this job includes the following:
The U.S. Bureau of Labor Statistics (BLS) reported IT director jobs and other information and computer systems managers had median annual pay of $159,010 in 2021.
com estimated the annual salary of IT directors to be between $170,000 and $250,000.
Payscale's annual salary range is $98,000 to $180,000.
Glassdoor lists the national average IT director salary at $144,020 annually.
IT director role vs. CIO
The IT director's primary duty is to oversee daily operations. They are typically responsible for system uptime, maintenance issues and vendor agreements. They usually supervise a small group of employees and often report to the CIO. The IT director's focus is inward, on maintaining current infrastructure and implementing new systems.
The IT director's areas of responsibility include the following:
deployment of new systems and services;
negotiation and implementation of IT vendor contracts; and
development of policies, initiatives and budgets related to the IT operations.
IT director is an older term than CIO and implies a clearer delineation between IT operations and business, although the two areas are becoming more enmeshed.
By contrast, CIOs have broader responsibilities. They are often responsible for the entire IT team within an organization. They are seen as the outward face of the IT department. They develop high-level IT strategy and their work emphasizes digital transformation goals and how technology can help meet an organization's business requirements.
Future of the IT director role
The future of the IT director role will likely continue to be conflated with the CIO role as IT director responsibilities become more business-centric and external-facing. However, the IT directors' work will continue to focus on adopting new technologies and working with vendors and other third-party service providers.
Cybersecurity is among the technologies driving growth in the position. Industries such as retail and hospitality need stronger cybersecurity measures in place as their businesses increasingly rely on digital platforms.
Organizations like schools and financial firms with small in-house IT departments are shifting their IT services to cloud computing-based organizations with experience in systems design and data processing. This adoption of cloud services will be another driver shaping the future of the IT director position.
As IT gets traction in more facets of the enterprise, IT directors will become more enmeshed in other areas of the business. They will have to manage change related to the adoption of automation and the continuation of remote work.
However the role changes, it will be among the IT jobs in demand. The BLS predicts that demand for IT directors and other computer and information systems managers will grow by 11% from 2020 to 2030, which is faster than average for all occupations.
CIOs and IT directors must monitor new developments in IT and adapt their infrastructures accordingly. Learn how directors can build a private 5G network in the enterprise.
This was last updated in
June 2022
Continue Reading About information technology (IT) director
Dig Deeper on Risk management and governance