Minerva Studio - Fotolia
Execs: Content management in the cloud not as easy as it looks
Challenges await companies as they move content and microservices app-enabled processes to the cloud. Chief among them are data security and apprehension about process complexity.
TORONTO -- Companies like Oracle, SAP and Microsoft are pushing content management in the cloud, and they're joined by OpenText, which announced the containerization of its systems for use on public clouds, such as Microsoft Azure, Google Cloud and AWS.
"Friends don't let friends buy data centers." That was OpenText CEO and CTO Mark Barrenechea's recurring joke during his OpenText Enterprise World 2018 keynote, during which the company unveiled its cloud- and DevOps-friendly OT2 platform.
Barrenechea later clarified to reporters that while some customers are standardizing on AWS and Azure, most OpenText cloud customers are on OpenText's private cloud. Opening OpenText apps and microservices, such as its Magellan AI tools, to the public clouds will also open up new markets for content management in the cloud, Barrenechea said.
But several speakers from the stage -- including celebrity nonfiction writer and Toronto native Malcolm Gladwell -- cautioned that while the cloud might bring convenience and freedom from data center upkeep, it also brings challenges.
The two most frequently mentioned were data security and process automation, as well as a related issue: automating bad or unnecessarily complicated processes that should have been fixed before their digital transformations.
Data security getting more complicated
If you have 854,000 people with top-secret clearances, I would venture to say that it's no longer top-secret.

Malcolm Gladwellauthor
The internet of things and mobile devices comprise a major security vulnerability that, if left unsecure, can multiply risk and create entry points for hackers to penetrate networks. Opening up content management in the cloud -- and the necessary multiplication of data transactions that comes with it -- can spread that risk outside the firewall.
Persistent connectivity is the challenge for Zoll Medical's personal defibrillators, said Jennifer Bell, enterprise CMS architect at the company. Zoll Medical's IoT devices not only connect the patient to the device, but also port the data to caregivers and insurance providers in a regulatory-compliant way, which mandates data security the whole time.
"Security is huge, with HIPAA [Health Insurance Portability and Accountability Act] and everything," she said.
IT leaders are just beginning to grasp the scale of risks.
At the National Institute of Allergy and Infectious Diseases (NIAID), even "smart microscopes" with which researchers take multi-gigabyte, close-up images have to check in with their manufacturer's servers every night, said Matt Eisenberg, acting chief of NIAID's business processes and information branch.
"Every evening, when the scientists are done with those devices, it has to phone home and recalibrate. And this is blowing the infrastructure guys away, because they're not used to allowing this kind of bidirectional communication from something that really doesn't look or feel like a computer or a laptop," Eisenberg said.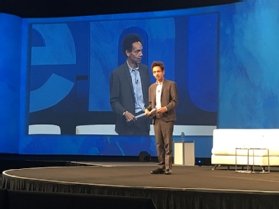 Meanwhile, Gladwell warned that data security threats are coming from every direction, inside and outside of organizations, and from new perpetrators.
Also coming under the spotlight was security of content management in the cloud when Chelsea Manning and Edward Snowden were able to steal sensitive military documents and hand them over to WikiLeaks, Gladwell said.
Government data security experts are having a hard time preventing another such breach, he continued, because security threats are rapidly changing. The feds, however, haven't; they're stuck with Cold War-era systems and processes that focused on a particular enemy and their operatives.
"It's no longer that you have a short list of people high up that you have to worry about. Now, you have to worry about everyone," Gladwell said. "If you have 854,000 people with top-secret clearances, I would venture to say that it's no longer top-secret."
Cloud: BPM boon or problem?
Content management in the cloud by way of SaaS apps can also bring process automation, AI and analytics tools to content formerly marooned in on-premises data silos. It can also extend a workforce beyond office walls, giving remote, traveling or field-based workers access to the same content their commuting co-workers get.
That's if it's done right.
Kyle Hufford, digital asset management director at Monster Energy, based in Corona, Calif., serves rich media content to an international marketing team that must comply with many national, state and local regulations, as well as standardized internal processes, approval trees and branding rules.
His job, he said, is opening access to Monster Energy's sometimes-edgy content worldwide, while ensuring end users stay compliant.
The work starts with detailed examination of how a process is done before moving it into the cloud.
"People think there [are] complexities around approvals and how to get things done," Hufford said. "In reality, they can take a 15-step process and make it a two- or three-step process and save everybody time."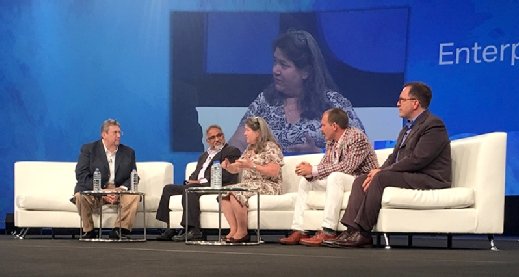 As mature companies like SAP, Microsoft, OpenText and Oracle make big pushes into the cloud and bring their big customers along to migrate from on-premises systems, process issues like these are bound to happen, said Craig Wentworth, principal analyst for U.K.-based MWD Advisors.
Wentworth advised enterprise IT leaders to take a critical look at the vendor's model in the evaluation stage before embarking on a project for content management in the cloud.
"I worry that, sometimes ... software firms that have been around for a long time [and add] cloud are coming to it from a very different place than those who are born in the cloud," Wentworth said. "Whilst they will be successful certainly with their existing customers, they've got a different slant to it."
Dig Deeper on Content management software and services