designsoliman - Fotolia
Dropbox Extensions gives users chance to try other vendors
The new Dropbox integrations will bring APIs to other file editing and e-signature vendors, making it easier for users to update files without toggling through applications.
With Dropbox Extensions, file hosting vendor Dropbox has partnered with several other document management vendors to provide product integrations for Dropbox customers, ranging from e-signature capabilities to PDF and image editing and video annotation.
Dropbox Extensions includes integrations with e-signature vendors Adobe Sign, DocuSign and HelloSign; PDF editing with Nitro, AirSlate and Smallpdf; DWG editing using Autodesk; video annotation with Vimeo; image editing with Pixlr and the ability to send electronic faxes using HelloFax.
The integrations are another way for Dropbox to appeal to enterprise customers, according to IDC analyst Holly Muscolino, especially after another leading content management software vendor, Box, said it would release several integrations as part of its Box Skills system by the end of 2018.
"This is catching up with Box's integrations," Muscolino said.
Muscolino added that Box and Dropbox boast similar integrations but have had different go-to-market strategies, with Box more focused on enterprises and Dropbox on consumers.
The new Dropbox integrations were unveiled on Nov. 6, and build on existing integrations with third-party vendors, including Google Drive applications.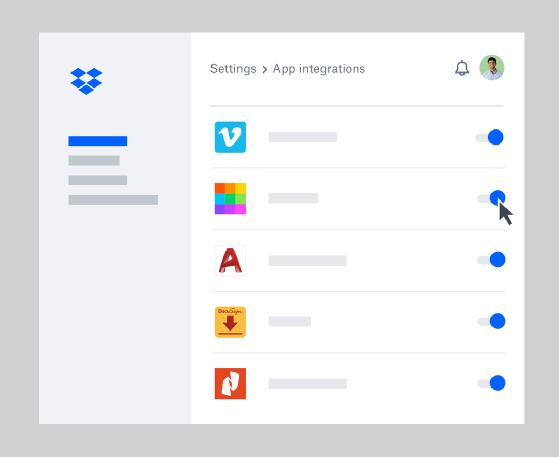 Making integrations more seamless
Dropbox Extensions enables users to try those various integrations on a limited trial basis, with the trials varying based on the vendor.
"We've worked with each partner to provide access to the applications and it differs by each partner," said Kevin Chung, head of strategic partnerships and business development at Dropbox, in an interview. "Users have the ability to start and launch actions at no cost initially and once they've used the applications extensively, there are options."
This trial-like strategy is unique, according to Muscolino, and could either entice or frustrate users.
"It's an interesting approach. It's a good idea and good marketing for Dropbox and the partners," Muscolino said. "Will it frustrate users? It depends on the interface. But as long as it's communicated as a trial, it should work."
[Dropbox Extensions] is catching up with Box's integrations.

Holly Muscolinoanalyst, IDC
To help users maintain their files when using the Dropbox integrations, the files will save in the original Dropbox folder.
"It becomes more seamless for users," Muscolino said. "That user doesn't want to keep opening applications and going back and forth."
Up to now, if Dropbox users wanted to get files from Dropbox to edit or sign, they would have to take the file out of Dropbox and upload it to the particular vendor, which created the possibility of human error or losing the file.
Dropbox Extensions security concerns
While Dropbox Extensions will help users with connecting to other file editing vendors, concerns around security both internally and with the third-party vendors, Dropbox said it had addressed security concerns by limiting access to vendors and unauthorized users.
When a user decides to move a file to one of the partner integrations, the vendor receives the information that the user sent over through an API and it doesn't get to access the rest of the organization's content, said Ketan Nayak, product manager at Dropbox.
Internally, administrators can control which Dropbox integrations are available to their team and which employees can have access to certain files.
Chung said Dropbox Extensions will go live Nov. 27, except for the Adobe Sign integration, which will be coming soon after that.