ECM features of the future get an AI boost
AI can help to retrieve and organize content, so it makes sense for ECM platforms to have AI capabilities. Take a look at how AI can enhance ECM.
Finding content within an enterprise content management platform is often a monumental task -- especially when the content is not categorized correctly or is placed too deep within folders -- but AI can finally help tackle the job of assigning file metadata on a scale that humans can't.
Enterprise content management (ECM) vendors can use AI to help improve the end-user experience and add functionality to their platforms. Here are some predictions for how AI can play a role in new ECM systems.
Document, image searches
Finding content within a corporate ECM platform can present several challenges for end users. When they type exact keywords into their search boxes, the system may not retrieve the right content, forcing users to try a variety of different wordings to find a match. With the use of natural language processing, an ECM platform can find results that are similar to a user's keyword search rather than an exact match.
Another example of AI-assisted ECM features are bots that can respond to end-user requests for documents without them having to leave the program to retrieve that content. Collaborative tools such as Microsoft Teams and Slack already use this functionality, which takes advantage of AI's ability to understand user requests and provide an interactive experience in a conversational way.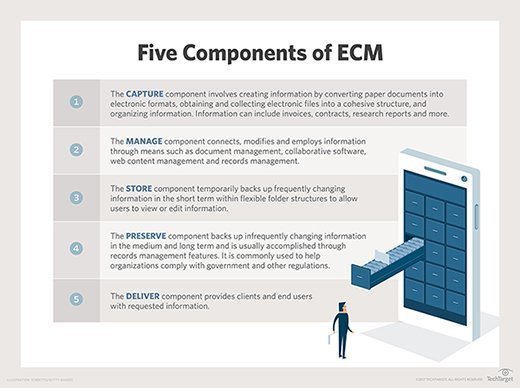 And then there's image and video search, which use AI to identify and tag content for retrieval. Popular search engines such as Google and Bing offer a visual search capability. Users simply upload an image and the system attempts to locate images that are similar to the individual or object detected within the image. This functionality relies on visual processing and machine learning to categorize the content and retrieve it.
Because search engines can be considered larger versions of ECM tools, that functionality would certainly be a value-add for today's ECM platforms. Organizations that store a significant number of images in an ECM system, such as museums, galleries and marketing firms, would likely benefit most from this ECM feature.
Data categorization, indexing
The majority of data stored within an ECM platform tends to be unstructured. The volume of this information grows annually, which makes it more challenging to manage and organize.
With the use of machine learning and AI, a few vendors such as OpenText can deliver ECM features that enable auto-classification of content and deep analysis of unstructured data.
AI can also analyze content within unstructured documents and convert those results into data visualizations that end users can use as navigational tools. For example, a word cloud can highlight the most frequently used words in a set of search results, or a topic wheel can navigate to different levels or categories of documents. These visual tools are a much better alternative for users attempting to locate specific content, but who must go through multiple levels to get to it.
Dig Deeper on Content management software and services