sdecoret - stock.adobe.com
5 types of AI content moderation and how they work
AI will change how organizations moderate content, especially on social media and with the increase in AI-generated content being produced. Here's what you need to know.
Disinformation and inappropriate content abound in digital environments, and users may struggle to determine the source of such content or how to filter it out.
Content moderation is commonly used as a social media screening practice. It enables the approval or rejection of comments and content created and posted by users. The task involves removing rule-violating content to ensure published posts adhere to community guidelines and terms of service.
AI can aid in that process. It searches for, flags and eliminates AI-generated content that violates the rules or guidelines of a social media platform, website or organization. This includes any audio, video, text, pictures, posts and comments deemed offensive, vulgar or likely to incite violence.
What is content moderation?
Historically, organizations have moderated content with human moderators who would review all content before it published, said Jason James, CIO at retail software vendor Aptos. The moderators would check the content for appropriateness and either approve and post or disapprove and block it.
Unfortunately, users would often not know if their content was rejected or, if so, the criteria for the rejection process. The entire process was manual and prevented real-time responses to postings. Approval was also ultimately subjective to the decision and leanings of a single moderator.
As a result, many organizations adopted a mix of automated and human intervention to moderate content, James said. Human moderation on top of automation is critical because, if something offensive fell through the cracks, the organization would face serious consequences.
Automated moderation occurs when user-generated content posted through the platform or website is automatically screened for violating the platform's rules and guidelines. If it does, the platform either removes it altogether or submits it for human moderation, said Sanjay Venkataraman, chief transformation officer at ResultsCX, a CX management vendor.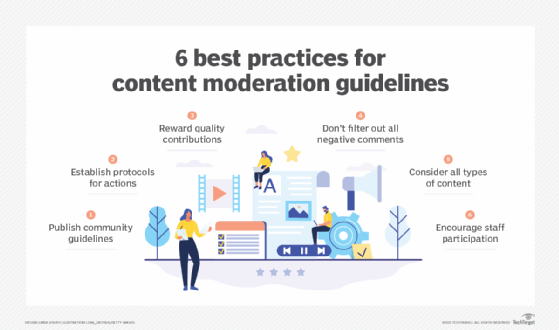 Moderation for AI-generated content
AI content moderation is a machine learning model. It uses natural language processing (NLP) and incorporates platform-specific data to catch inappropriate user-generated content, Venkataraman said.
An AI moderation service can automatically make moderation decisions -- refusing, approving or escalating content -- and continuously learns from its choices. Moderation for AI-generated content is complex, and the rules and guidelines are evolving in tandem with the pace of technology, Venkataraman said.
"Content created using generative AI and large language models is very similar to human-generated content," Venkataraman said. "In such a scenario, adapting the current content moderation processes, AI technology, and trust and safety practices becomes extremely critical and important."
As generative AI brings a lot of contextual understanding and adaptability into content generation, moderation tools must be reinforced with advanced AI capabilities to detect nonconformance, Venkataraman said. That includes training the AI models with larger numbers of data sets, using humans to validate a higher sample of content, collaborative filtering with community-generated feedback on published content, and continuous learning and feedback.
AI-generated content is increasing, and organizations must adapt to the rapid pace, James said.
"As content can be created faster, the need to review and moderate content more quickly also increases," James said. "Relying on human-only moderators could create a backlog of reviewing content -- thus delaying content creation. The delays created impact collaboration, ultimately resulting in a poor user experience."
5 types of AI content moderation
Organizations have five methods they can adopt to effectively use AI content moderation to scale. They are the following:
Pre-moderation. Businesses can use NLP to look for words and phrases to ensure content meets their guidelines, including words and terms that could be offensive or threatening. If they met those criteria, the content could be automatically rejected, and the user warned or blocked from future postings. This automated approach limits the need for human moderators to review every post.
Post-moderation. This method enables users to post content in real time without going through pre-moderation review. When a user posts something, a moderator would review the content. With this method, users could see content that violates community guidelines before a moderator notices and blocks it.
Reactive moderation. This method enables users to serve as moderators, who review posts to determine if they meet or violate their own community standards. This method crowdsources moderation to the community rather than using and employing human moderators.
Distributed moderation. This approach is similar to reactive moderation, where users vote to determine if a post meets or violates their own community standards. The more positive votes received, the more users see it. If enough users report the post as a violation, the more likely it is blocked from others.
User-only moderation. This enables users to filter out what they deem to be inappropriate. The moderation is only done through registered and approved users. For example, if several registered users report the post, the system automatically blocks others from seeing it.
How AI will affect content moderation
Generative AI will continue to lead the AI evolution, James said. This will put greater pressure on organizations to invest in AI at some level to remain competitive. That, in turn, will make AI content moderation a must-have capability.
"AI will be more heavily used to not only create content, but [to] respond to postings on social media," James said. "This will require that organizations employ AI-empowered content moderation to not only automate, but also modernize their existing process."
AI can enable faster, more accurate moderation with less subjective review by human moderators, James said. And, as generative AI models evolve and become more advanced, content moderation will become more effective over time.
"Already, [AI] can automatically make highly accurate automated moderation decisions. ... By continuously learning from every decision, [it's] accuracy and usefulness can't help but evolve for expanded usefulness," Venkataraman said.
Dig Deeper on Content management software and services