With the world changing at lightning speed, agile support teams are finding ways to quickly adapt to the changing needs of their customers and their agents.
No one expected 2020 to have such a profound impact on customer support. Like a rollercoaster clicking steadily upwards, many teams saw tickets climb to record highs, while for others, customer engagement entered a free fall. And every week has seemingly brought new challenges: remote agents, changing customer behavior, and shifting baselines.
One thing is certain: unpredictability is here to stay—at least for now. To continue to provide top-notch support, even amid constant change, teams must focus on building flexibility into their workflows so they can scale their support operations to meet the needs of their customers and their agents. Agility playbooks won't look the same for everyone, but understanding where teams are finding success will help you better prepare for any uncertainties that lie ahead.
Using Zendesk's Benchmark dataset, we took a closer look at how some companies are keeping resolution times stable during the pandemic, even though ticket volumes have reached record highs. Benchmark tracks the support operations of more than 24,000 Zendesk customers worldwide, helping us to better understand what agility means across regions, industries, and company sizes.
Who is seeing the highest agility rates?
Roughly 17 percent of companies across our global dataset are responding to customers just as quickly, if not faster than before the pandemic. We saw greater success with:
B2C companies
Companies based in Latin America
Digital natives such as entertainment, gaming, and remote work companies
Nearly 20 percent of B2C companies had agile support teams, compared to just 13 percent of B2B. Companies in Latin America had high rates of success in keeping resolution times low (21 percent), compared to 15 percent for North America and Asia-Pacific, and just 13% for Europe and MENA.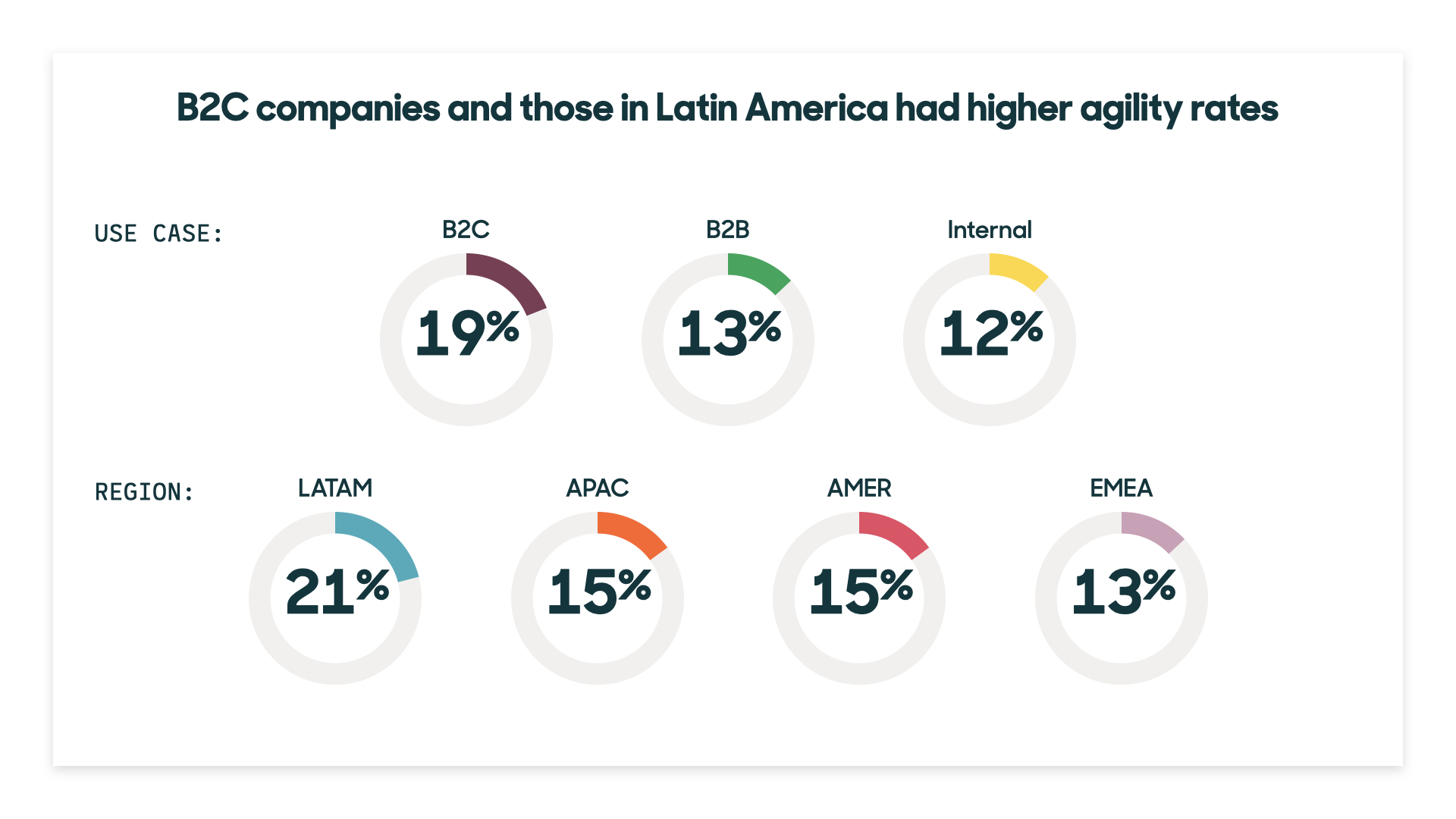 Digital natives in entertainment, gaming, and remote work also boasted higher agility rates, while the financial services sector has had a harder time adapting.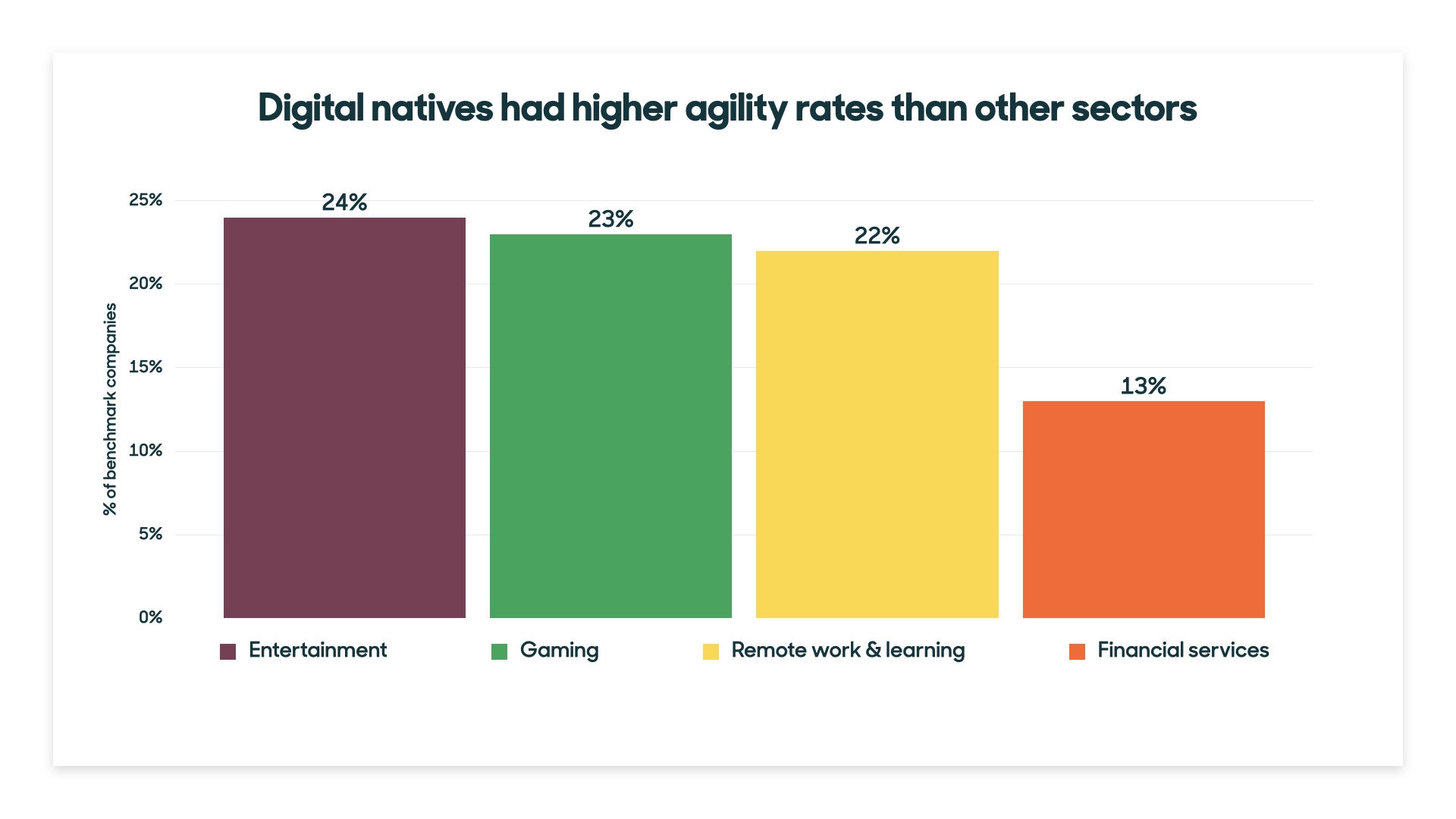 What are these teams doing to keep response times low?
To keep pace with change, agile support teams are focused on boosting the efficiency of their agents by leaning into channels that have faster response times, deflecting tickets with better self-service, and adopting tools that help to automate workflows and processes.
Prioritizing fast responses
Phone and chat support are typically the fastest ways for customers to resolve their issues. And agile companies are adopting these channels faster than any other, while usage and staffing rates for teams that already operate these channels have also increased. Looking just at large-scale increases in ticket volume and staffing rates (defined as 10 percent or more), 13 percent of agile companies have significantly boosted the number of agents on live channels, where nearly a third have seen traffic surge.
Answering questions before they become tickets
Customers don't always need to speak with a support agent. And, according to the 2020 Zendesk Customer Experience Trends Report, they prefer not to. Nearly 70 percent of customers want to solve as many issues as possible on their own. Not only are agile teams directing more agents to their help centers, but more than 62 percent have also added new content. When updated regularly, self-service can keep ticket rates in check by empowering customers to quickly (and easily!) find answers to common questions, freeing up agents to work on more complex issues.
Boosting agent productivity
For tickets that do come in, agile companies are increasing their use of workflow management tools to get them to the right person, automate responses to keep customers in the loop, and keep track of performance metrics so they can quickly make improvements when necessary. Usage of these tools is up 15 percent, while another 25 percent have added further functionality to their Zendesk support platform with apps like JIRA and Knowledge Capture.
How can support teams prioritize agility?
All teams can take steps to become more agile, whether they're in a ticket surge, a lull, or somewhere in between. Read on for more data and insights to help you better understand what agility looks like for your team, so you can be ready for whatever comes next, through 2020 and beyond.