Saktanong - stock.adobe.com
How to write a marketing email: 10 tips
There are a number of components that make up a compelling marketing email, including content readers want, photos and videos, calls to action and mobile optimization.
When COVID-19 hit the country of Liberia, Archel Bernard thought she would have to shut down her clothing factory. Instead, the company shifted gears and began making cloth face masks, donating them to the community and selling them via an e-commerce site. But none of this would have been possible if the company did not send compelling marketing emails to its customers, alerting them of the plan.
A compelling email is key to customer engagement, according to session speakers at the Digital Summit At Home conference that took place in July. With so many emails flooding everyone's inboxes, an interactive, exciting email can make the difference between readers opening it and clicking through to a business website or throwing it in the trash.
For Bernard, sending compelling marketing emails that customers would take the time to read was an important strategy in keeping her business afloat at the onset of the COVID-19 crisis.
"I'm not in business if I don't have any customers," said Bernard, CEO and founder of the Bombchel Factory.
Compelling emails are also important tools for getting a business's story out in the world and maintaining relationships -- especially through tough times, said Valerie Kinney, a senior content marketer with Rock Paper Scissors, a full-service branding and marketing agency based in Georgia.
"Even if people can't make a donation, volunteer or purchase right now, staying connected helps you stay at the top of mind in the future when people are in a better place," Kinney said.
Here are 10 tips for writing effective marketing emails.
1. Write engaging email subject lines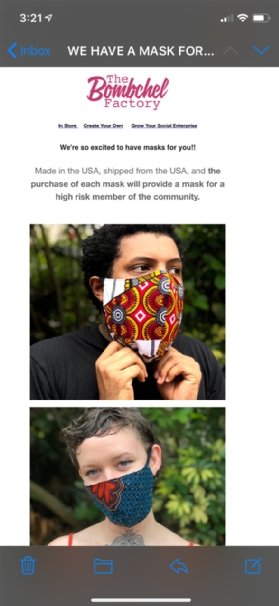 Email is the Bombchel Factory's most effective form of digital marketing, Bernard said. A compelling subject line can increase an email's open rate, but if the subject line is boring, nobody will open it.
"You almost treat it like it's that one sentence in a movie poster that gets you to watch the movie," Bernard said.
When the Bombchel Factory pivoted to making face masks, the company knew that there was high demand for the product. One email subject line that grabbed readers' attention read "We have a mask for YOU."
"At that point, everyone was looking for masks, and our phones started ringing off the hook," Bernard said.
Subject lines should make that emotional connection with your target audience, Kinney said, whose company uses Campaign Monitor to create and send email messages.
"Our emotions drive a lot of our decision-making, so I think that's a key element in the nonprofit sector and in retail when thinking about writing subject lines," Kinney said.
2. Align the subject line and body of the email
Email users see it too often -- an interesting and enticing email subject line sitting in their inbox. But when they read it, their expectations come crashing down.
The body of the email needs to deliver what the subject line promises.
For example, if a subject line says, "Save 50% off your entire purchase through midnight tonight," there should be a promo code, coupon or link to these items in the body of the email.
If customers aren't given the tools they need to obtain that promised discount, they will lose trust in the company and the business will lose a potential customer.
3. Create content that excites customers
People are already overwhelmed with emails, so it's important to give them content that excites them. Marketers shouldn't just send an email for the sake of sending an email.
"I tend to err on the side of sending less than more [emails] so it doesn't end up in spam [inboxes]," said David Goodley, senior digital marketing manager for Capriotti's Sandwich Shop, based in Nevada.
One of Capriotti's most popular email marketing campaigns -- created using iPost -- was for a Wagyu beef product launch when the pandemic began. This particular email enticed customers because Wagyu beef is not something that people usually find outside of steakhouses, Goodley said.
4. Write in the second person
Writing in the second person -- using the pronoun "you" -- provides a personalized touch to emails and pulls the reader into the action. It enables businesses to speak directly to and focus on customers while taking the focus off the brand.
For example:
Don't write: "Our store has a great selection of winter coats for all ages."
Do write: "You will find a variety of winter coats for all ages."
5. Use images and videos
Images are an important component of marketing emails. For businesses promoting specific items in their emails, it's important to link photos directly to that item on their website, Bernard said.
"We're a clothing brand," Bernard said. "People want to see the [different] styles and colors."
Video is another important component, as it can increase an email clickthrough rate by 300%, said Jessie Starke, an email designer and developer at Atlanta-based Jackson Spalding, a marketing communications agency, during a conference session. Videos should never be embedded in the actual email. Instead, there should be a link to bring email recipients to a webpage with the video.
6. Keep branding consistent through experiences
Businesses should keep email branding consistent with user experiences on other channels, including the business website and landing page, social media and even snail mail, Starke said. This means that businesses need to keep styles, fonts, colors and messaging consistent throughout to tie all channels of the business together.
The best money the Bombchel Factory ever spent on email marketing was hiring someone to create a custom template to use within Mailchimp, Bernard said.
"It makes me look uniform and keeps me on brand," she said.
This way, companies only need to plug in text and photos and without having to reinvent the wheel each time they send an email.
7. Make emails scannable and include calls to action
Businesses can accomplish this by having a writing style that is succinct and to the point. No paragraph should contain more than five lines of text. Short chunks of text -- snackable content -- are quick and easy for readers to consume and ideal for both emails and social media.
"Eleven seconds is the average amount of time spent looking at an email," Starke said in a session.
Another scannable element in an email is a call to action. This can include coupon codes, a link to sign up for a webinar or a simple "buy now" link for a featured product meant to drive traffic to the business's website.
8. Make emails accessible
Emails need to be accessible for all customers.
Organizations should use live text -- or HTML text -- instead of text that is part of an image. Live text solves two problems:
When an image doesn't load on a device for whatever reason, text will still load, indicating to the reader what the email content contains.
If an email recipient is visually impaired, virtual assistants -- such as Amazon Alexa -- can read the copy in the email to the user.
Businesses that choose to use image-based text may do so, but they should include live text in the email, too, Starke said.
There should also be a stark contrast between the text and the background it is on, Starke said. Businesses should ensure the text is in a large font so the copy is easy to read, and that buttons are large enough for people who might have trouble using a mouse to tap on.
9. Optimize emails for mobile devices
A common email marketing mistake that businesses make is not optimizing emails for mobile, a theme echoed in multiple Digital Summit sessions.
The key is to create a responsive HTML email that will automatically adapt to and improve readability on all devices. Features of mobile-optimized email include:
single-column layout;
increased font size -- generally 14 to 16 pixels for body text, 22 to 24 pixels for headlines and 44 by 44 pixels for calls to action;
highlighted links and buttons, making them "fat-finger friendly";
increased image size to ensure it appears crisp and clean; and
wrapped text to fit the screen.
10. Proofread emails before hitting send
An email riddled with spelling and grammar errors is a sign that a company may not be paying attention to details.
Capriotti's Sandwich Shop has a process in place to mitigate errors; Goodley creates an email, then uploads it to Asana, a project management tool. From there, it is assigned to other team members who proof the content.
It is essential for someone to proof all copy before it is sent to thousands of people. Even editors need editors from time to time.