microworks - Fotolia
InsightSquared unveils marketing analytics tools
At Ramp 2018, marketing technology vendor InsightSquared unveiled new software modules for gauging the effectiveness of marketing and sales efforts.
BOSTON -- InsightSquared unveiled new marketing analytics tools aimed at providing better insights to how marketing...
Continue Reading This Article
Enjoy this article as well as all of our content, including E-Guides, news, tips and more.
is getting leads into play and how they translate to sales.
"There's natural tension between sales and marketing," said Matisha Ladiwala, general manager of marketing analytics at InsightSquared, based in Boston. Ladiwala spoke to an audience of about 500 -- mostly customers -- at the data visualization and reporting vendor's second annual Ramp 2018 conference at the Westin Boston Waterfront hotel.
InsightSquared executives at the conference on Aug. 7 said bringing together marketing, sales and service departments -- collectively known as revenue ops -- is its main business goal, and the new marketing analytics tools would help unlock those hidden insights.
Measuring marketing revenue
The marketing analytics tools are intended to relieve some of the tension often found between those departments by providing interactive, current dashboards that display how marketing campaigns are doing and when and how many leads entered the sales funnel. The new tools also include more planning and reporting capabilities.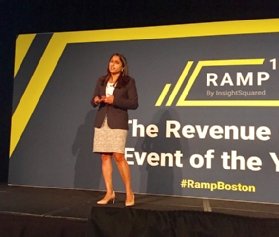 "It's a great way to build trust and credibility with other departments and optimize which marketing campaigns are giving you results," Ladiwala said. "The dashboards are there to give you the confidence that you're investing in the right things."
Most InsightSquared customers at the conference hadn't yet seen the marketing analytics software in action to gauge how it could affect revenue operations or how well it brings different departments together. But a few customers used the marketing analytics tools in beta, and while speaking onstage at the conference, they said the software helped find key insights that were often somewhat hard to unearth.
The marketing analytics tools are commercially available now, according to InsightSquared.
Automation key to efficiency
There's natural tension between sales and marketing.

Matisha Ladiwalageneral manager of marketing analytics at InsightSquared
"Aggregating that information from those areas was very manual and time-consuming," said Guido Bartolacci, manager of acquisition and strategy for New Breed, a marketing and sales agency based in Winooski, Vt. "We were taking all this time pulling together information, rather than analyzing it."
Bartolacci said New Breed was having difficulty bringing together its own information from its disparate sources, including Google Analytics and Salesforce.
By using the marketing analytics tools, New Breed was able to measure the value of marketing processes and help its sales department focus on the right leads, he said.
"What we've been able to do with a marketing-generated revenue [report], we can tell how much revenue marketing is creating for the bottom line," Bartolacci said. "It's been great for sales and marketing and helps unify our teams to work more efficiently. Marketing exists to drive revenue, but these reports help us understand how and why that happens."
Dashboards help sales enablement
Another customer, ThriveHive, a digital marketing company based in Quincy, Mass., is using InsightSquared's marketing analytics software to help connect its disparate marketing and sales tools.
"We have a complicated marketing and sales stack," said Adam Blake, ThriveHive's chief marketing officer. "Every week, I'd make my team go through a day of hell by compiling data from all these different platforms and put them in Excel."
By doing those reports manually, Blake said ThriveHive employees often wouldn't know if something went wrong with a prospect until it was too late. By switching to live reporting and dashboards with the InsightSquared marketing analytics tools, ThriveHive was able to find more insights in its prospect funnel.
"We now have dashboards showing how quickly sales reps follow up with leads," Blake said.
Dig Deeper on Customer service and contact center