Definition
Veritas Backup Exec (Symantec Backup Exec)
Veritas Backup Exec is a data protection software product that supports virtual, physical and cloud platforms. Sold by Veritas Technologies LLC, Backup Exec is compatible with most storage devices, including disk, tape and cloud.
The product was previously known as Symantec Backup Exec when Veritas was part of security giant Symantec Corp. Veritas was sold by Symantec in January 2016 to The Carlyle Group private equity firm for $7.4 billion.
Veritas Backup Exec features
Veritas claims more than 2 million Backup Exec customers, mainly in the SMB and midmarket arena.
Key Veritas Backup Exec features include:
Backup Exec 15 features support for VMware ESXi 6 and vCenter 6, VMware Virtual SAN 6 and Virtual Volumes. Backup Exec 15 also offered enhanced VM capabilities with support for SAN restores and VMs with volumes of more than 2 terabytes.
Veritas Backup Exec 16, which became generally available in November 2016, expanded its support to include the Microsoft Azure cloud, Windows Server 2016 and Hyper-V Server 2016. Previous product versions already supported Amazon Web Services (AWS) and the Google Cloud Platform, as well as third-party clouds that support the Amazon Simple Storage Service protocol.
Other new features of Backup Exec 16 include:
Veritas branding;
a simplified licensing and purchasing model built for midsize companies that do not have complicated infrastructures or dedicated backup administrators;
expanded cloud support that streamlines Migration to the cloud by offering a single platform to protect critical data across cloud, virtual and physical infrastructures; and
a new default database instance that installs SQL Server 2014 Express Service Pack 2.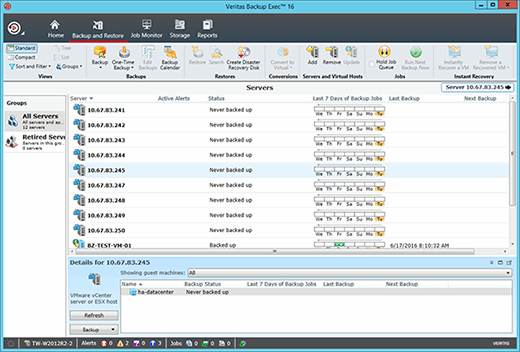 Backup and disaster recovery with Backup Exec
Simplified Disaster Recovery (SDR) is automatically installed with Veritas Backup Exec. It provides disaster recovery on Windows computers where the Agent for Windows is installed. By default, Backup Exec is configured to back up all of the critical system components needed to perform disaster recovery.
Veritas Backup Exec uses the system-level information from the SDR backup job to rebuild the server and restore it to a functional state. Recovery includes a bare-metal or dissimilar hardware restore job.
Through integration with Microsoft VSS, SDR backup jobs include all selected elements, even if they are components of the active operating system or are in an open state. VSS integration ensures backups are in a consistent state and have been properly placed into a quiescent state when the backup job occurs.
Veritas licensing options
Veritas licensing programs are divided into academic, corporate and government market segments. Customers make purchases from the segmented price list that applies to them. Veritas has three licensing programs: Veritas Academic Licensing Program, Veritas Corporate Licensing Program and Veritas Government Licensing Program.
The licensing programs provide eligible organizations with a purchasing process to access the entire portfolio of Veritas software, appliances, maintenance, support and services. Eligible academic organizations include government-approved public or private schools, vocational and correspondence schools, junior colleges and universities, and scientific and technical institutions with a full-time curriculum. Eligible government organizations include government agencies; government-funded research and development centers; state and local municipalities; and state, county or municipal hospitals.
Veritas Backup Exec vs. NetBackup
Veritas has two major backup software applications: Backup Exec and NetBackup for enterprises. While Veritas claims Backup Exec has millions of customers, the NetBackup product line generates far more revenue.
NetBackup is a backup and recovery software suite designed for enterprise users, and it can be purchased and integrated with disk backup appliances. It offers deduplication, Replication and snapshot services and can provide recovery from tape, disk or the cloud in a physical or virtual environment. Support is provided for VMware and Microsoft Hyper-V, as well as Microsoft Azure cloud, open source OpenStack clouds and AWS.
NetBackup has been integrated with several offerings: Veritas Resiliency Platform, which orchestrates the recovery of multiple VMs in multivendor hybrid clouds; Veritas Information Map, which aggregates and presents data visually; and Veritas Velocity copy data management.
Backup Exec 2012 issues under Symantec
While still part of Symantec, Backup Exec 2012 ran into difficulties because its interface and backup processes were changed and the product did not support popular applications. Customers also criticized Symantec for changing Backup Exec's view from a job-centric to a server-centric interface.
Many customers stayed with the product despite the Backup Exec 2012 issues. Others moved to one of the other SMB backup vendors, including Acronis, Arcserve, Datto, Dell AppAssure, EVault, Infrascale, Unitrends, Veeam Software and Zetta.
With Backup Exec 2014, Symantec returned its popular Job Monitor feature, which showed customers all their backup jobs and job history for all servers in one pane. The vendor also added support for the latest Microsoft applications.
This was last updated in
February 2017
Continue Reading About Veritas Backup Exec (Symantec Backup Exec)