Have data center careers hit the skids?
Has virtualized infrastructure derailed data center careers? IT managers say they now spend too much time troubleshooting environments and not enough time on strategic projects.
After a rocky economic year, salaries for data center careers have begun to make slow gains. But with many data center managers stuck in day-to-day operations, long-term career prospects may be stalling.
After a few years of layoffs and restructuring, many IT roles have shifted, and data center professionals have absorbed new responsibilities. So too, new technologies such as server virtualization have increasingly permeated data centers. As IT professionals adjust to these changes, they are increasingly time-strapped and struggling to balance their day-to-day challenges with more strategic concerns.
I'm torn between my operational role and becoming more strategic.

David Fouts, data center systems administrator, Capital Region Medical Center
A recent TechTarget salary and careers survey of nearly 300 data center managers and administrators confirms this picture. Salaries have made a slow climb this year, with only 50% of respondents having received a raise in 2010, and 67% having received a raise of 5% or less (see Figures 1 and 2). And for companies whose IT departments underwent budget cuts in 2010, nearly 42% of respondents say that they took on more operational roles than they had previously (see Figure 3).
"I'm torn between my operational role and becoming more strategic," said David Fouts, a data center systems administrator at Capital Region Medical Center in Jefferson City, Mo. "Just finding time for larger projects and staying on top of them" is a challenge, he said.
Figure 1
In 2010, only 50% of respondents' pay increased.(Click to enlarge.)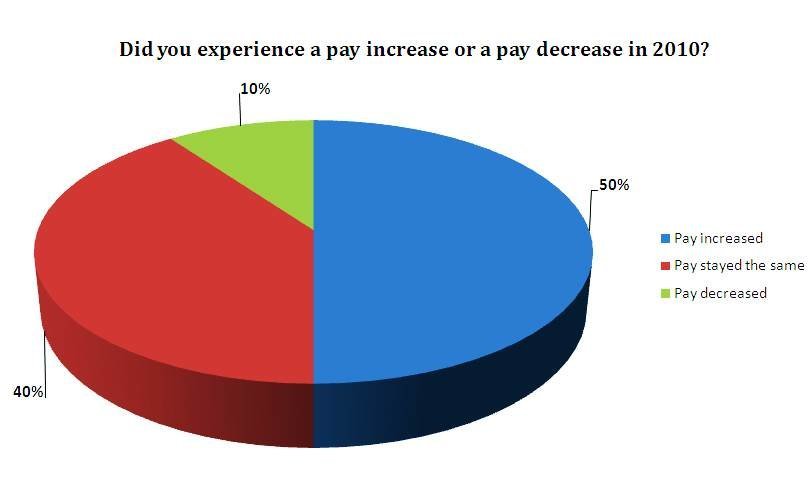 Keeping the trains running
For many data center professionals, the task of keeping the trains running can easily subsume more strategic projects.
"You never know what kind of fires are going to pull you away from what you're doing," Fouts noted.
The 100-bed nonprofit hospital has two main data center sites, one for its cancer center and another for roughly 10 family clinics, with a total of nearly 175 servers. Over the past year, the hospital has virtualized its highly customized patient record system, which includes several applications.
Longer-term projects often take a back seat to daily fire-fighting.
While the decision to virtualize resource-intensive applications has boosted server utilization, it keeps Fouts entrenched in the daily business of ensuring application uptime and problem-solving servers and the network. "[With] a virtualization strategy comes the storage and network issues. You need [them] to be fast enough to support your virtual infrastructure," Fouts said.
Figure 2
Nearly 70% of respondents received an increase of 5% or less.(Click to enlarge.)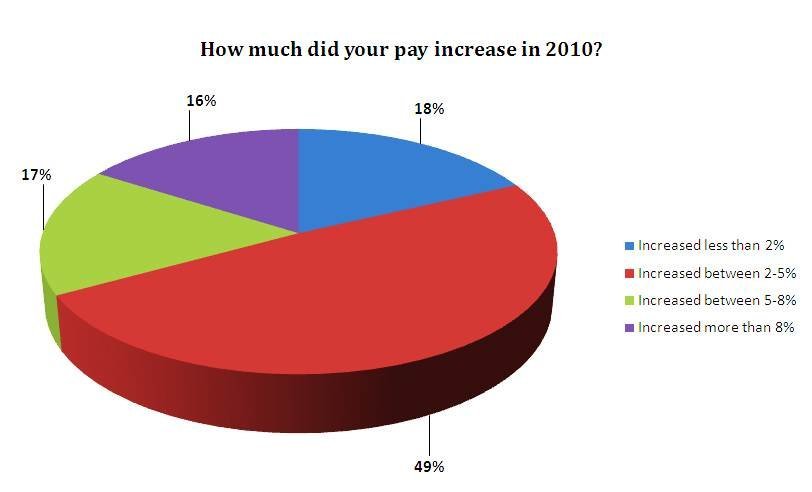 These kinds of issues keep Fouts and his 25-member IT team busy, but they can also hamper long-term, strategic initiatives, such as a laptop security project in the works to prevent a data breach in the event of a lost or stolen laptop. But Fouts says this project could still take another year to complete, given what's on the daily roster.
Another question for data center professionals like Fouts is how to get to the next level. While 38% of respondents want to rise in the ranks -- to the CIO level or even beyond to a business role -- their current roles may not allow for that trajectory (see Figure 4). "I'm already a senior server type," he said. The only way to move up in his role, he surmised, might be to replace his direct supervisor -- or leave. the company.
Figure 3
For companies with IT budget cuts in 2010, more than 40% of managers now have more tactical roles.(Click to enlarge.)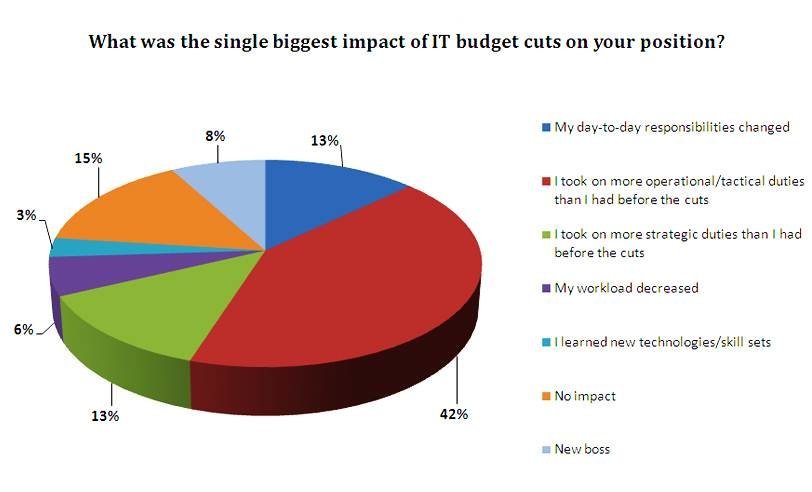 According to the salary survey, 71% have spent more time this year on adjusting to new technologies and priorities, but only 8% now spend more time on strategic tasks, such as helping the business side make its case for a strategic IT project. And according to the survey data, 35% are less satisfied with their role today than they were a year ago (see Figure 5).
Figure 4
Only 15% of respondents aspire to move to a business-executive role.(Click to enlarge.)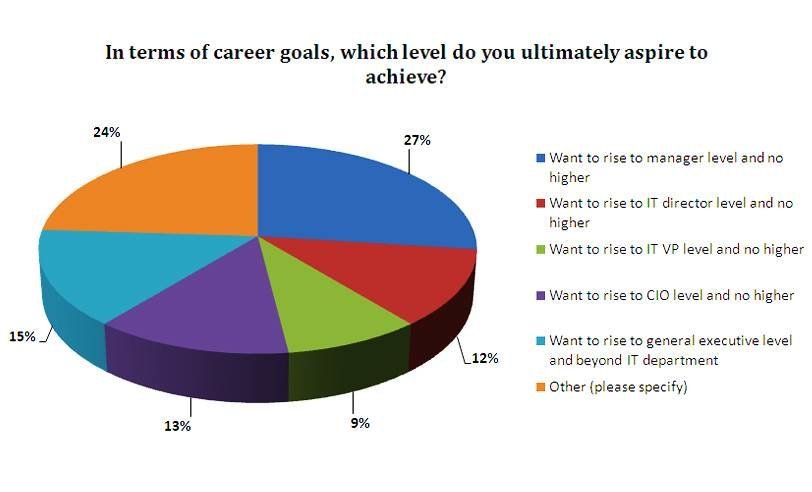 Running lean and mean
On a recent Monday morning, Hilary Tulier arrived at work to discover two critical infrastructure failures; a fiber link and a Cisco switch had gone down. With some 50 employees unable to access the network, Tulier was on the hunt to find the source.
Tulier is a business systems manager at ACT Pipe and Supply Inc., an independently owned waterworks and fire protection distributor in Houston, though with all the tasks he's absorbed recently, the title of IT director "would be more appropriate," he said.
Indeed, daily fire-fighting is only part of Tulier's role. He also has to fill the void created by the VP of IT, who left in April 2010. With the departure, Tulier absorbed additional strategic IT duties, but he's still saddled with the day-to-day tasks. "Until the VP of IT left, I was a lot more operational," he said. "Now it's pretty much me." Tulier has only two additional full-time staff and three contract employees for his nearly 400-person company. And not all have his level of experience or skill with server management in particular or IT in general.
Not surprisingly, longer-term projects -- from a data center disaster recovery (DR) site project to an upgrade from Exchange 2003 to Exchange 2010 to a "long overdue" enterprise resource planning upgrade -- have necessarily taken a back seat to daily fire-fighting. But with virtualization becoming more central to the company's strategy, Tulier says, getting the DR site up and running has become priority one.
"The data center has languished for three years," Tulier said. "But with one host for several virtual servers, we're prone to a major failure," he said. "We need to get the resiliency there."
Figure 5
More than one-third of survey respondents aren't happy with the direction of their role.(Click to enlarge.)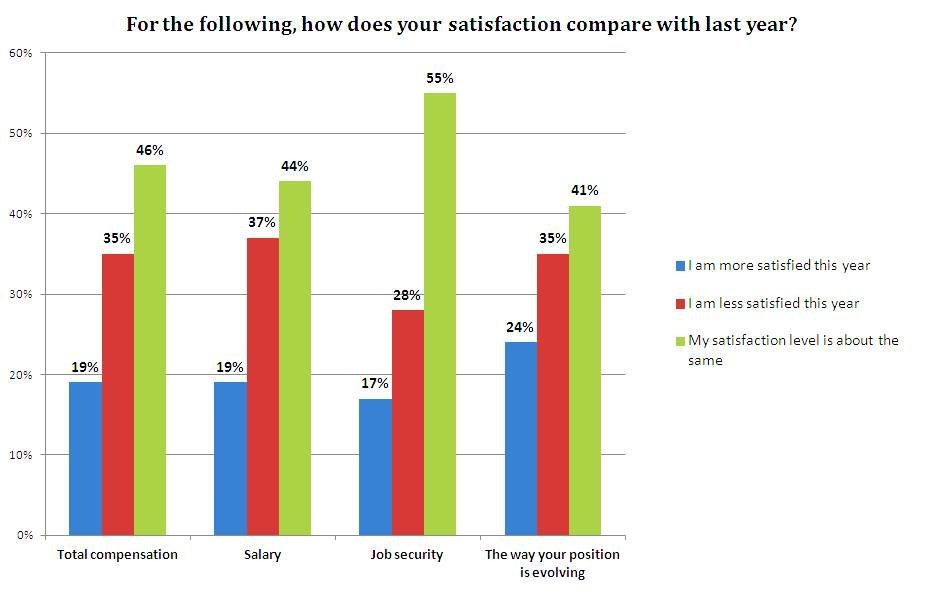 Bringing data center operations back in-house
But some IT managers have enlisted virtualization to make strategic IT decisions and improve the business bottom line. Richard Gay, the senior infrastructure architect at Miamisburg, Ohio-based NewPage Corp., leads a team of 10 junior and senior data center administrators. In 2008, then as a consultant, Gay brought data center infrastructure management back in-house for the coated-paper manufacturer after a company acquisition and data center consolidation.
I took a big pay hit to come in full time.

Richard Gay, senior infrastructure architect, NewPage Corp.
Gay's team insourced data center management, largely with virtualization. The main data center facility in Wisconsin now runs 400 virtual machines on 25 blade servers. By eliminating the bulk of its managed data center services, the company achieved substantial cost savings, to the tune of $18 million a year, Gay estimated.
Still, on a personal level, bringing infrastructure back in-house hasn't been a home run for Gay. "I took a big pay hit to come in full time."
And while Gay says his 15 years of experience and 11 certifications have helped him work strategically with the business side, his next move isn't clear (see Figure 6). "I'd like to have room for promotion. But I don't want to go into management," he said.
Figure 6
Only one-third of respondents view IT certifications as important.(Click to enlarge.)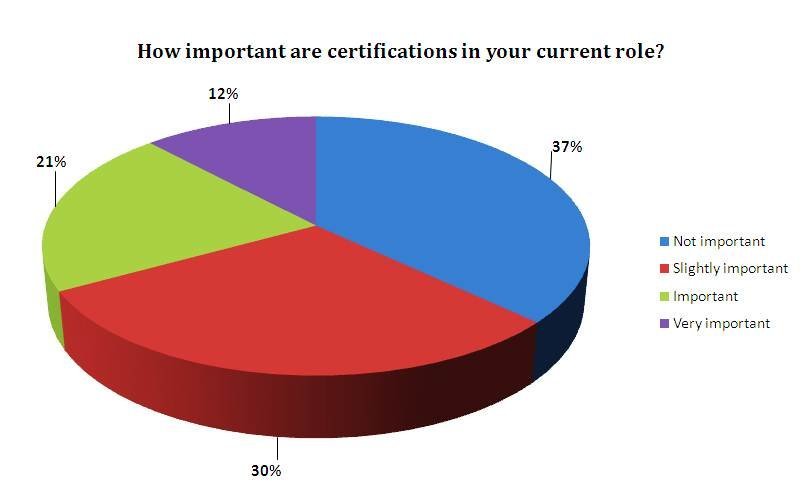 Are data center jobs in jeopardy?
For these data center professionals, roles are in transition and their struggles concerning salary and job prospects may signal winds of change in the industry at large, say observers.
Companies now place greater value on 'hybrid' IT-business roles.
Traditional server administration and management skills that have long been associated with data center infrastructure roles are less valued today, say experts. "Many of these tasks are automated now," said David Foote, the president of Vero Beach, Fla.-based Foote Partners LLC. So too, companies have placed greater value on "hybrid" IT-business roles or specialized data center skills rather than generic infrastructure jobs. And as the industry embraces managed services, outsourcing and cloud-based approaches, many traditional data center infrastructure jobs have begun to disappear.
But while these IT infrastructure models are en vogue today, data center managers say that outsourcing IT wholesale just isn't realistic, and the cost savings haven't proved out. "Companies are still going to need high-level administrators," Gay said. If companies can outsource data center infrastructure at one-fifth the cost, said Gay, great. "But right now, technologies like virtualization and cloud can make things easier, but they don't necessarily make them cheaper," he emphasized.
"Why would I want to pay someone more to do what I do every day?"
Lauren Horwitz is the Senior Managing Editor of SearchDataCenter.com..Write to her at [email protected].
About the survey: SearchDataCenter.com and SearchServerVirtualization.com conducted the "Data Center Salary and Careers 2010" survey between October and November 2010 and contacted readers by email. The total number of respondents is 278 data center managers and administrators.