AI acquisitions lead to consolidation
Analytics and AI startups emerge regularly and grow quickly. Frequent acquisitions, however, seem to be creating a more consolidated industry, cementing some vendors at the top.
Google Cloud made headlines with its June 6 acquisition of Looker, an analytics and business intelligence startup, for $2.6 billion. That pickup was shadowed soon after by Salesforce's purchase of self-service analytics vendor Tableau for a whopping $15.7 billion.
The pair of acquisitions drew worldwide attention due to their high price tags and prominent players, and they highlighted the growing prominence and value of BI technologies.
While analytics and AI acquisitions of that size are relatively rare, larger vendors have regularly been acquiring analytics, data and AI startups. The frequent absorption of smaller companies, especially startups, appears to be leading to more consolidation in the AI space.
Startups abundant
Most AI companies that get acquired are startups and are generally about 3 years old, according to a 2019 report by the U.N.'s World Intellectual Property Organization on AI.
That makes sense. Over the last few years, AI startups have flourished.
Most AI companies that get acquired are startups.
A 2018 report by the AI Index, an organization comprised of university professors and AI experts that tracks and distills information related to AI, described just how fast AI startups have grown.
From 2015 to 2018, the number of active AI startups in the U.S. increased by 113%, while the number of all active startups increased by 28%, the report said. Venture funding from 2013 to 2017 increased 350% for AI startups. For all startups, it increased 100% during that time.
Currently, though AI technologies are becoming ever more powerful, they have a limited range of capabilities. While they have been a boon to many organizations by increasing productivity and reducing costs, they still have limited demand and usefulness.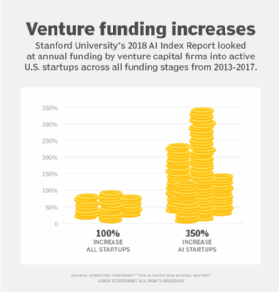 Startups entering into an already overcrowded market face competition from dozens of other startup vendors with similar products, as well as from tech giants like Google, AWS and Microsoft.
Regularly, startups absorb each other, making analytics, data or AI acquisitions to increase their own capabilities, as well as to help eliminate competition. Machine learning vendor DataRobot has, for example, acquired four startups since it was founded in 2012.
Tableau, before it was acquired by Salesforce, had made analytics and AI acquisitions itself, including absorbing an MIT AI startup in 2018. One of Tableau's principal rivals, Qlik, made two analytics and AI acquisitions just this year.
The tech giants
The tech giants are also regularly snapping up startups. Alphabet, the parent company of Google, has made some 13 acquisitions since the start of 2018, buying AI, analytics, image search and cloud companies, among others.
Microsoft in 2018 acquired several AI startups, including Bonsai, XOXCO and Lobe, in an effort to expand its own AI capabilities and systems. Apple, Amazon, Facebook and other tech giants have made similar acquisitions over the last few years, snapping up promising startups and merging their technologies into their own platforms.
It's easy to understand why. A recent PwC report concluded that, in 2030, global gross domestic product could be 14% -- roughly $15.7 trillion -- higher as a result of AI. It's a major industry, and companies want to be big players in it as AI adoption continues to build.
Ultimately, consolidation will likely help cull competition, while securing tech giants' position at the apex of the market. At the same time, AI acquisitions may bring forward newer companies, such as DataRobot, potentially giving rise to more giants in the field.