phonlamaiphoto - stock.adobe.com
New IBM Power9 server adds Nvidia, Google chips for AI workloads
Big Blue rolled out another member of its IBM Power9 server family targeted at corporate users who are ready to move beyond the training phase of their AI projects to the deployment phase.
IBM rolled out new Power9 servers built for corporate users looking to shift their AI initiatives from the training phase to the deployment phase in compute intensive environments.
The new IBM Power System IC922 contains two Power processors with 12 cores, six Nvidia T4 GPUs, although it can hold up to eight, built-in high-speed interconnects such as PCIe Gen4 for networking and storage combined with up to 24 small form factor drives and supports OpenCAPI. The system also has eight DDR4 ports and when the system works at 266 MHz it enables 170 GB of peak memory bandwidth per CPU and has 32 DDR DIMM slots. The new system meets the specifications of the OpenPower partner design.
"So far, we have focused primarily on AI training, but increasingly we see users quickly moving to operationalizing AI development," said Dylan Boday, director of IBM's cognitive systems infrastructure. "It is at this stage users have to think more holistically about exactly what their critical data is, what is it built on and how are they accessing it to build their models because that's where all your accuracy comes from."
The new server is the latest evolution in a series of Power9-based servers IBM has introduced over the past few years, each one dedicated to a different phase of AI, including training, development and finally deployment to production environments.
The IC922 Power Server is focused on the last step "where the rubber meets the road," Boday said, while its predecessor, the Power AC922 was positioned as an AI training platform and the Power LC922 server, which supports up to 44 cores in a two-processor configuration, is built for handling workloads involving big data.
An inferencing server makes sense now that users and developers have had a few years of developing AI models, and those models are getting bigger and more complex.

Peter RuttenResearch director, IDC
Some analysts believe the timing of the IC922 is appropriate given the rapid adoption of AI and machine learning-based development projects underway.
"An inferencing server makes sense now that users and developers have had a few years of developing AI models, and those models are getting bigger and more complex," said Peter Rutten, research director at IDC's enterprise infrastructure practice. "The systems you use to train an AI model are not the most ideal systems on which to do inferencing," he said.
Another analyst agreed that users about to launch AI-based projects need a dedicated inference server and should not try to use their existing training servers to handle both phases.
"A lot of people out there are looking to build a generic AI engine for both training and inferencing, but you aren't going to get optimal performance on either end of things there," said Jim McGregor, principal analyst at Tirias Research, a U.S.-based high-tech research and advisory firm.
"When it comes to training and deep learning, you need a massive amount of horsepower and massive amounts of data," McGregor said. "But when it comes to inferencing, you need a lot of throughput. It makes sense to have two engines."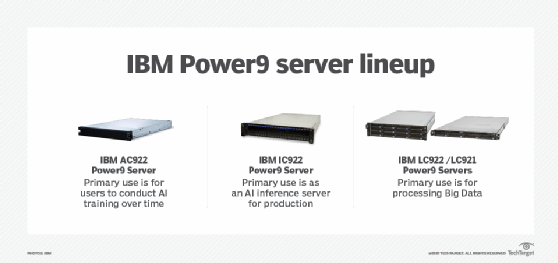 IBM Power9 integrates Nvidia, Google chips
One interesting aspect of the new hardware IBM officials did not elaborate on was its choice of Nvidia GPUs, which are used in other versions of the Power systems, but it also decided to incorporate Google's Tensor Flow accelerator chip. Earlier this month, Google signed a deal with IBM to use Big Blue's Power servers to run its cloud software. McGregor said the decision demonstrated that IBM is not trying to lock users into a single vendor's hardware.
"It is rather unique that IBM is adapting the [Power platform] for multiple different types of accelerators, whether it's a Nvidia GPU or Google TPU or and FPGA. You can use the system for whatever inference engine best fits your workload," McGregor said. "It's a smart move by IBM not to lock users into just one accelerator."
McGregor added that custom silicon development is a growing area of interest for many chip makers and that "a lot of" custom development dollars are being poured into custom chips for inference processing.
While IBM officials believe the IC922 server compares favorably to Intel's x86-based competitive offerings -- where the world's largest chipmaker appears to be building some momentum from AI infrastructure investments. Intel's year-end revenues reported last week show the company generated some $3.8 billion in AI-based revenue. Company CEO Bob Swan said he expects demand for the second generation of Intel Xeon Scalable processors to grow as users adopt the Xeon processor as the foundation of their AI-based data center workloads. Intel's Cascade Lake family, which is designed to optimize AI performance, will add the third generation of that chip, called Cooper Lake, in the first half of this year.
"This [AI market] is shaping up to be a critical battleground for both IBM and Intel going forward," said Frank Dzubeck, president of Communications Network Architects. "It will be an old-fashioned speeds and feeds race in the AI market."