sheelamohanachandran - Fotolia
Amazon highlights distancing with Distance Assistant
Amid a lawsuit over unsafe warehouse conditions, Amazon brings an AI-powered camera and monitor system to its warehouses to help employees maintain social distancing.
Amazon has started applying AI and machine learning to camera footage in its warehouses to help employees maintain a safe distance from each other amid the COVID-19 pandemic.
Amazon's Distance Assistant, revealed on Tuesday, less than two weeks after warehouse employees sued Amazon over unsafe warehouse conditions, is a standalone device comprised of a 50-inch monitor, camera and local computing device.
It uses AI and augmented reality technology to automatically judge the distance between people captured on a live camera feed and display the results on the monitor.
Individuals walking past the device are highlighted with green circles on the monitor if they maintain a distance of at least six feet from others. They are displayed with a red circle if they are closer than that.
Amazon has deployed the system in some of its warehouses and plans on deploying hundreds more over the next few weeks, according to a blog post from the tech giant. Amazon said it plans make the technology open source.
The system aims to help site leaders at warehouses identify high-traffic areas and apply additional social distancing measures.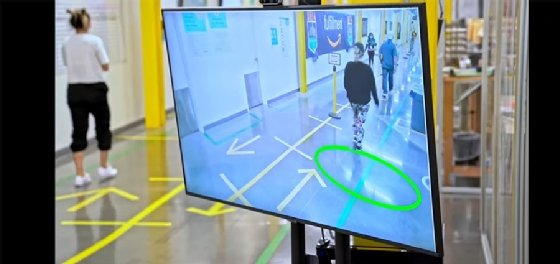 Old tech
The core technology behind Distance Assistant, including depth sensors and Amazon's image detection AI software, is already tested, said Nick McGuire, senior vice president and head of AI and enterprise research at CCS Insight.
"Amazon's image recognition technology is a major contender in the market, so the components are there to make it successful," he said.
Forrester analyst Mike Gualtieri said the system ought to work effectively, noting that self-driving vehicle technology, automated surveillance systems and retail shopping computer vision systems use similar technology.
Technology like Distance Assistant can accurately identify people and the distance between them.

Mike GualtieriAnalyst, Forrester
"Technology like Distance Assistant can accurately identify people and the distance between them," Gualtieri said.
Practicality problems
Yet, the practicality of Amazon's Distance Assistant is unclear.
For one, employees have the be in view of the cameras, and then they have look at the 50-inch monitor to see their distance from others.
And in a fast-paced warehouse, employees may not have time to look at a monitor.
It's "yet another cognitive task that employees will always have to be aware of," Gualtieri said.
In addition to potential problems with having to look at a monitor, six-foot distancing likely is not sustainable in warehouses or other industrial facilities, he said.
In the meantime, Amazon and other big online retailers will keep accelerating their warehouse automation efforts, Gualtieri said.
He speculated that "five years from now an Amazon warehouse will probably have a few employees watching monitors while AI makes all the decisions and robots carry out the tasks."
On June 4, less than two weeks before the unveiling of Distance Assistant, three employees in Amazon's New York City warehouse filed a lawsuit alleging the company did not adhere to public safety guidelines for COVID-19 and pressured employees to work in unsafe conditions. Amazon disputed the claim and pointed to extra measures it has taken to clean facilities and check employees for fevers.
The lawsuit followed other claims about Amazon warehouse safety problems.
Still, Amazon said that employees responded positively to Distance Assistant in the warehouses in which the tech giant company deployed it. Site leaders welcome another safety measure, and employees find value in getting immediate, visual feedback, the blog post claimed.
Above all, Distance Assistant shows that "we are at the beginning of a big wave of innovation to come in industries and workplaces that will form the next chapter of work as a result of [COVID-19]," McQuire said.
Other vendors have debuted workplace technology to enforce social distancing and positive health, including thermal imaging systems to automatically identify fevers, and contact tracing apps.
"Bottom line is that working environments have to get smarter in the next phase of work to become safer and Amazon appears to be out front of this trend," McQuire said.