Nmedia - Fotolia
Partners integrate thermal scanning into customer offerings
Efforts to mitigate the spread of COVID-19 have generated interest in thermal scanning systems. Find out how channel firms are incorporating the technology into their offerings.
As the world continues to grapple with the spread of the coronavirus, organizations are turning to thermal scanning systems as a means of protecting health in public and commercial spaces. Channel partners have stepped up to meet the demand.
The technology, which measures heat emitted from an individual's skin to determine their core temperature, has existed in various iterations long before the COVID-19 pandemic. However, market players are giving thermal scanners a 2020 spin.
New fever detection systems incorporate advanced technologies designed specifically for COVID-19 use cases and to ensure a high level of accuracy in temperature readings. Providers say thermal scanning systems are suited for a multitude of applications at airports, sports stadiums, schools, office buildings, distribution centers and healthcare facilities -- these are just a handful of examples where the technology could help reduce the presence of the virus.
Andrew Southern, founder and CEO at Invisible Health Technologies, a New York-based VAR launched in April, said thermal scanning technologies have sparked broad interest. "There is certainly more interest every day as people start to settle into the idea that … there are some viruses that will be with us for some time," he said. The company offers Omnisense Systems' Sentry MK4 Mass Fever Screening Systems, which specialize in scanning crowds in motion.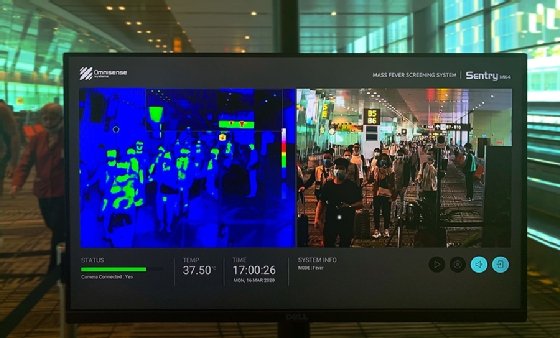 Factory sites are among those engaging Invisible Health Technologies for thermal scanning systems, Southern noted. "These facilities are realizing they need to implement something to help keep their employees safe and, frankly, to reduce the potential for outbreaks," he said. "You can imagine there is a lot of lost revenue and time related to an outbreak in a factory. So, these folks that are adopting this technology are looking at both the health and safety of their employees but also to protect their bottom line.
"The market will shake out exactly where this [technology] is most useful," he added.
Selling thermal scanning systems
While channel partners currently offer thermal scanning systems as standalone products, some are wrapping the technology into broader offerings.
Chris Swanger, regional vice president of eConnect, said his company integrates thermal scanning in a solution dubbed eClear. In addition to providing temperature checks, eClear can use face-matching capabilities to perform tasks such as autonomously logging employees into a timesheet system. EClear can also count people, Swanger said, allowing facilities to monitor occupancy levels in real time.
"All of this is simultaneously conducted along with the thermal scan," Swanger said. He noted that eConnect sells eClear directly and through its reseller partner program.
In one application, users can install the system at a facility's entrance and require an individual do a temperature check in order to gain access. They can configure the system to communicate to individuals if their temperature is normal or elevated, as well as request they wear a face mask. The system will issue alerts if someone is exhibiting elevated temperatures "so that the people that need to know … can triage that person and give them a notification," Swanger said.
EConnect has deployed eClear for a variety of customers. A vertical the company targets is gaming, with customers that currently include Comanche Nation Entertainment, Ute Mountain Casino Hotel, North Star Mohican Casino Resort and Lucky Star Casino.
Swanger said eClear aims to provide customers with functionalities that will remain relevant after COVID-19's spread becomes less of an urgent concern. That's attained through the offering's other features, such as the employee time clock system. "[Customers] don't want to invest in a device that is going to end up in the closet in six months," he noted.
Orion Innovation, a business and technology services provider based in Edison, N.J., sees long-term use in thermal scanner technology. The company has integrated thermal scanning capabilities into its services for the sports and live entertainment vertical.
[The thermal detection system] is really an additional capability that we worked into our overall workflow.

Sam AdeyemiHead of the sports and entertainment division, Orion Business Solutions
Sam Adeyemi, the head of the sports and entertainment division of Orion Innovation, said he expects crowd-health assessment to persist in that vertical market even after the pandemic. "It is similar to back when you had the Paris bombings and a number of the leagues instituted different homeland security-based security protocols. You are now going to see a similar wave of solutions that come into live venues. I do think there are going to be some near-term things that stick, but for the foreseeable future, you now have a 'next normal' that will include temperature checks," as well as an increased level of sanitization and touchless operations, he said.
"The COVID use case is just that -- it's another use case," Adeyemi said. "As we deploy our technologies, we are constantly looking at ways of evolving them. … [The thermal scanning system] is really an additional capability that we worked into our overall workflow."
Addressing limitations
The most obvious limitation of using thermal scanners for COVID-19 risk mitigation is that infections don't always result in fevers. Since the early days of the pandemic, experts have warned of the risks of asymptomatic COVID-19 carriers.
The channel partner executives interviewed for this article all acknowledged this limitation. These systems aren't a magic bullet but should instead be used as part of an organization's overall strategy for managing the pandemic.
"We need to do what we can, and that would be … social distancing, mask wearing and hand sanitizing, along with thermal scanning, to try to mitigate the risk of illnesses in public spaces. It won't eliminate it, but it can help to mitigate it," Southern said.
Detecting fevers in moving crowds
Invisible Health Technologies' Southern said the Omnisense system is looking to differentiate itself in the market by providing the ability to scan groups of people in motion. He said the system uses two cameras: a thermal camera and a regular surveillance camera. When the thermal camera detects someone who exceeds the temperature threshold, it alerts an employee watching the system's monitor. Using the feed from the regular surveillance camera, the system will identify the individual exhibiting a high temperature on the monitor by drawing a digital box around that person's face. The employee can then "spring into action and pull that person aside," Southern said.
Another limitation is elevated temperature doesn't always mean an individual is sick. For example, if a person were to run up several flights of stairs and enter a camera's view, they would probably get flagged. Problems can also occur as individuals move between different temperature environments.
"You can't take someone out of the bitter cold or the tropical heat and bring them into a building and scan them within five seconds, because they will still be coming in with that residual temperature on their skin," Southern said.
Both Southern and Swanger said it takes about 60 seconds for skin to regulate itself and acclimate to an interior space.
"The human skin has an excellent way of controlling the body temperature," Swanger said.
Thermal scanning systems can also run into other issues. For example, Swanger said if an individual is wearing a hat, a headband and/or a lot of makeup, it can interfere with the scan.
Camera-based data collection systems can get complicated, depending on whether a space requires individuals to opt into the screening, Adeyemi noted. It's a consideration in the sports and live entertainment space. "That is something that has to be a consent-driven workflow, and that is where most of the thought process is going into with the [sports] leagues," he said.
Dig Deeper on Emerging technologies for MSPs