Remote troubleshooting made easier with Windows 7's Problem Step Recorder
Remote technical support is easier to administer with Windows 7's Problem Step Recorder -- a new tool that allows users to show you exactly what their problems are.
Problem Step Recorder is a new tool in Windows 7 that simplifies the remote troubleshooting process.
As someone who spent the early part of his IT career working at a help desk and who routinely provides support for friends and family, I know how frustrating telephone technical support can be. Even in the best circumstances, telephone support tends to be a lot more time-consuming than diagnosing a problem in person because users often fail to accurately describe their problems, or they leave out critical information.
But it isn't always the user's fault. Many users simply don't know enough about their systems to provide the information needed without being probed for it.
Microsoft's Remote Assistance tool, which was introduced with Windows XP, makes remote troubleshooting easier. However, many technical and political issues make using Remote Assistance all but impossible in a lot of situations.
With Problem Step Recorder, many of the problems have been solved.
The tool allows a user to show you exactly what type of error message he is receiving as well as the events that triggered the error. Furthermore, Microsoft had made Problem Step Recorder easy to use -- even for a novice.
When a user requests telephone support, instruct him to enter the PSR.EXE command into the Search field on the Start menu. This launches the Problem Step Recorder (Figure 1).
Figure 1: Problem Step Recorder interface


As shown above, the user must then click Start Record. Then he should do whatever is causing the problem. The user can pause the Problem Step Recorder at any point and can use the Add Comment option to provide additional annotation.
Once the user has reproduced the problem, he can click Stop Recording. At that point, Windows prompts the user to save a Zip file. Once saved, this file can be sent to you or to your support staff. The size of the Zip file varies depending on the number of steps performed and on the number of monitors the user has. In my tests, a four-step procedure on a dual-monitor workstation resulted in a 715 KB Zip file.
The Zip file contains a single .MHT file, an archived webpage commonly referred to as an MHTML document. In the Problem Step Recorder, the .MHT file contains a series of screen captures taken as the user demonstrates a problem. Best of all, each screen capture is automatically annotated with notes specifying what the user clicked on.
A .MHT file is shown in Figure 2. (The screen captures look a little odd because I am using multiple monitors and Windows captures the contents of each monitor.)
Figure 2: Example of a .MHT file (click to enlarge)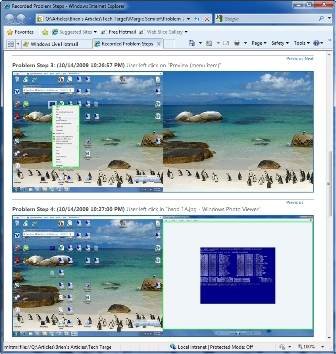 Since I didn't want to produce an error on my computer, I recorded the steps involved in previewing an image of the so-called Blue Screen of Death.
The report contains exactly what I clicked on and in what order. The Problem Step Recorder takes a screen capture after every mouse click. In some cases, Windows even highlights what is being clicked. For example, at Problem Step 3 in the image above, the shortcut menu is highlighted in green.
The Problem Step Recorder has one major shortcoming: It is designed to snap a screen capture after each mouse click. Often, users work until they receive the error message and then click Stop Recording. This means that the actual error message is not captured within the report. Therefore, instruct users to click on the error message prior to clicking Stop Recording to ensure that the error message will be displayed in the report.
With Problem Step Recorder, you no longer have to depend on users to accurately describe their problems, which should improve your ability to make a fast and accurate diagnosis.
ABOUT THE AUTHOR:

Brien M. Posey, MCSE
Brien M. Posey, MCSE, is a Microsoft Most Valuable Professional for his work with Exchange Server and has previously received Microsoft's MVP award for Windows Server and Internet Information Server (IIS). He has served as CIO for a nationwide chain of hospitals and was once responsible for the Department of Information Management at Fort Knox. As a freelance technical writer, Posey has written for Microsoft, TechTarget, CNET, ZDNet, MSD2D, Relevant Technologies and other technology companies. You can visit his personal website at www.brienposey.com.