tiero - Fotolia
Executive shuffle rolls through ERP industry
2019 was a year for change in the executive ranks of SAP and other ERP vendors, as the companies face struggles in moving their large on-premises installed bases to the cloud.
Change was in the air in the ERP industry in 2019, as several top vendors made changes in their executive leadership. In fact, the past year -- and the previous one -- saw executive shuffle throughout the ERP industry as executives moved from one company to another.
No company was more indicative of this transition in leadership than ERP industry leader SAP, which saw the wholesale changing of the executive ranks. The most prominent change was the departure of longtime CEO and public face of the company Bill McDermott, who abruptly stepped down from his post in October. McDermott was quickly tapped to be the CEO at ServiceNow, a smaller but growing enterprise firm that provides workflow software.
McDermott was replaced at SAP by co-CEOs Christian Klein and Jennifer Morgan, two SAP veterans. However, this was only the capstone of a year of change within SAP's leadership. Robert Enslin, formerly head of SAP's cloud business group, left in April and landed at Google.
Other long time SAP executives left the company, including Björn Goerke, Bernd Leukert, Alex Atzberger, Marcell Vollmer and Hala Zeine. The reasons for their departures were not always made clear and it appears that some, including Goerke, Leukert and Atzberger, were not voluntary. Goerke and Leukert landed prominent IT roles at major corporations, while Atzberger was named CEO of Episerver, a smaller firm that develops content management software.
Vollmer and Zeine both voluntarily left SAP to join Celonis, a small startup that has pioneered process management software.
SAP was not the only ERP industry company to make changes, however. In August, longtime Infor CEO Charles Phillips stepped down from his role to become chairman of the company's board, and was replaced by then Infor CFO Kevin Samuelson. In 2018, IFS tapped former SAP executive Darren Roos to become its CEO.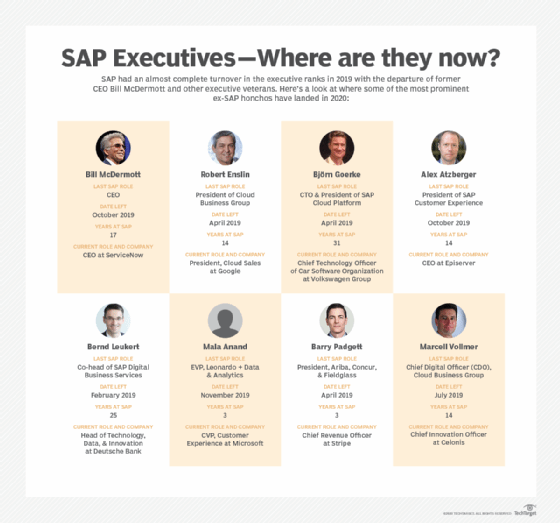 Cloud transition is difficult
The question that remains is this: Was 2019 an unusual year for executive change in SAP and the ERP industry or was it a case of nature taking its course?
The changes happened at the CEO level, which is generally stable, and it could be a matter of ERP vendors feeling the pressure to get their customers to move their systems to the cloud, said Chris Devault, director of industry relations at Panorama Consulting Group.
ERP vendors are still trying to formulate cloud plans and it has been difficult to get customers to a cloud or multi-tenant state in big numbers, Devault said.
"They've done a good job from a marketing standpoint and a sales perspective in representing what the cloud picture is going to look like," he said. "But when you start actually implementing these applications, you have your EAM [enterprise asset management] talking to your ERP, you have field services talking to ERP behind the scenes and that's still a nightmare for a lot of these vendors."
Some of the vendors may be looking to bring in executives who have ERP industry experience with other firms because they promise some consistency but can also bring in some insider knowledge.
"You have [Roos] at IFS who came from SAP and he obviously knows in-depth where they've been and where they're going," Devault said. "It's a bit of a unique year, and I think everybody's trying to figure out what everyone else is doing and trying to hide that burden that's behind the scenes as much as possible."
The executive changes are representative of changes that the large ERP vendors are undergoing, said Eric Kimberling, CEO and founder of Third Stage Consulting, an ERP consulting firm based in Englewood, CO.
"The industry is in a major state of transition and turmoil as they rush to the cloud and migrate from legacy on-premises environments," Kimberling said. "The result is the need to completely rewire their organizations to support cloud-based products and ecosystems. This requires strong organizational leadership in addition to a strong technical vision, which is something not all executives are cut out to handle."
Economic pressures from investors may have also played a role in the executive shakeups, according to Kimberling.
"In the case of Infor, private equity firms invested heavily and expect to see strong returns as part of its transforming business model, and this could be contributing to its executive shakeup as well," he said.
Grass may be greener at smaller firms
People shouldn't read too much into the ERP industry executive movement, but market conditions may play a role, said Jon Reed, co-founder of Diginomica, an enterprise computing news and analysis site.
"When executives leave companies, you have to look at what market pressures they might have been feeling and why they think the grass is greener elsewhere," Reed said. "There's no question that running a software firm that has a big on-premises install base on older releases is a huge challenge right now. You can see why executives would want to be in situations where that is not an issue, either for customers or Wall Street valuations."
Sometimes an executive from a large company moved to a small startup because of the technology. That was the case for Hala Zeine, who took the role of chief product officer at Celonis, a Munich based startup, after a long career at SAP.
It was not easy to go to a startup after 19 years at SAP, but Zeine was convinced after seeing Celonis' process mining software in action.
"I was at a meeting with someone who was looking to reorganize his entire supply chain. He was asking the fellow C-suite executives in this meeting for advice and to exchange experiences and one of Celonis' customers said, 'Don't even think about starting that process without Celonis,'" Zeine said. "He plugged in his computer and started demoing and I was blown away." Zeine immediately sent an e-mail to Celonis CEO Alex Rinke and subsequently left SAP to move to Celonis.