vasabii - Fotolia
Inforum 2019 focuses on ease of deployment and intelligent ERP
Infor talked up AI, machine learning and embedded RPA as intelligent tools that will help make ERP projects more successful. But do customers need features like these?
NEW ORLEANS -- Infor is focused on productivity improvements and outcomes-based delivery of projects as the keys to ERP technology success.
To enhance productivity, Infor wants to make it easier for customers to move to its CloudSuite systems, a cloud-based ERP, and wants those systems to be embedded with intelligent ERP technologies such as business analytics, as well as AI, machine learning and robotic process automation (RPA).
"We're constantly looking at ways for our software to bring value to your organization," Infor CEO Kevin Samuelson said during Inforum 2019's opening keynote.
There is interest in intelligent ERP, but some customers and analysts believe it's too early to tell if it will be widely adopted in applications.
The push to intelligent ERP
One productivity enhancer is Birst, a business analytics platform that Infor acquired in 2017, according to Samuelson. Birst can be deployed as a stand-alone application, but it is also embedded into Infor's suite of applications.
He ticked off other productivity enhancers like embedded RPA to automate routine tasks such as invoice matching and user experience design, which is done by Infor's internal design agency Hook & Loop. It is tasked with designing the look of applications, but it also focuses on usability issues such as the number of clicks it takes to complete tasks.
"We're focused on not just handling the basics of your organization," Samuelson said, "but actually delivering business value."
Infor also promoted the Infor Coleman AI Platform. At the conference, Infor announced general availability of the platform, which consists of industry-specific templates for machine learning projects. The templates can be customized for a company's specific data or usage patterns, and are designed for business users, rather than data scientists, according to the company.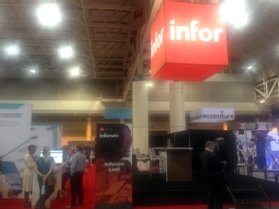 Coleman incorporates three core elements for an AI platform to deliver applications or predictive insights, according to Rod Johnson, Infor general manager and head of the Americas. They are algorithms, normalized structured and unstructured big data sets, and Infor's deep industry experience.
"We understand the difficult operational things [companies] struggle with," Johnson said. "We can get down to the nitty-gritty of processes like pricing optimization."
Evaluating cloud options
Peter Sutton, managing director of Sutton Tools, a family-owned industrial tool manufacturer based in Victoria, Australia, came to Inforum 2019 to find out how the company could migrate its 10-year-old Infor M3 system to the cloud.
"We came to the conference to evaluate the latest options, which will drive our decision whether or not to upgrade," Sutton said. "It's all on premises at the moment, so that's a big driver for us to make the decision to move to the cloud."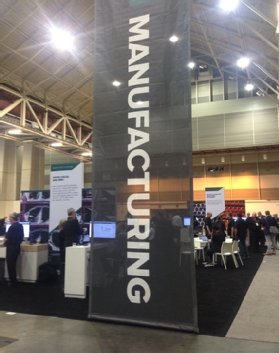 Sutton attended several sessions and also looked at product demos to walk through upgrade scenarios. He does anticipate the process of cloud migration to be extremely difficult.
"The basic data structure underneath is very similar, so I'm not expecting too much complexity," he said. "The biggest driver for us to move to the cloud is integrating third-party software. For example, we use Salesforce, so having better integration tools and better APIs will allow us to do that and hopefully save us a lot of money."
Sutton is evaluating options for intelligent ERP technologies such as Birst analytics and Coleman AI, but thinks a decision on implementing either is a long way off.
Productivity gains through real-time analytics
Birst analytics was the way into Infor's products for FPL Food LLC, a beef production company based in Augusta, Ga. FPL raises thousands of heads of cattle at its ranches and sells every part of the cow to customers around the globe, including Walmart and the Carl's Jr. restaurant chain.
Our IT department is very lean now, and I don't have people who can just dedicate their time to generating reports.

Saurabh ManiarDirector of IT, FPL Food LLC
FPL Food recently implemented Birst analytics to derive real-time insights about its products and markets, a crucial factor in a highly regulated business that deals with fresh produce, according to Saurabh Maniar, FPL Food director of IT.
"Our IT department is very lean now, and I don't have people who can just dedicate their time to generating reports," Maniar said. "We went with Birst because it's real-time reporting and because it's cloud-based, as we don't have the time and resources to focus on infrastructure."
It was easy to integrate Birst analytics into FPL's on-premises ERP system, Systems Integrated (SI). However, FPL is also planning to replace the SI with the cloud-based Infor M3, which will result in even better integration with Birst, according to Maniar.
Better to focus on outcomes than UX
It's a good thing Infor is acknowledging that ERP projects need to be better managed, better measured and done more efficiently, according to analyst Jon Reed, co-founder of ERP news and analysis firm Diginomica.com.
"A couple years ago, Infor was pushing their UX and design innovations and they haven't backed off that," Reed said. "But they've acknowledged that you can have this beautiful looking software, but if it's a pain and expensive or difficult to implement, then that's not going to work. They say they want to innovate on project delivery. Now they have to show how they're going to do that."
The Coleman AI intelligent ERP technology looks interesting, but Reed believes it's too early to tell if it will be a differentiator for Infor.
"There's not really a lot of concrete stuff there except for the process intelligence stuff, which can identify possible things that can be automated and let customers see where they can optimize processes," he said. "I like that they're trying to embed Coleman AI into their core offerings, which means that you can entice customers with new functionality they won't have to pay for separately. Time will tell, but I don't think customers are choosing their ERP vendor based on this yet."