Fotolia
Manufacturers turn to servitization for competitive advantage
Servitization leads to more resilient and profitable businesses, but only a few manufacturers are fully enabled to adopt the new model, according to IDC.
Manufacturing is increasingly shifting from traditional production and distribution of goods to a servitization model, where companies sell outcomes and services around products rather than just the products themselves.
Getting to servitization is no easy undertaking. It requires manufacturers to rethink the design, development and distribution of products as well as how to monetize services connected to them. However, the transition to servitization will enable business models that provide new revenue streams and can make companies more resilient in the face of economic troubles like those caused by the COVID-19 pandemic, said Giorgio Nebuloni, IDC associate vice president of vertical strategy and emerging technology.
Nebuloni is one of the authors of the report "IDC Servitization Barometer: Charting Your Path to New Revenue Streams," which surveyed 421 production-oriented companies on their maturity stages as they transition to a servitization model. The report was sponsored by ERP vendor IFS.
There are two essential steps on the way to servitization for manufacturers, Nebuloni said. The first is for companies to add new servitization revenue streams to their existing revenue streams. Once this is established, the second step is to focus the business model on those new revenue streams, at which point companies can begin to consider servitization models like pay-as-you-go consumption.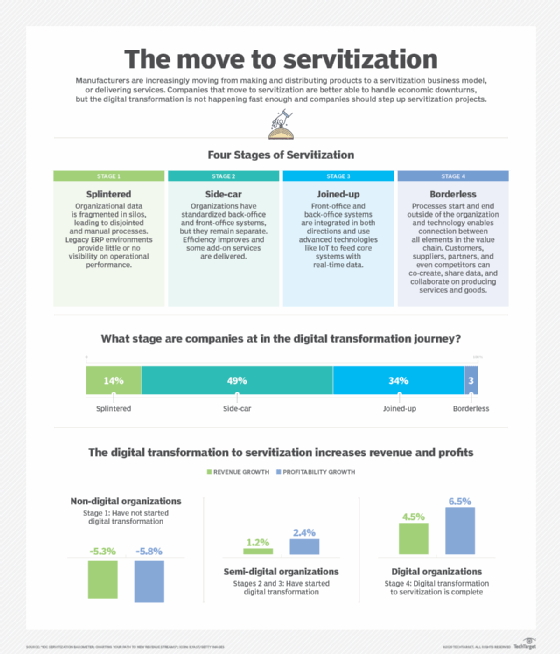 4 stages of servitization
The move to servitization can be summarized in four stages, according to the report. They are as follows:
Stage one, or "splintered," organizational data is scattered in silos and processes are disjointed and largely manual.
Stage two, or "side-car," organizations have standardized back-office and front-office systems, but they remain separated.
Stage three, or "joined-up," back-end and front-end systems are integrated in both directions, and advanced technology like IoT sensors can feed systems with real-time data.
Stage four, or "borderless," processes can start and end outside the organization, and technology enables connections throughout the value chain, including customers, suppliers, partners and even competitors.
Becoming borderless is the "nirvana" state of the transformation, which enables full servitization, Nebuloni said.
The borderless stage means that companies have a fully integrated value chain and have adopted advanced technologies like IoT sensors, AI and machine learning, Nebuloni said, but the value chain operates like an ecosystem.
"You don't just work in isolation as a company, but you feed data in and out of the company to your ecosystem partners," he said. "By doing that you can monetize that data, but you also innovate with new business models. That's the nirvana state that everyone is aspiring to."
Although the report indicates that a vast majority of companies are moving to servitization, with most in the side-car (49%) and joined-up (34%) stages, very few have reached the borderless stage (3%). The rationale behind the transformation provides motivation, Nebuloni said, in that it could lead to revenue growth, profitability and resilience in the face of economic shifts or downturns like those caused by the COVID-19 crisis.
"Some companies are better off because they could get fixed revenue streams from services, but also because they can change some of the processes more easily if events like supply chain disruption happen," Nebuloni said. "If your main business model is to make and distribute products to end customers, and there's a supply chain break or a demand break for receivables, you will be very vulnerable because you don't have enough buffer in your stable revenue streams. Also, if you don't have a deep connection of information from your front end to your back end, you will have trouble."
Servitization improves resiliency
Even if only a small percentage of companies have become borderless, it's good that such a large percentage have started on servitization journeys, said Darren Roos, CEO of IFS.
The COVID-19 crisis and the current economic upheaval have only accelerated the shift as companies understand more about what servitization is and the value that it brings, Roos said.
"Many retailers that historically would have been brick-and-mortar are now moving much more toward digital channels and new models of renting equipment and renting the service rather than selling it," Roos said. "But also in aerospace and defense, for a long time now, we've seen large equipment manufacturers like GE and the Rolls-Royce renting engines by the hour rather than selling an engine. So there's a broad proliferation of servitization becoming more ubiquitous."
That's likely because servitization can result in more reliable revenue streams, but it also shifts the relationship between company and customer from transactional to something more like a partnership, he said.
"There will be much more resilient businesses and much better quality businesses because so much more of the revenue is recurring," Roos said. "As they reach economies of scale, there's a margin of improvement that comes with it also, so it's a huge benefit."
Challenges in reaching nirvana
Still, there are challenges in reaching the borderless stage that companies will have to address, Nebuloni said.
"The challenges change depending on the stage you're in," he said. "As you move from splintered to side-car, a lot of this is about refreshing your obsolete systems, and maybe creating some efficiencies in things like supply chain management. The further you go toward borderless, the more it becomes about changing business models and transformation readiness."
The two main challenges companies will face are culture and technology deficiencies. Many organizations are stumbling because they lack the service-oriented skills required for servitization, Nebuloni said. For example, field service workers must not only be adept at understanding and using the technology, they must possess softer skills like communication. They must also keep up with training and product experience as product updates happen at a faster pace. Manufacturers also tend to lack the internal capabilities to run service-oriented businesses, and they may find it difficult to bring in executives from service-oriented industries.
"The second hurdle is technology related," Nebuloni said. "If you're running siloed systems that don't feed field service information to customer support and these don't send customer support information back into your supply chain management system, everything is going to be much harder and much slower."
Companies that are less aggressive about making the shift to a servitization model may be in trouble, Roos said, adding that the push toward servitization will eventually lead to a stronger economy.
"There are businesses that will struggle to adapt, and they probably won't last much longer, but the data suggests that most businesses recognize the opportunity," he said. "If we end up in an environment where the better businesses survive, based on a more resilient business model, that makes for a better long-term economy anyway."