Kinaxis provides tool for sustainable supply chain
Kinaxis debuted new applications designed to improve supply chain management, including sustainability reporting, planning and execution integration, and AI for demand sensing.
Kinaxis this week unveiled several new additions to its RapidResponse platform aimed at helping supply chain professionals address some of their thorniest issues.
The four new applications -- Sustainable Supply Chain, Enterprise Scheduling, Supply Chain Execution and Demand.AI -- were shown at the Ottawa-based company's Kinexions conference, held in Nashville, Tenn., and virtually.
The new applications are intended to help companies deal with a supply chain landscape that has changed radically in the last few years, said John Sicard, president and CEO of Kinaxis, in an interview. Two narratives are driving corporate leaders to look at supply chains in ways they have not done previously.
First, global supply chain disruptions caused by the pandemic and other events such as Russia's invasion of Ukraine are going to be a continuing problem, he said. Second, people are realizing that supply chains are by far the largest consumer of Earth's natural resources. Both narratives are combining to change the way companies have to manage supply chains.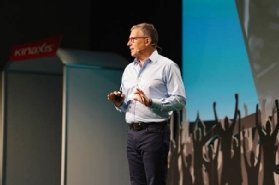 "Before this, everyone took supply chain for granted or didn't talk about it because it was a back-office function," Sicard said. "The whole idea behind supply chain was making it cost as little as possible -- it wasn't viewed as strategic."
Supply chains need to be more resilient, brought about by improved agility, he said.
The new applications expand the Kinaxis RapidResponse supply chain management (SCM) platform in the following specific areas:
Sustainable Supply Chain enables companies to calculate and report on scope 3 carbon emissions from suppliers and their suppliers in supply chains, and estimate and project emissions in different supply chain scenarios.
Enterprise Scheduling allows companies to manage integrated scheduling across an entire manufacturing landscape, including the ability to include multiple plant locations.
Supply Chain Execution integrates RapidResponse's planning capabilities with multiparty orchestration from Kinaxis' acquisition of MPO last year, joining planning and execution for supply chain processes such as transportation management, order management and returns management.
Demand.AI enables companies to manage vast amounts of structured and unstructured data to better understand product demand and adjust as conditions change.
All these applications are designed to help supply chain planners act faster as well as design and execute more efficient supply chains, Sicard said. This is vital as supply chains have such a huge role in contributing to environmental problems.
It's about how much waste is in the overall supply chain. If a company has $3 billion in the wrong inventory, that's a tax on the planet.

John SicardPresident and CEO, Kinaxis
"It's about how much waste is in the overall supply chain," he said. "If a company has $3 billion in the wrong inventory, that's a tax on the planet."
Logistics decisions have traditionally been made for financial reasons, but Sustainable Supply Chain can help companies include carbon emissions data in those decisions, Sicard said. For example, the choice of airfreighting an order of nuts and bolts from one location to another can have a different sustainability value than lifesaving medicines.
"More supply chain practitioners are looking for the opportunity to have a more balanced decision-making process," he said. "It doesn't mean you have to do it, but it's creating the conditions where if you make a decision, you know in advance both the financial and the environmental implications to the decision you make."
Solidifying strengths and improving weaknesses
The new applications solidify RapidResponse's strengths and fill some weaknesses, according to Predrag Jakovljevic, principal industry analyst at Technology Evaluation Centers.
This should position Kinaxis better against SCM competitors including Blue Yonder, E2open, Logility, Delmia Quintiq and John Galt Solutions, as well as ERP systems that include SCM functionality, such as SAP, Oracle and Infor.
Kinaxis has always been a leader in multienterprise planning and rapid replanning, but was always weaker in demand sensing and demand planning, he said.
"Demand.AI might help in that regard," Jakovljevic said. "Also, the execution was not a stronger spot either, so perhaps this Supply Chain Execution through the MPO acquisition covers that."
Sustainable Supply Chain might not be much of a differentiator, as many supply chain management systems are starting to account for scope 3 emissions, he said.
The bottom line is that Kinaxis is delivering end-to-end visibility on all aspects of supply chain, said Ray Wang, principal analyst and founder at Constellation Research.
"The Enterprise Scheduling is the crown jewel, which gives a single pane of [supply chain] visibility," Wang said. "Demand.AI will be helpful for more data-driven dynamic planning."
Sustainable Supply Chain will help companies with carbon dioxide emissions tracking and management, but it will also be helpful to have scope 2 tracking in the future, he said.
"This is ultimately about having more resilience and flexibility in managing complex supply chains," Wang said.
Jim O'Donnell is a senior news writer who covers ERP and other enterprise applications for TechTarget Editorial.
Dig Deeper on Supply chain and manufacturing