chris - Fotolia
EAM vs. CMMS: What are the differences?
When it comes to EAM vs. CMMS, making the right choice comes down to understanding what each software type does. Here's an overview of each to help you decide.
Navigating the maintenance and asset management software product landscape requires first understanding the difference between enterprise asset management and computerized maintenance management systems.
EAM and a CMMS have some overlap in functionality, but there are also differences that may impact which of these systems is right for an organization.
Understanding the EAM vs. CMMS issue requires first understanding what each does, including their similarities and differences.
What is EAM?
EAM software manages the entire asset lifecycle. This includes acquisition, ongoing maintenance and disposition. In particular, physical assets that come with a significant cost, such as a high-rise building or components of an assembly line, require comprehensive management and maintenance capabilities. Additional important EAM functionality includes planning for new capital assets, risk management and asset performance analysis to ensure asset ROI.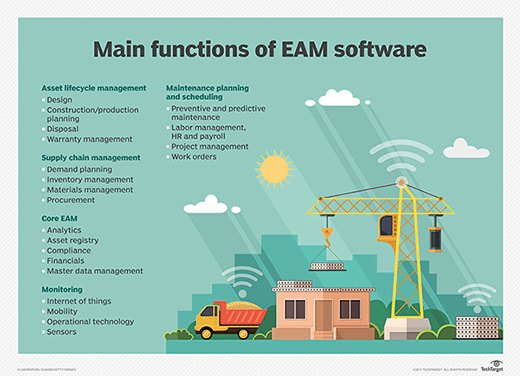 What is a CMMS?
CMMSes are less comprehensive than EAM and focus primarily on asset maintenance. This includes ensuring the organization has the necessary parts, scheduling downtime for repairs and handling work order management. A CMMS can also include workflows for approvals and integrations with other systems to automate manual processes, such as an integration to a finance application. In short, a CMMS helps an organization ensure its assets remain in constant working order and avoid unexpected downtime or issues.
How are EAM and a CMMS similar?
CMMSes sometimes offer functionality originally only available in EAM. As the market for asset management software matured, CMMS vendors began looking for features that could expand the value of the software they offer and address the competition from EAM.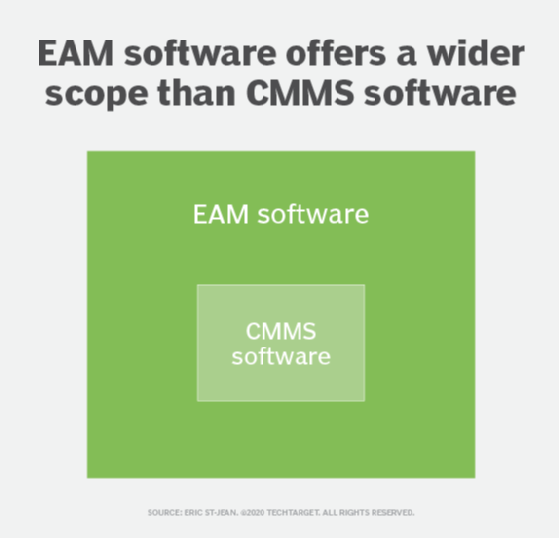 An important feature that each system shares is data storage in a database so that an organization can use it for planning. Before CMMSes were available, organizations captured data on paper or disparate systems, making forecasting a manual process and real-time analysis of the data impossible. Today, organizations can use the data they collect to plan for downtime, maintenance, inventory and disposition based on the experience they've gained from owning and maintaining their assets.
Both EAM and CMMS products help organizations maintain physical assets, are typically available via SaaS and have features such as asset tracking, maintenance request processing and inventory tracking, as well as other features that directly help ensure assets are maintained. But there are differences.
How are they different?
Despite some developing product conflation when it comes to EAM vs. CMMSes, EAM continues to focus on the full lifecycle of a wide array of organizational physical assets. CMMSes have their roots in the maintenance aspect of the asset management, and while they may have added features to compete with EAM, their functionality will not be on par with EAM if they're meant to manage an organization's full complement of assets.
EAM use cases
Multiple groups within an organization -- such as executives, finance, legal, operations and maintenance -- can use EAM to ensure that the value of a given asset is fully utilized until it is decommissioned. Organizations can also use EAM to automate workflows within the system, such as the approval of work orders, assistance with budgeting by using maintenance history and forecasting future repair requirements. The system can also maximize the uptime of production assets, such as the equipment used on production lines. There are also features available to ensure compliance and avoid costly legal issues, audit deficiencies and fines.
CMMS use cases
The primary functionality that a CMMS offers is automating the maintenance process. This includes order management, inventory control of replacement parts, maintenance planning based on historical information captured over the course of the asset's lifetime, automated approvals and reminders, and service team work tracking. Production teams and maintenance teams primarily use CMMSes to focus on uptime.
Given the overlap in functionality between the two systems, stakeholders may choose to do a cost benefit analysis to determine if an organization requires the additional feature set offered in EAM. While there may be additional features, the gap in functionality continues to close and a comprehensive CMMS may be sufficient to meet the organization's current and future needs.
Dig Deeper on Supply chain and manufacturing