Definition
enterprise asset management (EAM)
What is enterprise asset management (EAM)?
Enterprise asset management (EAM) is the process of managing the lifecycle of physical assets to maximize their use; save money; improve quality and efficiency; and safeguard health, safety and the environment.
EAM is mostly used in industries that rely heavily on expensive and complex physical assets, such as vehicles, plants and heavy equipment. Prominent EAM users include the shipbuilding, mining, energy, government, utilities, aerospace and defense industries.
Rudimentary EAM can be handled on paper or with office productivity software, such as spreadsheets. However, it is more often undertaken using specialized EAM software.
How does enterprise asset management work?
Early enterprise asset management software was standalone, or it was networked and operated by multiple users who entered data manually. Today, much of the asset data comes in automatically from sensors attached to the device and connected over wireless or wired networks to the EAM system. This connectivity enables mobile and remote access and monitoring.
EAM software is often integrated with enterprise resource planning (ERP) software. In these cases, EAM software is combined with an ERP system's procurement; human capital management; supply chain management; and environment, health and safety functions.
An EAM package might also be integrated with niche software that handles a subset of the EAM process. Examples of these are computerized maintenance management systems (CMMS) and maintenance, repair and operations software.
Integration with a geographic information system can provide improved mapping that shows asset locations and maintenance routes. Also, 3D visualization software is used to augment an EAM system's asset information.
EAM software usually follows ISO 55001:2014, an international standard for asset management systems.
Why is enterprise asset management important?
EAM's importance is in its ability to enable companies to track, oversee, evaluate and optimize their assets throughout the asset management lifecycle. An asset is any equipment that enables production, services and operations.
Enterprise asset environments are growing increasingly complex. EAM gives maintenance teams the ability to monitor and control asset reliability and quality in complex environments.
Many enterprise assets are networked internet of things (IoT) devices that collect data related to their functioning and performance. The immediate collection and analysis of operational data enables real-time insights into a networked asset's ability to fulfill performance requirements.
EAM may also be used to help adhere to compliance laws and regulations related to the management of assets, including privacy, quality and accessibility requirements. For example, life sciences companies can use EAM software to comply with quality specifications in the Code of Federal Regulations. The software triggers a nonconformance report when a device calibration fails.
EAM provides the following capabilities:
Monitor assets. EAM often uses AI-powered remote monitoring capabilities to report on the current and expected states of assets. This approach facilitates decision-making and provides more timely and accurate alerts about issues.
Maximize asset utilization. EAM products use real-time and historical data collected from diagnostic and analytical tools to maximize asset uptime, availability, reliability and lifespan, and to minimize downtime.
Consolidate assets. EAM lets asset maintenance teams manage all assets using one system with standardized processes. Data is centralized so that managers know where an asset is, when it needs attention and what it needs.
Preemptively resolve issues. EAM maintains real-time information about networked assets that lets organizations monitor and address changes that point to a potential malfunction or other issue.
Manage legacy assets and infrastructure. EAM allows companies to embed risk management into business processes and better anticipate the timing of equipment updates and replacements.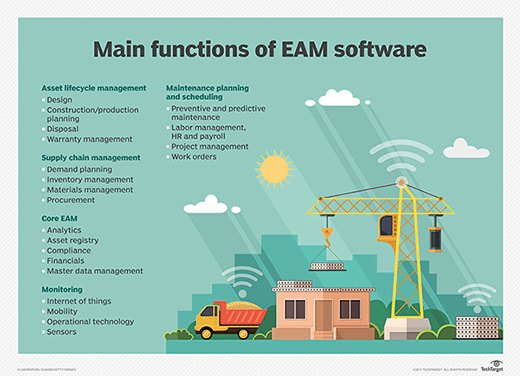 Key EAM features and functions
Research firm Gartner refers to core EAM as the basic capabilities that focus on maintaining an accurate, detailed database or registry of assets. The records include asset characteristics and histories, as well as documents about regulatory compliance. Organizations sometimes use master data management to ensure the accuracy of asset data. Financial management and analytics tools are also commonly included in EAM software.
Beyond its registry function, the other main functions of EAM are the following:
Asset lifecycle management. This common EAM software feature monitors the major stages of an asset's life, from initial design to planning its production or construction, warranty management, decommissioning and disposal.
Supply chain management. EAM software tracks and helps secure materials and components for building, maintaining and repairing assets. Most EAM software has features to streamline inventory management, materials management and procurement plans. Demand planning tools can help with forecasting.
Maintenance scheduling and planning. This component is heavily used to track available maintenance personnel and their skills, issue work orders for maintenance or repair jobs, perform work order management, record hours and arrange for payment.
Preventive and predictive maintenance. EAM analytic tools power this capability. It includes project management software to manage more complex preventive maintenance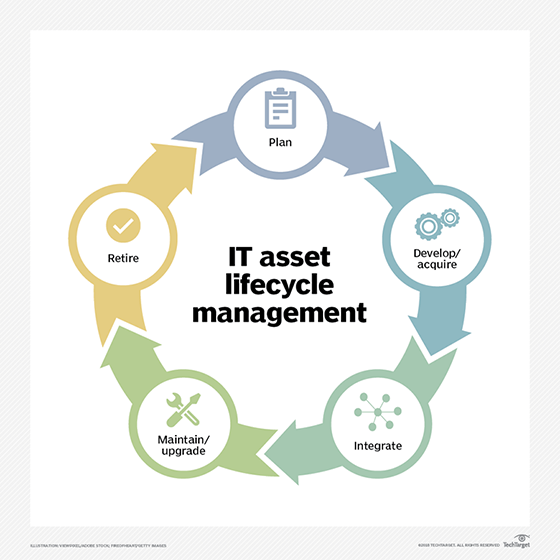 Benefits of enterprise asset management
The main benefit of EAM is to ensure that high-value assets operate as they should. By doing so, enterprise asset management provides the following benefits:
Minimize risks. EAM decreases risks in several ways. For example, the software might alert operations managers to the impending failure of a machine part. In that situation, it might also provide the information and scheduling tools to dispatch a repair person to replace the part before it fails. Timely maintenance also minimizes the risk of worker injury and environmental damage.
Minimize costs. Supply chain automation capabilities in EAM systems assist with inventory management and ensure an ample inventory of spare parts and materials to avoid the need to revert to more expensive or less reliable suppliers.
Optimize business value. EAM analytics identifies opportunities to reallocate equipment in a facility to optimize production capabilities and support new lines of business.
Applications of EAM
EAM is used in various industries, including the following:
Energy and utilities. Energy industries use assets like pipelines or powerlines for energy transmission. EAM monitors and manages these assets, as well as helps with crew scheduling and management using geospatial data.
Petroleum and mining. EAM is used to standardize and improve maintenance practices that help ensure compliance with safety and reliability requirements.
Manufacturing. Manufacturing puts an emphasis on process management methodologies, product lifecycle management and supply chain management, which EAM software facilitates.
Transportation. EAM tools help with logistic functions, including fuel management, driver logs, rail and road maintenance activities and air traffic control operations.
Life sciences. EAM is applied to life sciences mobile assets, equipment and facilities. Adherence to standards in the life sciences is crucial; for example, cold chain suppliers can use asset management tools to monitor their product and ensure it is kept at the proper temperature during transit.
Healthcare. Critical healthcare assets move among locations and may be needed quickly. EAM helps companies track assets and manage them and comply with strict reporting requirements.
Nuclear. EAM is used at nuclear facilities to ensure compliance with health, safety and security regulations. It also supports workflow processes and access management.
EAM software providers
Most ERP software vendors, including SAP, Oracle and Infor, as well as smaller ones, like IFS, sell separate EAM modules. These modules are typically integrated with the vendor's ERP, but buyers have the option to choose different vendors for the two.
The EAM market is evolving from traditional asset management to asset performance management, which has influenced vendors to provide software that manages the entire product lifecycle.
Some EAM software providers include the following:
Accruent
CMMS Data Group
Dynaway
eMaint
Fiix
Fracttal
Hexagon
Hitachi Energy
IBM
IFS
IPS
Oracle
Ramco
SAP
UpKeep
EAM vs. CMMS
EAM and CMMS describe two types of software for managing enterprise assets. Though the terms are different, there is overlap, and they are often associated with one another.
CMMS software is a system or tool used to centralize information with the goal of enabling and automating maintenance management processes. It is often a component of an EAM system.
EAM is an approach to asset lifecycle management that focuses on maintaining, monitoring, evaluating and optimizing assets from acquisition to disposal. EAM includes a range of software and tools.
Asset management is often confused with configuration management. Learn the difference between the two terms and how they overlap.
This was last updated in
November 2022
Continue Reading About enterprise asset management (EAM)
Dig Deeper on Supply chain and manufacturing