Definition
enterprise asset management (EAM)
Enterprise asset management (EAM) is the process of managing the lifecycle of physical assets to maximize their use; save money; improve quality and efficiency; and safeguard health, safety and the environment.
EAM is mostly used in industries that heavily rely on expensive and complex physical assets, such as vehicles, plants and heavy equipment. Prominent users include the oil and gas, shipbuilding, mining, energy, government, utility, and aerospace and defense industries.
While EAM can be handled on paper or on desktop software, such as with spreadsheets, it is more often done with specialized EAM software.
Benefits of enterprise asset management
By helping to ensure that high-value assets operate the way they are designed to, enterprise asset management can both minimize risks and costs and optimize business value.
For example, EAM software might alert operations managers to the pending failure of a machine part, then provide the information and scheduling tools needed to dispatch a repair person to replace the part before it breaks down and causes further damage. Timely maintenance can also avoid the risk of improperly operating equipment injuring workers or spewing pollutants that threaten health and the environment.
EAM also helps keep costs down by partially automating the supply chain to ensure optimal inventory of parts and materials, thus avoiding rush orders or the need to revert to more expensive or less reliable suppliers.
Conversely, EAM functions can boost business value. For example, analytics can identify opportunities to reallocate equipment inside an industrial plant to support new lines of business.
Functions of EAM software
Most full-fledged EAM suites have features for executing all the typical business functions of EAM -- see the figure.
What research firm Gartner calls core EAM focuses on maintaining an accurate, detailed database of assets, their characteristics and history, as well as documents about regulatory compliance. Because the registry is involved in most aspects of EAM, organizations sometimes employ master data management to ensure the accuracy of asset data. Financial management and analytics tools are also commonly included in EAM software.
Asset lifecycle management is another common EAM software feature. It encompasses the major stages of an asset's life, from initial design to planning its production -- or construction, if it's a building or other infrastructure -- warranty management, decommissioning and disposal.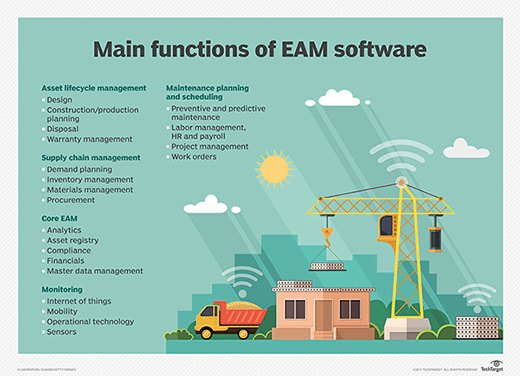 Supply chain management is essential in EAM because materials and components must be secured for building, maintaining or repairing assets. Most EAM software has features for inventory management, materials management and procurement. Demand planning tools can help with forecasting.
Maintenance planning and scheduling is arguably the most heavily used component of EAM, apart from the asset registry. Here, EAM software users keep track of available personnel and their skills, issue work orders for maintenance or repair jobs, record hours, and arrange for payment.
Predictive or preventative maintenance features, typically powered by the EAM software's analytics tools, are common, and there may be project management software to manage more complex jobs.
Early EAM software was standalone, or it was networked and operated by multiple users who entered data manually. Today, much of the asset data comes in automatically from sensors attached to the asset and connected over wireless or wired networks, sometimes across thousands of miles, to the EAM system. This connectivity enables remote monitoring of assets, as well as mobile access to the EAM software.
EAM software is often integrated with ERP software, primarily for accounting purposes, though some organizations also use their ERP system's procurement; human capital management; supply chain management; and environment, health and safety functions instead of, or in combination with, those in the EAM software.
An EAM package might also be integrated with niche software that handles a subset of the EAM process, typically with a computerized maintenance management system (CMMS) or with maintenance, repair and operations (MRO) software.
Integration with a GIS can provide improved mapping by showing asset locations and maintenance routes. Also, 3D visualization software can augment an EAM system's asset information.
EAM software usually follows ISO 55001:2014, an international standard for asset management systems.
EAM software providers
Most major vendors of ERP software, including SAP, Oracle and Infor, as well as smaller vendors, like IFS, sell separately priced EAM modules. The EAM module is typically integrated with the vendor's ERP, but many buyers choose different vendors for the two.
There are numerous niche vendors. In its November 2017 report, "Magic Quadrant for Enterprise Asset Management Software," Gartner lists ABB, eMaint, Mainsaver Software, Ramco Systems and Schneider Electric.
In recent years, EAM software vendors have begun to expand the boundaries of their systems to include manufacturers and service providers who can access a shared asset registry over a cloud-based network. One goal is to standardize asset definitions and minimize manual data entry. An example is the SAP Asset Intelligence Network.
Gartner predicts that on-premises deployments will continue to dominate EAM through at least 2020 in large, asset-intensive organizations, while smaller organizations will favor cloud, including SaaS.
This was last updated in
January 2018
Continue Reading About enterprise asset management (EAM)