Definition
recruitment marketing
What is recruitment marketing?
Recruitment marketing is the combination of strategies and tools used by an organization to engage and entice job candidates in the pre-applicant phase of recruiting. It aims to promote the value of working for the organization and establish a corporate culture or brand to attract candidates. Recruitment marketing takes advantage of digital marketing strategies such as social media platforms, omnichannel communication, data analytics, hyper-targeted messaging and automation.
Why is recruitment marketing important?
Recruitment marketing is of utmost importance in tight labor markets, where competition for labor is intense, but it is also helpful in finding qualified candidates in all economic conditions.
Job seekers tend to search for career opportunities the same way consumers make purchases, by searching online sources and reading public feedback. Many are passive candidates who are not actively looking for a new job. The information they find about working for a company can influence their decision to apply for a job or accept a position. The role of recruitment marketers is to complement recruiters by conveying the brand story alongside the job description.
Effective recruitment marketing results in increased brand awareness, a more qualified talent pool, faster hires and an improved candidate experience.
Examples of recruitment marketing campaigns include employee culture videos or interviews, search-engine-optimized career sites and social media job advertising. There are several technology platforms that can help HR managers get started with recruitment marketing.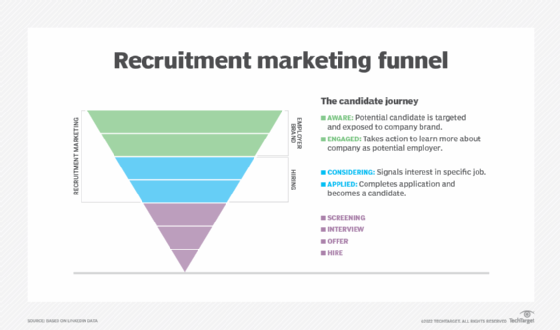 Components of recruitment marketing
Recruitment marketing is typically a combination of the following components:
Employer branding. The process of defining and communicating an organization's culture and value proposition to potential candidates.
Inbound recruiting. Creating informative and engaging content to attract candidates to job opportunities. This can include profiling current employees, highlighting remote or hybrid work policies and practices, maintaining a company blog or discussing interesting projects.
Audience segmentation. Identifying and segmenting potential candidates based on the needs of the position to be filled. Advertising and content marketing strategies can then be tailored to specific applicant segments.
Social media recruiting. Communicating with and searching for qualified candidates through social networking. Social media can also be used to amplify employer messages.
Candidate engagement and experience. Keeping qualified candidates interested, satisfied and in touch. Common methods include email campaigns, career opportunity newsletters, regularly updated job openings and timely, open feedback throughout the candidate journey.
Recruitment analytics. Tracking and measuring data such as number and sources of applicants, channel-conversion rates, hire rates per source and employee referral program performance. The data provides feedback on what recruitment marketing strategies are most successful and which ones need improvement.
4 stages of the recruitment marketing funnel
Experts often describe the candidate journey as moving through a series of progressively more focused steps -- a hiring "funnel" analogous to the sales funnel used to describe the customer journey leading up to a purchase. Experts differ on the number of steps, but these are the common ones:
Awareness
Engagement and active search
Expression of interest
Application
Recruitment marketing focuses on the top half of the hiring funnel with the goal of driving candidates further down the talent pipeline. Functions of recruitment marketing include generating awareness, creating interest, eliciting consideration and inspiring prospective candidates to pursue open job opportunities.
After the recruitment marketing stage, an applicant enters the final stages of the hiring funnel, which include the following:
Screening
Interview and evaluation
Offer
Hire
How to create a recruitment marketing plan
While there is no standard for recruitment marketing plans, several steps are common to most of them. They include the following:
Set goals
Define roles
Establish target candidates
Identify recruitment channels
Allocate resources
Create a content calendar
Best practices for recruitment marketing
A good recruitment marketing plan will showcase the organization's uniqueness and enable customized appeals. Here are some best practices for making that happen.
Use organic and paid advertising. Identify the social media platforms where targeted candidates hang out regularly. For example, millennial and Gen X candidates tend to be on Instagram and use it for search. LinkedIn may be better for reaching professionals in all demographics while specialized Slack channels may reach certain niches more effectively.
Once the best social media platforms have been identified, organizations should place organic advertising (free postings) and paid advertising on the platforms.
Rev up the power of company-owned channels. The organization's website, blog, career pages, YouTube channels and newsletters are all good venues for marketing the employer brand and generating candidate interest. Use content on timely issues and trends such as work from home, hybrid work and digital nomads to highlight the benefits of working in the organization and draw attention to job openings.
Develop internal subject-matter experts. There are many ways to use internal subject-matter experts in a recruitment marketing strategy. One example is showcasing open source contributors and maintainers to attract open source developers. Other examples include highlighting experts on how to switch career paths in the same company, how to be a digital nomad or how to learn new skills to land a promotion. Look for topics of interest to targeted candidates and then develop a learning series along those lines.
Use email and newsletters to engage candidates. Rethink the organization's email and newsletter strategies to create engaging content and offers for job searchers after the first contact is made. These should be designed to continue the conversation beyond the first search hit or viewing of a job opening.
Repurpose content. Message consistency across channels and departments is essential in developing an employer brand and building trust with candidates. One way to ensure consistency is to repurpose the same content across channels. For example, the recruitment marketing content developed for the company blog can be repurposed for podcasts, webinars, newsletters and videos. Repurposing can maximize the impact of recruitment marketing content while minimizing the expense of creating it.
This was last updated in
August 2022
Continue Reading About recruitment marketing