Halfpoint - Fotolia
At Qualtrics X4 Summit, Obama stresses need for facts
Former President Barack Obama discusses his approach to problem analysis and forming a team at the Qualtrics X4 Summit.
SALT LAKE CITY -- The Qualtrics X4 Summit began with a slew of product announcements that the company didn't talk about. Instead, it turned over its opening sessions to former President Barack Obama, who seemed comfortable with this data-focused audience. This became apparent after he made an indirect criticism of President Donald Trump's administration.
To wit: The job of president means dealing with problems that aren't easy to solve; if they were easy to solve, somebody else would have solved them, he said.
"A couple of things that were critical for me," Obama said on stage at Qualtrics X4, first was "being comfortable with the fact that you're not going to get 100% solution and understanding that you're dealing with probabilities so that you don't get paralyzed trying to think that you're going to actually solve this perfectly," he said.
Second was setting up a process to figure the problem out. "I'm old-fashioned and believe in these enlightenment values like facts and reason and logic," he said, tossing in a critique of the Trump administration that likely no audience member missed.
The conference drew more than 11,000 people. Despite complaints about long security lines and the need for overflow rooms, the crowd seemed focused on Obama's talk, delivered in a Q&A format with Qualtrics CEO Ryan Smith.
When Obama stressed the need for "facts and reason and logic" in decision-making, the crowd reacted loudly, applauding and cheering.
Obama paused and said: "Clearly a fact-based crowd here." The audience, from the ensuing noise, clearly appreciated it.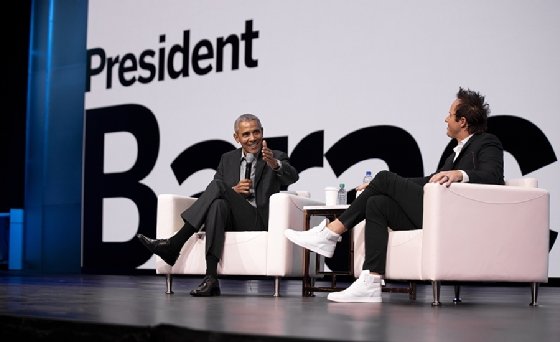 Product announcements at Qualtrics X4
Qualtrics produces what it calls an experience management platform, or XM platform. It measures four key areas: employee experience (EX), product experience (PX), customer experience (CX) and brand experience (BX). The firm was recently acquired by SAP for $8 billion.
Qualtrics believes the acquisition by SAP will allow its platform to help close what it sees as a gap between operational data, which includes HR, sales and finance data, and experience management data, whether it's employee, product or brand data. The firm believes that all these activities tie into one another.
"We know happier employees lead to happier customers," Smith said during his talk.
New product announcements packed no surprises. They included more analytics, the use of AI across its product platforms, and new functionality to expand the platform's ability to gather information and analyze it.
This includes a "conversational API" that the firm says will integrate feedback into any chatbot applications. Another new function is called "frontline feedback," which gives employees who work directly with customers a way to provide feedback and submit ideas for improving customer experience.
A new tool on the CX side is " VoiceIQ," which can analyze the human voice in call center interactions. The goal is to understand the sentiment and conduct a "tonality analysis" for insights on customer satisfactions.
New HR-specific tools include "digital listening posts" that allow anonymous employee feedback. It was characterized as an "always on" system that doesn't replace annual or pulse surveys.
Qualtrics also detailed "prescriptive insights" tools that will filter and compare employee data and present managers with potential opportunities for improving engagement.
Culture overshadows new tech
But in the Qualtrics X4 opening sessions, all attention was on Obama and his focus was on the big picture, including his management philosophy about assembling a good team.
During his first campaign for president, Obama said they made it clear to campaign workers that this was "about the mission." He wanted to weed out people who became involved because they wanted something. He called them "mercenaries."
"If you can build a culture where it's about solving the problem or getting the work done as opposed to getting the credit or how much money am I making out of this or what have you, that builds transparency," Obama said. "That allows for good decision-making because there's clarity about the goals and objectives and values at the heart of the organization."
If you can build that kind of an organization, Obama said, "it also means that you don't have big scandals, indictments." The crowd reacted loudly and approvingly to that point.
Next Steps
Obama advises building a strong culture at Qualtrics X4 Summit