Getty Images
Oracle HCM adds new career development tool
Oracle HCM says its new HR tool, Oracle Grow, helps employees develop skills by providing career options, paths and training amid a rapidly changing job market.
There is increasing demand for tools that help employees develop skills, especially in a tight job market. These HR tools include systems that assist employees by matching skills training with opportunities, something illustrated by the latest addition to the Oracle HCM cloud platform.
Oracle's new product, Oracle Grow, gives employees a dashboard that presents career options, career paths and the skills needed to advance. It draws information about the employee from Oracle Fusion Cloud HCM databases and uses AI-based intelligence it gathers from job requisitions, ongoing projects and other sources to identify needed skills.
Oracle says it is responding to rapid job market changes, most recently underscored by the arrival of large language models (LLMs) such as OpenAI's ChatGPT and Google's Bard. This technology "is really going to disrupt many knowledge workers in our industry," said Chris Leone, senior vice president for Oracle applications development.
"We need to figure out how to deal with these new LLMs and what impact they're going to have on our businesses," Leone said during an Oracle HCM online forum held Wednesday to present the new tool.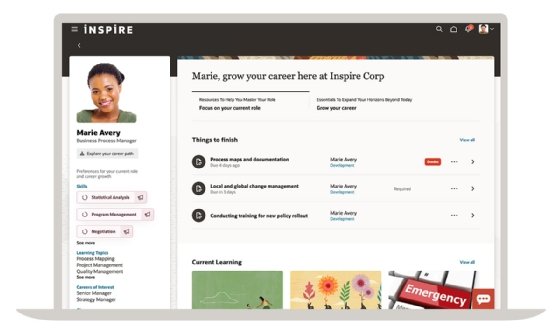 Businesses have been dealing with high quit rates and competition for highly skilled jobs, at least until tech companies started shedding jobs last fall. The arrival of ChatGPT has shown that skills are changing rapidly. LLMs have created, almost overnight, demand for prompt engineers who can write prompts that elicit the best responses from these systems. Employers have emphasized upskilling and reskilling employees to help meet the need for new skills.
Scott Wardlow, chief product officer for HR at JPMorgan Chase & Co., said employees at the financial services firm want to continue to grow their skills. "To do that, we have to know how to tailor and direct content to them so that they can consume it at the right time at the right place on their schedule," he said during the online presentation Wednesday.
Oracle HCM employee experience
Oracle Grow is part of Oracle ME, the company's employee experience platform that came out last year. To access this capability, users will need to be Oracle Learning subscribers. There's no added cost to use Grow. It will be generally available in the third quarter of this year.
This consistency of experience is important for the user experience and adoption, when constant application switching can be jarring to the user.

Quincy ValenciaHR analyst, Ventana Research
Quincy Valencia, an HR analyst at Ventana Research, said most large HCM platform providers already have or will soon release products to address internal mobility, skills, learning and career paths.
Valencia said Oracle Grow benefits as an extension of Oracle ME, which already provides opportunities for communication, connection and learning. Oracle ME is built around a single platform experience on the Oracle Redwood UI.
"This consistency of experience is important for the user experience and adoption, when constant application switching can be jarring to the user," Valencia said.
She added that she believes Oracle's personalized career approach will help with employee engagement and help businesses by identifying future skill needs.
Valencia said what employees want from employers has shifted dramatically over the last several years. Employees "expect to have more of a say in their career paths based on skills, competencies and their own personal desires, rather than being confined to a specific predefined path on an org chart," she explained.
Patrick Thibodeau covers HCM and ERP technologies for TechTarget Editorial. He's worked for more than two decades as an enterprise IT reporter.