kentoh - Fotolia
6 tips for channel partner sales, marketing in turbulent times
The pandemic introduced a new set of challenges for channel partner sales and marketing. Here are six tips for how to better navigate today's complex business environment.
The COVID-19 pandemic has reshaped many of the ways channel companies typically do business, including their sales and marketing strategies -- an area industry watchers say is more challenging than ever before.
Here is what you can do to survive and thrive in these turbulent conditions.
1. Embrace realistic outcomes and redefine success
Channel partners should go back to the drawing board and reorganize future strategies around realistic goals, said Heather Margolis, chairperson and founder of Channel Maven Marketing and Spark Your Channel. Rather than push your sales and marketing team efforts toward pre-pandemic goals, established when variables and the environment were completely different, refocus on realistic outcomes that will boost team morale. Actively implement changes that will assure your company's survival and stay in close communications with your customers and partners. Don't simply focus on meeting channel partner sales quotas.
2. Act swiftly and retool your marketing
Channel partners shouldn't be slow to respond to COVID-19 market trends with the hope that the market will soon rebound to pre-pandemic conditions, Margolis said. Many customer organizations are being cautious in spending and have focused their budgets on transitioning employees to remote work technologies and on digital transformation. Recognize areas of strength in your business and where you are producing revenue, then bolster those areas. Make changes to your marketing strategy by refocusing your social media efforts, web presence and online branding.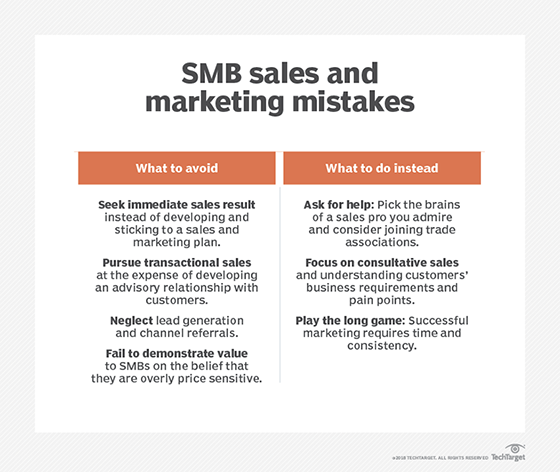 3. Successful long-term relationships are built on empathy
The pandemic affects everyone, which means partner should be sensitive, Margolis noted. To do this, partners should make efforts to establish open lines of communication with customers and respond empathetically to customers' situations. How you react today amidst uncertainty and struggle will become defining moments in future relationships, which will in turn become key factors in your company's success, she said.
4. Focus on lead generation via LinkedIn and branding
Margolis recommended connecting with business prospects on LinkedIn and other social media platforms. She also advised partners create marketing resources, such as a video, that familiarize prospects with your company brand.
5. Embrace digital transformation
Nate Freedman, CEO of Tech Pro Marketing, a marketing company that targets managed service providers, and Margolis both noted how SMBs that had embraced digital transformation prior to the pandemic have excelled in current conditions. Meanwhile, those companies that remained stuck in more traditional methods have struggled.
Digital transformation continues to generate numerous opportunities for channel companies. During the pandemic, customers more than ever are looking to channel firms that can provide support for their digital transformation initiatives. Furthermore, digital transformation can establish a customer relationship that will secure a long-term revenue account.
6. Always be advertising
Freedman stressed the importance for partners to continuously and consistently advertise their business and offerings. He noted that a lot of companies mistakenly believe that marketing efforts have immediate results. In reality, those efforts often only begin to show their effects a year later. In order to avoid peaks and valleys in channel partner sales, always be marketing and advertising, he said.