freshidea - Fotolia
Cloud managed services beyond the beaten path
Accenture, CDS and Modern Systems are developing cloud-related services and approaches at the periphery of traditional offerings, which points the way to portfolio differentiation.
Partners can take many paths to cloud managed services, but there are a few vehicles -- in and around the cloud -- that diverge from the beaten track.
Typical cloud offerings include migration, architecture design and cloud optimization. The prospects for those services remain strong as enterprises commit more of their workloads to public cloud computing platforms such as AWS, Google Cloud Platform and Microsoft Azure.
Some IT service providers, however, have ventured into areas on the periphery of mainstream offerings and approaches. They are exploring AI, revitalizing aging software code and finding post-migration opportunities.
Cloud and track: Driving machine learning adoption
Accenture is tapping a racing league for one-eighteenth-scale autonomous cars to get customers on board with machine learning. The AWS DeepRacer league invites developers to create models using reinforcement learning, a training method that rewards desired behaviors and penalizes unwanted ones. DeepRacer cars use cameras and the models to navigate a track. AWS launched the league in 2018 and runs a championship event at its re:Invent conference.
Accenture created an in-house DeepRacer league in 2019, which attracted 1,450 registered racers across offices in 17 countries. This year, Accenture is including customers in the DeepRacer competition. Chris Wegmann, managing director of the Accenture AWS Business Group, believes DeepRacer makes machine learning technology tangible for clients, most of which are more likely to consume AI in the cloud than on premises.
"The vast majority of the customers we are working with are leveraging cloud providers for their AI capabilities," Wegmann said.
But organizations might struggle to learn the various facets of machine learning. Ditto for conceptualizing use cases and develop applications.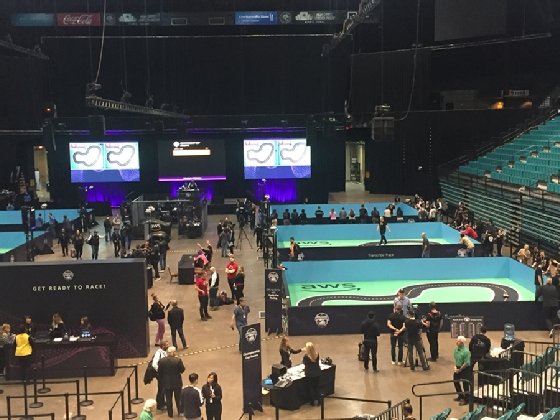 "DeepRacer allows them to have a physical solution to work with," Wegmann said. "It is something everyone knows and everyone can conceive of: a car going down the street. It has allowed more people to start learning this on their own and actually building these skills."
Wegmann anticipates clients will be able to transfer their machine learning knowledge from model cars to "proof-of-value" projects. The physical competition, he added, helps developers grasp the various aspects of machine learning and reinforcement learning -- "more so than just reading a book about it."
Ancient languages: Translating code for the cloud
While machine learning services live on the cutting edge, other cloud-related offerings stem from computing's past.
Modern Systems, a Dallas-based application modernization company, assesses applications and infrastructure as the initial step of a customer's cloud journey. The company specializes in untangling a customer's home-grown legacy systems -- applications and data running on mainframes, for example -- and transitioning them to a modern systems framework.
The cloud is one such destination, although the company also helps customers with other types of projects such as data center consolidation, said Brandon Edenfield, president and CEO at Modern Systems. The company has automated tools that parse a client's source code to identify languages and data types. Data flow analysis, meanwhile, lets the company flag missing or unused code components.
"Typically, between 30% and 70% of the code [customers] think they need to migrate to the cloud ends up being out of scope," Edenfield said.
After parsing the code, Modern Systems translates it into cloud-native languages such as Java and C# and modern relational or cloud databases. The translated code may be containerized and orchestrated in a cloud-ready environment. The conversion process puts customers in a better position "for ongoing modernization initiatives, including integration with different cloud services," according to Modern Systems.
Some of the antiquated languages and databases Modern Systems comes across on customer projects include Cobol, Assembler, PL/1, Natural, Adabas, IMS, IDMS and VSAM. Modern Systems was acquired in 2019 by Advanced, a software and services company based in the United Kingdom, and now operates as an Advanced company.
Staying put: Minding the cloud migration aftermath
Some IT assets will remain in the corporate data center for security and compliance reasons or because retooling systems for migration is too expensive. The technology left behind, however, opens another cloud-related business opportunity: third-party maintenance.
Computer Data Source (CDS), a third-party maintenance and enterprise data storage provider based in Eatontown, N.J., targets the on-premises side of the hybrid computing equation as one avenue for growth.
"Customers are thinking about the hybrid model, moving workloads to the public cloud, but there is also a significant portion of their infrastructure they simply can't move," said Dan Newton, CEO at CDS. "They need someone to support their infrastructure going forward."
Third-party maintenance providers such as CDS offer multivendor support and maintenance, filling a gap when a vendor's warranty expires or an OEM no longer supports a particular product line.
The market for third-party maintenance is expected to reach $1.5 billion by 2023, Newton noted, citing Gartner numbers included in a report created for New State Capital Partners. New State Capital Partners, encouraged by the sector's prospects, acquired a majority stake in CDS in 2019. Newton, a former Datapipe and Perot Systems executive, was brought on board in 2020 to scale the business.
That expansion will come through indirect channels. CDS currently partners with OEMs, Newton said, noting that other companies in the third-party maintenance market pursue direct sales. He said the partnering opportunity will broaden in the next couple of years, with cloud consultancies a part of the ecosystem, and that many OEM partners work with consultants.
"We are going to have a lot more opportunity," Newton said.
Dig Deeper on MSP technology services