ArchMen - Fotolia
Desktop-as-a-service combo targets channel via Ingram Micro
Citrix, IGEL and Ingram Micro are collaborating on a desktop-as-a-service offering, which could provide channel partners with a mechanism for replacing clients' Windows 7 desktops.
Businesses find themselves supporting a diverse array of user devices: laptops, desktops, smartphones and tablets. Managing all these can prove challenging. IGEL, Citrix and distributor Ingram Micro aim to address the issue with a recently unveiled desktop-as-a-service offering.
The offering, which provides Azure-hosted Microsoft's Windows Virtual Desktops (WVDs), may be well timed. Microsoft plans to put Windows 7 out to pasture and end support for the OS on Jan. 14, 2020. One option for users is to replace legacy, on-premises-based technology with Microsoft Windows 10 systems. WVDs, Microsoft's entry in the desktop as a service (DaaS) market, support Windows 10 Enterprise multisession OS.
The DaaS combo is available to channel partners through Ingram Micro.
A virtual desktop endorsement
The three vendors' take on Azure-based cloud workspaces lets companies run virtual desktop infrastructure (VDI) applications in the form of WVDs.
"Microsoft's WVD validates the VDI-as-a-service concept," said Jim Airdo, director of business development at IGEL.
Security is a VDI strong point. "User endpoints are where a great deal of malicious activity takes place," noted Jim Veraldi, senior director of sales at Ingram Micro's Advanced Computing Division. "Humans make mistakes, such as inadvertently opening up malware emailed to them. To prevent such problems, enterprises want to gain more central control of their devices."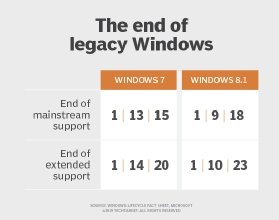 Partner contributions
Each of the three partners brings something to the table in that regard:
Citrix, a supplier of desktop virtualization products, provides Citrix Workspace, a digital workspace service that supplies integrated management and security functions for mobile, virtual, web and SaaS applications. Citrix Workspace integrates with WVD.
IGEL has worked closely with Citrix to carve out a niche in the virtual desktop market. IGEL Workspace Edition software includes IGEL OS, an edge operating system for cloud workspaces, and IGEL Universal Management Suite for endpoint management.
Ingram Micro has developed marketplaces and business processes to help channel partners incorporate new offerings into their service suites.
Software boost
"We have been transitioning away from a hardware-based thin client company to a software supplier," explained IGEL's Airdo. The change has been beneficial. The company, which has German roots, has seen its U.S. software-only revenue rise 338% from 2017 to 2018. In 2019, software is expected to account for more than 70% of its sales.
For partners, the desktop-as-a-service offering may be attractive to large and small enterprises needing to upgrade legacy Windows desktops. The desktop virtualization market is expected to grow from $7.08 billion in 2016 to $13.45 billion by 2022, a compound annual growth rate of 11.4%, according to MarketsandMarkets, a B2B market research firm.
Additional reporting by John Moore.