carloscastilla - Fotolia
Partners weigh prospects of NVMe storage market
While NVMe technology has yet to gain the customer traction that industry watchers expected, channel partners believe it will become the de facto standard.
More than 100 vendors have begun offering NVMe products, according to G2M Research. Those vendors include traditional players such as Hewlett Packard Enterprise, IBM, Pure Storage and Dell EMC, as well as several startups.
Last year, the research firm predicted that the market for NVMe technology (such as servers, software-defined storage servers, external arrays and I/O adapters) would reach $65 billion by 2021.
The state of the enterprise NVMe storage market
Trace3, an IT services provider based in Irvine, Calif., is seeing "significant demand" for NVMe, but co-founder and technical account manager Dave Linder said he isn't sure if it's the demand the industry has hoped for -- yet.
Linder said he estimates that it takes any important new disruptive technology five years for mainstream adoption.
"By and large, especially when it comes to storage, it takes a while to get to that adoption," he said. Since some companies require "a massively high-performance type of architecture because of workloads and demands," NVMe is certain to gain traction, Linder asserted.
However, a key stumbling point that Linder and other channel firms currently see for NVMe technology is its price. NVMe can cost as much as 40% to 80% more than traditional storage, observed Craig Stein, founding partner of Mirazon, an IT services and value-added reseller based in Louisville, Ky.
One of the main draws of NVMe, however, is that "companies have been trying to figure out to get apps closer to the storage, or the storage closer to the app," Linder said. "When it comes to performance, especially in enterprises, you have to reduce the bottlenecks along the way and ensure you have fast components where the data sits and gets processed. In the storage arena, it's the same thing."
Leveraging shared storage is economical and efficient, and NVMe alleviates the bottlenecks that develop between shared storage and the server, making it seem as though the data is sitting inside the server, he said.
"Where the industry is held up right now is in how to inevitably solve the problem of how to get direct memory access from shared storage to the servers themselves," Linder said. There are two NVMe methodologies: NVMe over Fabrics, which he said is "what everyone is pushing for," or NVMe over Ethernet, RDMA.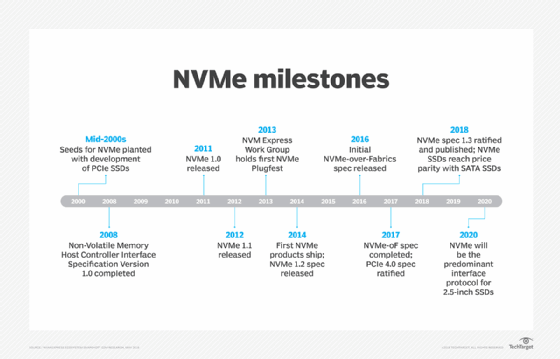 "The industry has not come to consensus on a standard. That's what it's striving for," he said. Trace3 customers "are waiting to see when the smoke clears."
Channel firms see early business impact
Meanwhile, cost and industry consensus aside, there is a lot of early interest in NVMe technology.
If a customer just updates their software and switches from fiber channel to NVMe over fiber channel, they will see 60% more input/output per second (IOPS) at half the latency, said John Woodall, vice president of engineering at Integrated Archive Systems (IAS), a reseller and NetApp partner based in Palo Alto, Calif.
But Woodall added that not all customers need that kind of performance boost. In that instance, IAS will sell them traditional fiber channel components instead.
Likewise, Stein said Mirazon sells customers the right storage solution based by taking a three-pronged approach: performance, capacity and budget.
It is important not to over-architect or over-sell a customer, especially when talking about the "extreme performance" provided by NVMe, Stein stressed. In cases where customers want to do real-time business analytics at peak hours, especially in the financial services industry, NVMe brings four-to-eight-times better performance and response time, he said.
Proof-of-concept (POC) testing is important to determine whether NVMe will remove bottlenecks and increase an application's response time, he said. So far, Mirazon, a partner of Violin Systems, is finding that NVMe is a good fit for customers doing business analytics and virtual desktop infrastructure (VDI) in terms of saving time and increasing productivity.
In a POC that Mirazon did for a financial trading company, "it took seconds off the time for a screen to change and come to the next part of the application," Stein said. "So it really unlocked the performance of that application." He added that this isn't always the case, but "the proof is in the pudding, and that turned out to be a worthwhile investment. It accelerated workloads and improved performance."
Mirazon also did a POC with spinning disks in a VDI environment for an insurance customer and "it worked OK, but did not scale," Stein said. When the company put the VDI workload on flash, performance was better, but it still did not meet the user experience of individual desktops, he said.
Then Mirazon did an NVMe POC for the customer. "So far, [it] is improving this user experience due to the lower latency and higher throughput," he said. "At the end of the day, that's the only thing that matters."
NVMe storage market predictions
Linder is fairly confident NVMe fabric "is the better way to go," because "it is much cleaner, there's lower latency and it's more efficient." However, getting NVMe over converged Ethernet is an inherent challenge, "because you need a clean network," he added.
"This is one of those evolutionary transformations that happen, but everyone eventually will have NVMe storage, [and] increasingly, people will support it over some fabric," Woodall said. Like Linder, he believes widespread adoption will take a few years.
Over time, [NVMe] will become the de facto standard. How long that takes will be based on economics and when people choose to make that purchase.

John WoodallVice president of engineering, Integrated Archive Systems
"NVMe was written to unlock the performance of the next generation of storage class memory," he said. Just as Small Computer Interface System became the predominant storage connection protocol, NVMe will too, Woodall said.
"The good news is it can coexist with fiber channel on the same switches. I think adoption will increase this year, and in 2020, it [will] become more of a common deployment choice," Woodall added. A lot of the NVMe storage market's growth will be driven by the maturity of the technology and interoperability that comes with it, paired with normal refresh cycles, he said.
"Over time, [NVMe] will become the de facto standard. How long that takes will be based on economics and when people choose to make that purchase. It's a transformational technology," he said.