kentoh - Fotolia
RMM software vendors pursue full managed services functionality
MSP software vendors have been busy building ecosystems of third-party integrations around their remote monitoring and management tools. Are these integrations benefiting MSPs?
When it comes to remote monitoring and management software, the name of the game for vendors is to extend their products to as many third-party software providers as possible. By building a large ecosystem of technology integrations, RMM vendors hope to attract MSPs with a comprehensive set of connected tools. However, integrating multiple tools with RMM software can pose challenges.
"Our stance is that integration of differing levels is really helpful, and, in fact, required for the effective deliverance of managed services globally," said Charles Weaver, CEO of the MSPAlliance, a managed services industry association based in Chapel Hill, N.C.
It's a good idea for MSPs to have integration between their remote monitoring and management platforms and the tools they commonly use, such as ticketing, backup, security, password management and document management, he said.
"In order to be an efficiently run MSP, [third-party tools] have to be well integrated. Otherwise, [MSPs] end up with manual processes, and with that, you get into mistakes, and, with that, breaches," Weaver said. "That's what we're trying to guard against as a profession."
Customers' needs for transparency
Overall, the leading RMM software vendors are doing a good job with their third-party integrations, Weaver said.
"If we know third-party integration into RMM platforms is a best practice, the next question is, as an industry, how do we do it securely and in a transparent way?" Weaver said. In order to achieve greater security and transparency, he said, MSPs have an obligation -- along with the RMM providers -- to know how external service providers operate and affect MSP and customer data. "The biggest example of this is the MSP that suffered a data breach as a result of their RMM vendor having a persistent administrator account opened," he said.
Regardless, the customer will not care whose fault it is; they will instead initially blame the MSP and expect them to make things right, Weaver added.
Traditionally, MSPs have not asked for this level of transparency in third-party integrations, he noted. But today, it has become standard behavior for customers to ask their MSPs which vendors have access to their data and apps. In particular, customers are interested in how their data is being protected, he said. "This directly implicates the MSP, but also external service providers used by the MSP to deliver the services."
He said this can be thought of as a supply chain integrity question. "Customers now know that multiple providers are involved in the delivery of services. All the customer wants to know is that the supply chain is secure."
Bridging the gap between cybersecurity and RMM software
StoredTech, a New York-based MSP, uses IT infrastructure management vendor Kaseya Corp.'s RMM software, Kaseya VSA, as one of its core platforms. The firm also uses systems from several other vendors, including IT Glue, Datto's Autotask and Auvik, which scans networks and manages network devices and configurations. They use the latter "as an adjunct to Kaseya, and it imports data into IT Glue," an IT documentation platform, explained Mark Shaw, president of StoredTech.
The MSP is now moving heavily into cybersecurity. Shaw said that not many cybersecurity products can deeply integrate with Kaseya because they are not part of its ecosystem. As a result, StoredTech runs AlienVault as its security information and events management (SIEM) system and uses Breach Secure Now and HIPAA Secure Now products.
Cybersecurity is such a new area and the product landscape is changing so fast that it is hard to keep track of who owns the security products. "New products come out every day, [and so do] new breaches," Shaw said. The cybersecurity market is "unbelievably fragmented," he said.
For MSPs like myself, there isn't a single player I can go to, to get all the tools I need like the SIEM.

Mark ShawPresident, StoredTech
Most software needs to go through "more of a maturation process" and the vendors need to figure out who's going to win the market, Shaw said. Adding to this, many cybersecurity tool providers are getting acquired, creating uncertainties about how the vendor landscape will look in the near future.
While Kaseya has acquired a number of cybersecurity tools, Shaw said he's waiting for RMM software vendors to integrate their platforms with SIEM systems.
"There's going to be a time where the Kaseyas and the ConnectWises of the world will have their own SIEMs," he observed. "For MSPs like myself, there isn't a single player I can go to, to get all the tools I need like the SIEM. So for us, until that gets done, there will be a disconnect between cybersecurity and the RMM world."
Addressing issues with RMM integrations
RMM software integrations, which are critical for MSPs, have made StoredTech's operations easier, Shaw said.
"But my caveat is, make sure you understand how the integration works. … If you're not careful where you're grabbing your data from, you could have garbage data," he noted. "So when syncing between systems, you don't want to create duplicate records, bad data or corrupt" the data. "While integrations are great, always double-check before you click the sync," because a lot of times IT doesn't think about that, Shaw advised.
"It's one of those 'measure twice, cut once' things," he said.
"If there is an integration issue, we usually hear about it from partners," said Carl Resnik, senior director of product management for Continuum Managed Services, an MSP software vendor. That's because partners typically can't determine the source of the problem if there is an integration issue, he said. Continuum aims to provide a strong product support team for partners to "lean on … for effective issue resolution."
Vetting integration partners
Shaw thinks most RMM software vendors may not be doing enough to properly vet their integration partners. When venture capitalists are pushing for additional revenue through more acquisitions, the RMM providers are probably focused more on "gobbling up companies [first] and then figuring out how to integrate them later," he said.
At industry conferences, Shaw noted that he has heard RMM software vendors say they are dropping the term "integration" and using "workflow" instead. Every time products are deeply integrated, "you are just waiting for something to break with version changes, and even worse, you are focusing development time to maintain and build these integrations when a well-designed workflow can do just as well," he explained. "It's a terminology change that makes sense in such a rapid development world. If a vendor spends precious development resources on integration building and maintenance, they can find themselves outpaced by new features being released by the competition."
Because it's a very competitive landscape, he said, the term "workflow" allows for a focus on new development of feature sets so vendors can separate themselves from the rest of the pack. "It's all about who has the better mousetrap," he said.
In terms of Continuum's integration approach, the vendor has two types of integration alliances among its roughly 45 technology partners, Resnik said.
The company maintains an open ecosystem, letting any third-party partner make use of its APIs to integrate with the Continuum platform. "In this case, we validate they are a legitimate business and put some basic agreements in place," Resnik said.
The second type of alliance is third-party integrations that Continuum develops for its MSP partners. "In this case, we do a much deeper validation to ensure that we will be offering real value in the market," he said.
Currently, Continuum is looking to further expand its network of third-party integrations, making it easier for it and other companies to build integrations with its RMM software platform, according to Resnik.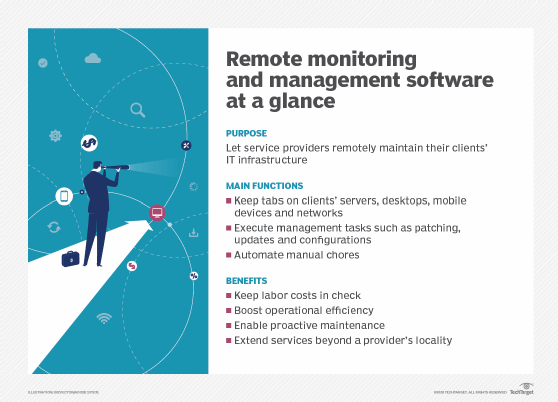 Integrations offer mixed results
In Shaw's final analysis, third-party RMM software integrations come with the good, the bad and the ugly, he said.
"The good part is we're seeing a bigger than ever selection. We have a smorgasbord to choose from in MSP services," he said. "The bad part is there are some [integrations] that don't make sense. There's some 'buy now, figure out later' philosophy out there, which hurts us. And the ugly is some of those integrations, if not done properly, can suck [away] a lot of time from the MSP."
Weaver sees mainly the good. "Ten years ago, RMM platforms were really stagnating and [vendors were] dragging their feet from an innovation perspective. Today, generally speaking, they're pushing the envelope, trying to innovate and be on the cutting edge of what MSPs need."