chris - Fotolia
SolarWinds: MSP Pulse can shed light on business transformation
SolarWinds MSP believes channel partners targeting the managed services model can gain insight into their transition using a new benchmarking tool dubbed MSP Pulse.
SolarWinds MSP has launched a benchmarking tool that it said is designed to help managed service providers better understand the health of their businesses. The new offering from SolarWinds, MSP Pulse aims to improve channel partners' business strategies while also providing insight into how they stack up against their competitors.
The move comes as MSPs look for better ways to measure their progress as they grapple with business transformation at their companies. As channel companies transition from hardware reselling to an as-a-service subscription model, many are finding that shifting gears has placed new responsibilities on their business. As a result MSPs are looking for more analysis and insights as they move to the managed services model.
To help them understand how their competitors are handling new market trends, SolarWinds MSP in collaboration with research firm The 2112 Group developed MSP Pulse, a free online survey that asks participants specific questions about their business.
SolarWinds: MSP Pulse attracts nearly 500 survey takers
So far nearly 500 companies located in North America and Europe have taken the survey, answering a range of questions on such topics as 2017 revenue, 2018 projected revenue, location, types of managed services offered, and the number of dedicated salespeople on staff.
According to executives at SolarWinds MSP, answers to these questions are stored in a database and used to generate comparative analysis in a variety of areas, including sales, profitability and customer engagement.
Comparisons are also made between companies that are the same size, offer the same managed service offerings and operate in the same region.
"Many companies are in the dark on their own," said Mike Cullen, vice president of customer experience and business strategy at SolarWinds MSP. "This tool gives them good information to balance themselves off of what other companies are doing in the market."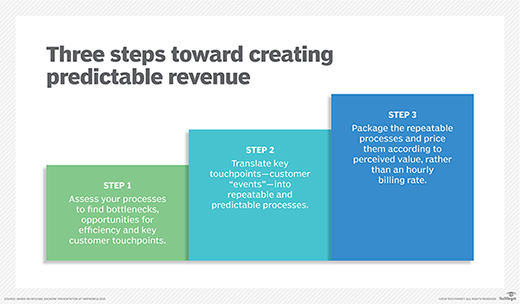 How it works
Many companies are in the dark on their own.

Mike Cullenvice president of customer experience and business strategy, SolarWinds MSP
At the end of the SolarWinds MSP Pulse survey, participants receive a customized report about how their companies' performance compares with companies of similar size and type. The benchmarking process provides information on whether an MSP is on par, below average or above average with regard to its competitors across a number of categories, including monthly account attrition rate -- also known as churn rate -- and managed service revenue targets.
Channel partners may use their results to plan their managed services model transformation and are encouraged to take the survey on a quarterly basis to update their data and track their progress.
Cullen said many MSPs are wondering what their benchmark should look like. He said these companies need information on how many new customers should they acquire per month and how much of their companies' business should be managed services as opposed to hardware.
He added executives at MSPs also want to know if MSPs in their region of the same size and the same revenue structure have the same number of employees.