Businesses mired in cloud computing challenges
New research from Accenture and SPR underscores a persistent struggle among organizations to derive value from their cloud investments; other IT channel news.
Enterprises still struggle to get the most out their cloud investment, but better governance and the use of managed services could help them address their cloud computing challenges.
Studies released this week from IT services firms Accenture and SPR illustrated the issues organizations face when deploying cloud technology. The Accenture study, a follow-on report to a 2018 survey, found little change in the percentage of business and IT executives who said their organizations have fully achieved their expected cloud outcomes -- with complete success stalling in the 35% to 37% range.
"It was interesting to see that the full satisfaction from cloud investment hardly moved," said Karthik Narain, global lead at Accenture Cloud First. The Accenture survey polled 750 companies with revenue in excess of $1 billion.
SPR's survey of 400 line-of-business employees and 400 IT decision makers sheds light on why the cloud adopters aren't fully realizing its benefits. The line-of-business employees pointed to slow deployment and testing, excessive bureaucracy, and poor communication between IT and other departments as among the "most painful process barriers to effective cloud deployment," the study noted. Out-of-date infrastructure also plays a role, according to SPR, a Chicago company that provides cloud infrastructure services.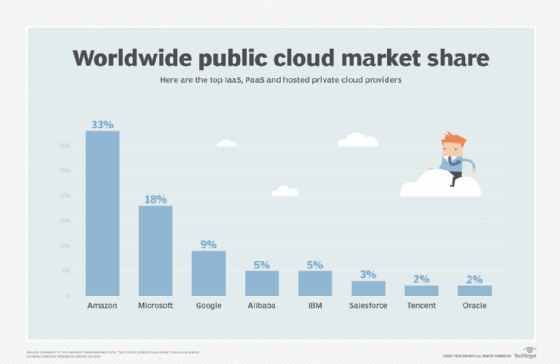 The cloud governance hurdle
Some of the difficulties -- slow testing and red tape, for instance -- boil down to DevOps and governance, the SPR study reported. Fifty-three percent of the IT decision makers cited creating "an internal central authority" to define cloud standards and best practices as the top initiative for improving governance in the next 12 months. Following closely behind were improving employee training on cloud standards/best practices and automating governance tasks such as approving access to cloud tools.
Narain also pointed to governance as a cloud computing obstacle, citing the Accenture survey's results regarding cloud adoption barriers. The report revealed "misalignment between IT and the business" as the second-most-cited cloud obstacle, trailing only security and compliance risk. Misalignment tied for second with legacy infrastructure and application sprawl, reinforcing the SPR report's finding on outmoded infrastructure.
Three types of organizations, operating both within and outside the enterprise, could surface in the coming months to address the cloud computing challenges associated with governance, Narain noted. The first is a cloud migration center of excellence, or migration factory, to accelerate migration into the cloud. The second entity, a cloud data engineering team, would focus on using cloud data to create business insights. The third organization, a cloud innovation team or "innovation factory," would work on building newer cloud features, combining business and IT agile personnel. The innovation center would encourage experimentation and fail-fast approaches.
Better clouds through managed services
The Accenture study also looked for correlations between cloud adoption methods and the degree to which an organization succeeded in deploying the technology. The report found that significant use of managed services contributed to better cloud results.
Respondents "using third-party managed services 'to a great degree' on average reported achieving the full benefits of their cloud initiatives (48%) more frequently than those that do not (35%)," the report stated. Other factors that contributed to higher levels of cloud success included the size of the business, with companies with revenue of $10 billion or more faring better than their smaller counterparts. Companies heavily engaged in cloud adoption, versus moderate or low adopters, achieved better cloud outcomes.
The Accenture survey defined higher-adoption companies as those that have moved 75% of workloads to the cloud, Narain said. That level of adoption means organizations will have transferred much of their core business applications to the cloud. Companies that migrate less business-critical applications won't see the full value of moving to the cloud, he added.
IT service providers can expect cloud challenges to intensify next year. Gartner this week forecast worldwide end-user spending on public cloud services to grow to $304.9 billion, an 18.4% increase over 2020 cloud investment. The cloud's share of IT spending is also increasing: Gartner anticipates the cloud will account for 14.2% of total global enterprise IT spending in 2024, compared with 9.1% in 2020.
Other news
PricewaterhouseCoopers inked a definitive agreement to acquire EagleDream Technologies, an AWS Premier Consulting Partner based in Fairport, N.Y. EagleDream offers UI and UX design, cloud adoption, application modernization, data transformation and managed cloud services, among other offerings.
In another IT services deal, Electric, an IT support firm based in New York, acquired Sinu, an MSP also located in New York. Sinu's industry reach includes nonprofit, media and entertainment, and professional and financial services organizations.
CompTIA's "IT Industry Outlook 2021

"

report cites MSPs building deeper cybersecurity expertise as a trend to watch next year. The industry association expects to see more "MSPs redefine their businesses almost exclusively around security, adding advanced services." Other anticipated trends, according to CompTiA, include a cloud-first mentality among organizations upgrading IT infrastructure and tech industry regulation.
DLT Solutions, a Tech Data subsidiary based in Herndon, Va., said it is working with IBM to provide hybrid cloud, AI, security and other software offerings to the U.S. public sector.
Tenable, a vulnerability management vendor, expanded its partner program, Tenable Assure. Features and benefits now include new sales and technical training and certification and a redesigned partner portal, the company said.
Anexinet Corp., a digital business solutions provider based in Blue Bell, Pa., added Alert Logic's managed detection and response offering to its cybersecurity portfolio.
Global Mentoring Solutions, a managed network operations and help desk services provider based in Unionville, Ont., deployed Moogsoft's Observability Cloud for its managed network operations center. Last month, Optimiz, a Canadian services provider, said it is integrating Moogsoft's technology in its managed services portfolio.
MSP software vendor NinjaRMM updated its remote monitoring and management platform. NinjaRMM 5.0 introduces Linux OS support, as well as integrations with encryption management tools from BitLocker and FileVault. The update also adds maintenance mode, Windows Server Update Services server support for Windows OS patching, and new dashboards, the company said.
HPE tapped IT services provider partner Pacxa to support a project on behalf of Central Pacific Bank, based in Honolulu. Pacxa, also based in Honolulu, helped implement Nimble Storage disaggregated hyper-converged infrastructure, HPE said. The project aimed to support Central Pacific Bank's virtual desktop infrastructure requirements.
D&H Distributing in Harrisburg, Pa., has added antivirus and cybersecurity offerings from ESET to its D&H Cloud Marketplace.
In another cloud distribution move, Pax8 unveiled Pax8 Pro, which the Denver-based company said provides automated SaaS management.
SolarWinds, an IT management software provider, took the wraps off an MSP automation cookbook, which offers more than 380 custom scripts for the SolarWinds product line.
NTT Communications Corp., an information and communication technologies provider based in Tokyo, is rolling out Ciena's 800G technology for its Data Center Interconnect network.
Market Share is a news roundup published every Friday.