Oracle Sun hardware is not for hobbyists, by a long shot
Old Sun enthusiasts lament the way it used to be, and the way it will never be again. Oracle Sun hardware is a whole other animal.
I feel bad for Bill Bradford. I really do. Since 1997 Bradford has been operating a site, sunhelp.org, to help Sun Microsystems system administrators. But Bradford can't even run the site on Oracle Sun hardware or with Solaris, Sun's flagship operating system. It's now on a handmade x86 system running Debian Linux.
"I am unable to run the site on Oracle Sun hardware and software due to not being able to afford the Oracle support contract so that I can get Solaris patches," he said.
Since Oracle acquired Sun Microsystems in January 2010, it has probably alienated thousands of people like Bradford: Sun enthusiasts who were a big part of what he called the "hobbyist" community. There is little question on whether it was all intentional. Oracle is a big corporation focused almost singularly on its bottom line. Words like "enthusiast" and "hobbyist" don't have much of a place there, and have been replaced by phrases like "average server price" and "profit margin." I mean heck, CEO Larry Ellison isn't exactly shy about saying so.
"I don't care if our commodity x86 business goes to zero," he said during an earnings call in 2011. "We don't make any money on those things."
Make no mistake about it; Oracle's strategy has achieved its stated goals. The company has cleared about $10 billion in hardware profits alone since acquiring Sun, according to financial filings with the federal Securities and Exchange Commission. How has it done that? By eviscerating its unprofitable x86 business and building up its so-called engineered systems, the "Exa-boxes": Exadata, Exalogic and Exalytics.
These are big boxes built on commodity Intel chips but with Oracle software built in. Prices are in the six and seven figures, and that's before you tack on extra charges such as the company's annual 22% support fee for hardware, operating systems and "customer data and device retention." Oh, and then you can start adding up the cost for licensing software such as Oracle Database or Oracle Business Intelligence Enterprise Edition on the machines.
This is how Oracle works. It is a big company that likes selling to other big companies. That's the way it is with Oracle Database, and that's the way it is with hardware now.
"In databases Oracle is not the low-cost provider," said Frank Scavo, an industry analyst with Constellation Research. "It is primarily focused on large customers that have large IT budgets. They're not interested in being a provider to small- and [medium]-sized businesses."
Yet given the way Oracle hardware revenues and profits have fallen off the cliff in the past two years, it's valid to wonder whether that Oracle strategy has worked in hardware as well as it has in software.
Oracle hardware golden years
Do you remember the golden years of Oracle hardware? Seems odd to think there may have been such a time, seeing as Oracle has only been selling hardware for a few years. But let's go back to June of 2011. It was about a year after Oracle completed its acquisition of Sun Microsystems, and its hardware business was booming. The second version of Exadata had been out for about 18 months, and new SPARC systems had just been released, as well.
At the end of June 2011, Oracle reported hardware products and support revenue of $1.8 billion. In terms of overall hardware profit, Oracle cleared $1 billion for the first (and as it turned out, only) quarter in its history.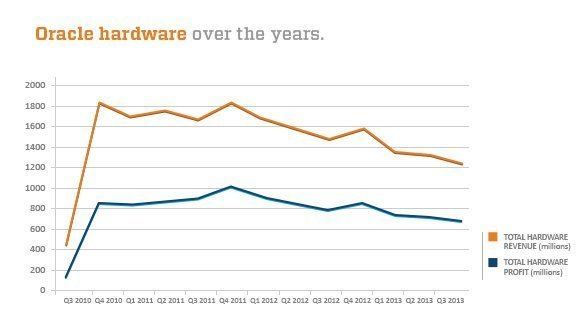 Oracle hardware revenues and profits have been in steady decline.
Now let's fast-forward to a couple weeks ago, the date of Oracle's latest earnings report. Hardware revenue and profit have dropped by about one-third. Profit, once at $1 billion, is now at $685 million. Still profitable, no doubt, but on a curve downward (see the figure). Oracle execs gave plenty of reasons (some might call them excuses) for the continued drop -- salespeople unable to close deals at the end of the quarter, the economy, people waiting for new SPARC systems -- but it is what it is. Oracle has now had three consecutive quarters where it has set a new low in hardware profits. Now, I expect that Oracle will soon hit its valley, and hardware profits will rise again. But I think it will be a while before it clears $1 billion again.
No matter how many times Oracle President Mark Hurd says the word "pipeline" to refer to future potential hardware sales, the actuals don't lie. So what is Oracle doing? It has tried to start selling its engineered systems to smaller companies. One example is the Exadata x3-2, which has an option for an eighth-rack machine. Another is the Oracle Database Appliance, which Oracle thinks of as a stepping stone to Exadata and is for "businesses of all sizes," according to its most recent press release.
Still, the Exadata eighth-rack hardware alone costs $200,000. Even the Oracle Database Appliance, which is basically a two-node RAC in a box, is $60,000 just for hardware. Not exactly something that would work with the "hobbyists," as Bradford calls them. Bradford, for his part, is under no illusions that things will go back to the way they are, short of an unlikely management change.
"Oracle has simply stuck to [its] guns that unless you can spend a lot of money with them, they don't care about you as a customer," he said.
And, as Bradford knows, expense is all relative. The Oracle Database Appliance price tag of $60,000 may seem like a lot to you, but multi-billionaire Larry Ellison could probably find $60,000 in change in the cushions of a couch that sits in a home he has on Lanai, a Hawaiian island that he, you know, owns. So don't expect Oracle's hardware strategy to change drastically, if at all. The company is all-in on engineered systems, and that's because it is all-in on profit margin. That's the way it has been for decades at Oracle, and that's the way it will continue to be.