Getty Images/iStockphoto
Metals recycler uses SAP BTP to make S/4HANA fit for purpose
SAP Business Technology Platform is proving itself to be a flexible development and integration toolkit, helping companies customize SAP and connect diverse systems and data.
Three years after its debut, SAP Business Technology Platform is a development and integration destination for SAP customers.
First introduced in 2020, SAP BTP started as a collection of SAP applications offered as a SaaS product. These included application development, data warehouse, cloud analytics and integration products. But SAP BTP has not remained static as more capabilities and applications are being added into the platform.
Now BTP includes SAP Datasphere for data source unification; SAP Build, a low-code development environment; and SAP Integration Suite, an integration platform as a service.
SAP partners are also building capabilities and applications that extend BTP. For example, Accenture and Deloitte are collaborating with SAP to build capabilities on BTP around conventional AI and the Joule generative AI assistant, including use cases for SAP ECC to S/4HANA Cloud migrations.
While the development of SAP BTP's product set has at times been confusing for customers, the platform is generally a solid development and integration toolkit, according to Joshua Greenbaum, principal at Enterprise Applications Consulting.
"It's a big, broad brush, full of tools that can be used for innovation," Greenbaum said. "So in and of itself, it's quite good."
One of BTP's strengths is that it helps businesses tailor SAP systems that involve specific processes and integrations with various applications and data sources, he said.
"It's a place where you can build and stage the extensions that you need to go beyond what your off-the-shelf software provides," Greenbaum said. "That's absolutely key and that speaks very directly to the needs of the customers who have complex systems and want to bring that innovation forward fit-to-standard."
SAP BTP helps a metals recycler
Galloo Recycling, a metals recycling company, is one such example of a business that is using SAP BTP to develop specific integrations and processes. Based in Menen, Belgium and with facilities in Belgium, France and the Netherlands, Galloo collects and recycles metals, including from construction sites, end-of-life vehicles and electronics.
The company has around 40 decentralized sites that operate independently, said Steve Decroubele, head of IT at Galloo Recycling.
Galloo implemented SAP S/4HANA in 2020 to replace a bespoke 20-year-old financial system that no longer suited the company's needs, he said. The company is running S/4HANA in a private cloud and connected to SAP BTP, which is an SAP-run SaaS offering.
S/4HANA provides a complex financial costing model that fit the decentralized nature of the company, according to Decroubele.
"Our internal strategy is that we look at every site like a small company, and the site managers have their own P&L [profit and loss]," he said. "Every site is looked at as a single property, even though it's part of the bigger whole, and SAP could handle that."
The recycling industry also has different cost models such as a reverse bill-of-materials where cost are less predictable. S/4HANA can be customized to handle those process flows and help Galloo understand the value of the recycled materials, he said.
Galloo reverses the procurement process, as it buys metals first, and it needs to keep close relationships with small suppliers while offering some payment flexibility, according to Decroubele. Many of the Galloo sites are also small and operate independently, so the new system had to be easy for the operators to conduct transactions.
"That's when we started discussing BTP. And if that would allow us to ease up certain application flows and bring certain things together for the person who's buying metals at the site and is face-to-face with the supplier," he said.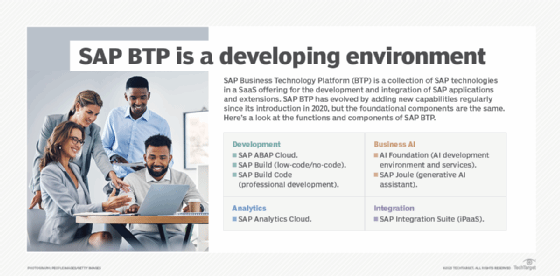 Building customized UI screens
Using BTP, the Galloo IT team built a mobile UI that provides Galloo users with a single screen process for receiving and paying for materials, Decroubele said.
"Once the supplier has delivered a number of materials -- some iron, some copper -- you just do the registration. And from that screen, you can make the make an immediate payment and invoice printing from one screen," he said. "Behind that, we trigger all the complex SAP processes. But for the user it's just one screen."
We're using a lot of APIs, and there are some frameworks available to make up the [UI] screens. BTP really facilitates the building of those apps.

Steve DecroubeleHead of IT, Galloo Recyling
Galloo is using SAP BTP for the integration of several applications, including a manufacturing execution system to build custom process flows, Decroubele said. The production flows are always one step, so the routing processes are not complex. But the application must take into account differences between the volume of materials put in and the volume of materials that go out.
"There's a lot of estimations at that point. So we needed something that allows us to be very flexible at that level without having a really production experienced guy at the location to do those administrative registrations," he said.
It would have been difficult to build without BTP, Decroubele said.
"We're using a lot of APIs, and there are some frameworks available to make up the [UI] screens," he said. "BTP really facilitates the building of those apps."
Galloo has just begun to roll out S/4HANA to its various sites, and Decroubele expects that the full roll-out to all 40 sites will take about two years. The company will also look at moving to S/4HANA Cloud. But the immediate focus is on stabilizing the S/4HANA implementation and the integration with BTP.
"If our back end is stable, we'll decide when we will take the next step," he said. "But the BTP platform is evolving all the time, and we get the new releases in the background by SAP. For us, that's a mix that works."
Jim O'Donnell is a TechTarget senior news writer who covers ERP and other enterprise applications for TechTarget Editorial.
Dig Deeper on SAP development and programming languages