carloscastilla - Fotolia
SAP Business One ERP helps SMBs shift with changing markets
Sagamore Spirit and Ellsworth Foods are using SAP Business One ERP to help deal with dramatic changes in demand caused by the COVID-19 crisis.
The COVID-19 pandemic has created massive disruptions across all industries, causing demand to plummet for some products and skyrocket for others.
SAP Business One, an ERP for SMBs that includes functionality of SAP's enterprise systems but is easier to manage, has been vital in helping two small companies deal with dramatic changes in demand and may have helped them stay in business.
One such company, Sagamore Spirit, used SAP Business One ERP to successfully switch from producing whiskey to producing hand sanitizer.
A small rye whiskey distillery in Baltimore, Sagamore Spirit feared it would have to shut down production when the COVID-19 crisis hit, shuttering the restaurant industry which brings in more than a third of its revenue. However, the company received a call from Johns Hopkins Medicine that it was in desperate need of hand sanitizer and hoped that Sagamore could help by converting its distillery, said Drew Thorn, vice president of finance and operations at Sagamore Spirit.
Moving from spirits to sanitizer overnight
Sagamore Spirit immediately began work with Johns Hopkins to determine the formula for the hand sanitizer. It also needed to adjust its supply chain to integrate new suppliers and ingredients. Not only that, but the distillery's staff was reduced from 50 to 12 employees. The SAP Business One ERP, which Sagamore uses in conjunction with distillery software for process manufacturing enhancements, was a main reason why the adjustment could be pulled off, according to Thorn.
"From a systems perspective, our implementation of SAP Business One for whiskey production directly translates into making sanitizer," Thorn said. "All ingredients are inventoried items within SAP Business One and then are assembled through the production module into finished sanitizer product inventory."
The switch to making hand sanitizer was a lifeline for Sagamore Spirit as the demand for craft distilled spirits took an abrupt and substantial hit in the wake of the COVID-19 shutdowns, he said. More than 35% of Sagamore's business came from restaurants and bars that were shuttered overnight. The company also had to shut down its visitor center and tasting rooms, which hosted more than 40,000 visitors annually prior to the crisis.
"We partnered with Johns Hopkins Medicine to produce sanitizer and set a company goal to fully supply their organization of approximately 30,000 employees, and we were shipping within 10 days," Thorn said. "SAP Business One provided the foundation to fold in a whole new set of vendors, completely new ingredients, packaging materials, production process and recipes overnight. From there, we were able to understand our costs, set up and invoice new customers, manage inventory and update reporting."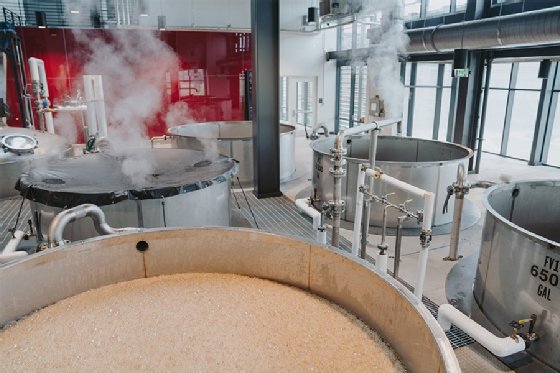 Sagamore Spirit runs SAP Business One in an on-premises deployment but has users working remotely because of the crisis. Despite the shift to remote work, the finance and operations teams haven't skipped a beat, Thorn said.
"We were able to move our finance and corporate teams remote on one day's notice with full continuity," he said. "Like most manufacturers, our finance team and operations team are interconnected, and by being able to keep them physically separate but still fully functional, we have been able to continue operations in our facility in a way that optimizes safety by eliminating unnecessary human contact."
Increased demand leads to increased challenges
Sagamore Spirit was faced with a decline in demand due to COVID-19, but that hasn't been the case for all companies. Ellsworth Foods LLC, an all-natural, farm-to-table food service that sources its products from local farmers, ranchers, growers and culinary artisans, saw demand doubling almost overnight.
An increase in demand is usually good for a business, but such a sudden and dramatic increase can tax a company's employees and IT systems. Ellsworth Foods' implementation of SAP Business One was able to help it manage the sudden shift, said Karleigh Jackson, director of marketing at Ellsworth Foods.
Based in Tifton, Ga., Ellsworth Foods delivers products to customers across the southeastern U.S., including all-natural beef, chicken, and pork, vine-ripened vegetables and North American seafood. Ellsworth's brands include Blue Ribbon Foods and Southern Foods At Home.
When you experience sudden, overwhelming business shifts like this, your processes and systems become your saving grace.

Karleigh JacksonDirector of marketing, Ellsworth Foods LLC
On March 14, the day after a national emergency was declared in the U.S., reorder sales at Ellsworth Foods rose dramatically, Jackson said. New sales followed suit and by the next week had risen by 200%. The challenge for the company was that more sales led to increased customer service needs, including item swaps and fulfilling backorders.
"The entire company individually made the unspoken decision to just get it done, whatever it took," she said. "Every single person was working long hours, every single day. We basically couldn't breathe because there was just so much to do, but when you experience sudden, overwhelming business shifts like this, your processes and systems become your saving grace."
SAP Business One's Inventory Management module enabled Ellsworth Foods to keep up with the new inventory demands, Jackson said.
"We knew exactly how many items we needed to pull in to handle what was already sold," she said. "Then it even allowed us to forecast orders, so we could start getting ahead of inventory needs. Imagine trying to do that without a system to help you when your business has more than doubled, but SAP made it so we could."