Panelists say S/4HANA is core of digital business transformation
In a panel at the SAP Sapphire conference, early adopters shared ideas about how S/4HANA forms the core of their digital business transformation.
SAP S/4HANA has been called a revolutionary technology since it was announced last year, but can it really be the foundation of a digital business transformation? Some early adopters say "yes" and give S/4HANA an unqualified thumbs-up.
Several SAP customers touted the benefits of putting S/4HANA at the center of their digital business transformation during a panel discussion at SAP's Sapphire conference, held in Orlando May 17-19.
The panel's participants included companies that are in varying stages of implementing S/4HANA, but most agreed that the technology had streamlined old processes, improved the user experience, and in some cases justified and supported an entire digital business transformation. Most of the customers began implementing S/4HANA with Simple Finance projects, and favored a step-by-step process.
New York Life Insurance Company was an early adopter of S/4HANA, and vice president Ray Carney said that one of the goals it had in adopting Simple Finance was to change the roles of the company's finance professionals to more than just collecting and manipulating data.
"We wanted to move our finance and accounting role to more of a strategist role, and in order to do that we needed to change our platform," Carney said. "Our ledger was SAP ledger that we put in in 1999, so when we started the project a couple years ago it was 15 years old."
The system worked, Carney explained, but it had spawned a culture of homegrown databases with many disparities between different business units, eventually growing to 15,000 general ledger accounts and more than 5,000 profit centers. "We looked around at the time and decided that Simple Finance was really the way to go," he said.
The software, since renamed S/4HANA Finance, provided a foundation for simplifying all these processes and streamlining the accounts and profit centers, paring down to around 3,500 accounts. Once this intensive foundational work is done, Carney said that the company can really begin to transform the work that's done by the finance professionals.
"We've done three quarter closes already and each one gets a little better, so everyone's now comfortable with it and now we have to get to the next level to change processes and change people's skill sets," he said. "We're making good progress and each quarter we're lending more value to the company and getting more insights, so the product with our changing mindsets is doing really well."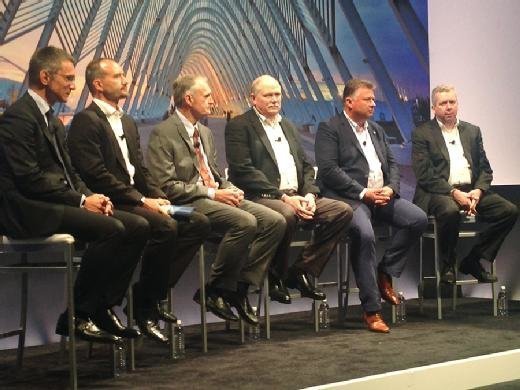 Travel company to software company transformation
Moving to S/4HANA created a foundation for digital business transformation at Sabre Corporation; which transformed from a travel-related business to a technology business that services the travel industry. After years of ownership changes, the company went public in 2014 and was forced to completely change the way it operated, said Steve Strout, Sabre's vice president of corporate technologies. It had to begin thinking like a software development company.
"We started by looking at our product innovation platform, and then we looked at our workforce engagement systems," Strout said. "Because we're not making widgets but intellectual activity, we have to be very cognizant that people are our primary asset." Much like any software company, Sabre needed to be able to use a primarily contingent workforce of developers and quality assurance testers to meet different project demands. "The center of that became our customer engagement and financial platform, and the center of all of those became a complete operating platform for us," Strout said. "At the center of that is S/4, and what we're doing with S/4 from not only a technology perspective but also intellectually and psychologically in our business is [that] we start[ed] thinking that everything needs to start to come through this and leverage this."
Sabre, like New York Life, also used the opportunity to streamline its business processes and pare down bloated general ledger accounts and profit centers.
Changing business conditions also forced O.C. Tanner to redefine its core business. The company has an HR consulting and employee recognition business and is also a manufacturer of awards. A few years ago new competitors caused it to completely rethink the business, according to O.C. Tanner's CTO, Niel Nickolaisen.
"They weren't manufacturing companies that used software for delivery, they were software companies and they moved at a much faster pace and were much more agile than O.C. Tanner," he said. "I wouldn't say that it reached a crisis point, but it reached a concern point that we had to do something differently because our business rules, our systems, and all the software we'd written or customized was in our way of moving."
O.C. Tanner had implemented SAP about 18 years ago, which Nickolaisen characterized as a long expensive process, with upwards of 100 consultants writing code to support custom manufacturing, accounting and other processes.
"We started a couple years ago to redo everything, starting with finance because we had to get the accounting structures and processes right because that cascades into everything else," he said. "So we've started over and we adopted a rule that said zero customizations, nothing is worth customizing in the digital core, we're going to learn how to do business the SAP way so we can focus our innovation on employee recognition and engagement."
The transformation has been a struggle for some of the O.C. Tanner employees who were accustomed to the old processes, but overall it has gone well and Nickolaisen noted that "we're starting to see the benefits of changing the emphasis of our employees from managing transactions to managing client relationships."
The cloud is deployment option of choice
For companies that have deployed S/4HANA, the cloud has been the deployment option of choice, primarily because of the advantages of offloading the infrastructure.
New York Life implemented S/4 on HANA Enterprise Cloud (HEC), Carney said. "The best thing I can say about the cloud is that it's seamless and most users don't even realize where the data's coming from, which is great because it makes our IT landscape simple, so our IT guys love it. It takes some things that we had in-house and we give it to the experts."
Strout said that Sabre is running S/4 on an environment hosted by Virtustream. "My strategy of putting things in the cloud has always been about taking the operational costs associated with that and putting into people that can scale," he said. This will make it easier to scale components like Ariba, Concur, Fieldglass and SuccessFactors into the S/4 digital core.
O.C. Tanner has an in-house deployment on its own hardware, Nickolaisen said, but that's only because it has clients in regulated industries with information privacy requirements. "Right now we have to own our hardware and their data can only exist on our hardware," he said. "But for that we'd have been on the cloud from the start."
Go incrementally and don't do it alone
Among the most daunting challenges faced by early S/4HANA adopters is keeping the project under control and showing value for the investment. The panelists agreed that an incremental approach worked well and all relied on implementation partners or systems integrators.
"Our implementation methodology was that very few people in the company thought that standard SAP S/4HANA could support our business because they had a reason for all those customizations that they had done," O.C. Tanner's Nickolaisen said. To convince the skeptics, the company engaged with SAP's value engineering team and performed three-week configuration sprints that demonstrated the system was viable in incremental bits.
"We used value engineering to start that off and we worked with a partner, KPIT, because we needed expertise on how to configure accounting in a standard way, how to configure manufacturing in a standard way, supply chain, and to configure Hybris commerce because we had no experience with that at all," he explained. "There were a couple places early in the implementation where we had to leverage some SAP expertise because there were some components that I think we were the first to try and use, but all in all it's gone really well and this incremental approach has proven itself in convincing about 1,500 people that this is doable."
Strout said that Sabre went with smaller boutique partners rather than a large systems integrator for its deployment, mainly because it wanted them to stick around when the heavy lifting was over. It also worked incrementally, setting up a greenfield site to test the processes and configurations. Starting in finance, the project mushroomed as other organizations began to see the value.
"Initially it was driven predominantly by the finance organization and once they started the process our HR organization said, 'We really need to do SuccessFactors Employee Central and recruiting' and our product people said, 'If we're going to do all these things we also need to change out all of these things,'" Strout said. "The reality is that at the end of this in 18 months, we will have replatformed all of Sabre and it's a pretty sophisticated change where S/4 becomes the center of that."
New York Life partnered with Deloitte but made sure that it had people embedded in the Deloitte team because as Carney said "when most of the project [is] over, we have to live with it and we have to make sure that we can carry it on."
Executive buy-in was crucial for the project. "I was very fortunate that it had the full backing of the CFO and the comptroller, so I was able to pick the very best people to be on the project," Carney said. "This hurt the business because I pulled them off for 18 months to two years, but if you didn't pick the best people, you wouldn't have the best solution. Our implementation took a little longer -- about 18 months because we had a few more custom fields that weren't strictly SAP delivered, but it went well and is starting to lead to benefits now."
Dig Deeper on SAP selection and implementation