Definition
SOC 3 (System and Organization Controls 3)
What is SOC 3 (System and Organization Controls 3)?
A System and Organization Controls 3 (SOC 3) report outlines information related to a service organization's internal controls for security, availability, processing integrity, confidentiality and privacy. These five areas are the focuses of the American Institute of Certified Public Accountants' (AICPA) Trust Services Criteria (TSC).
SOC 3 reports are public and part of the voluntary SOC compliance reports, which includes SOC 2 and SOC 1 financial reporting audits as well.
User entities or potential clients of an organization most often request a SOC 3 audit. Businesses that offer software as a service, cloud computing or data center storage -- or ones that handle sensitive customer data or personal data -- are more likely to have a compliance audit done. They are conducted by a certified public accountant (CPA) or an accredited third-party auditor.
SOC 3 audits provide a high-level overview of an organization's controls and security risks designed for a general audience. Because of this, organizations hire CPA firms to do the audits and reports, and they often post the results on their websites and distribute them through marketing campaigns to show clients they take data security seriously.
Tech companies most often need these reports. However, many other industries require similar regulatory compliance; companies in industries such as finance, healthcare, e-commerce and government also use SOC 3 reports.
Why is SOC 3 compliance important?
SOC 3 compliance is important for the following reasons:
Brand reputation. SOC 3 reports assure clients that an organization's controls and processes pertaining to the protection of sensitive customer data are up to industry standards. SOC 3 shows a company invests in security and is transparent about its security processes. Though SOC 3 reports are voluntary, many organizations use them. Freely distributed SOC 3 reports are an effective way of retaining customers, keeping stakeholders informed and strengthening a brand.
Marketable. Because they are made public, SOC 3 reports help businesses attract potential customers. The reports show potential clients that an organization has the appropriate, secure controls in place for managing and protecting their data and that it invests in complying with industry standards.
Risk management. SOC 3 standards help organizations assess their own risk management processes and optimize their network management controls. This enables organizations to understand how vulnerable they are to potential security breaches and which areas of risk they might need to address compared to competitor SOC 3 reports. The SOC 3 audits have the added benefit of possibly reducing costs associated with security breaches.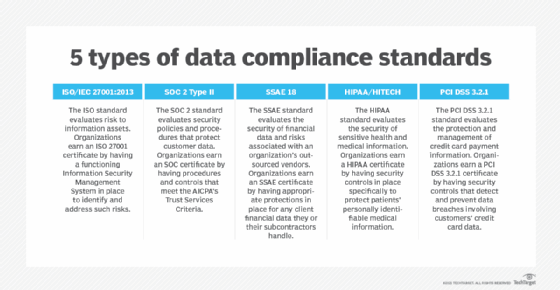 SOC 2 vs. SOC 3: What are the differences?
SOC 2 and SOC 3 audits are similar in many ways. Both are conducted by third-party auditors and evaluate a service organization's controls and security risks for customer data security and availability. Both of them also are based on the AICPA's TSC standards and include an auditor's approval of compliance. However, there are several differences between them as well.
SOC 2
SOC 2 audits have the following characteristics:
They provide restricted-use reports that are intended only for the service organization's management, stakeholders and the client that requested the audit.
They can be either Type I or Type II SOC reports. Type II reports generally evaluate an organization over a year and are more rigorous in their evaluations than Type I.
They might have confidential information relating to the client and the organization's security and cybersecurity
They include the auditor's report and detailed information about the list of controls the auditor used in their testing.
SOC 3
Soc 3 audits have the following characteristics:
They are general-use reports intended for public use and distribution.
They are Type II by default; there is no Type I option.
They include a high-level overview about the effectiveness of a company's controls and no confidential or detailed information about those processes.
They don't include auditor's report or the list of controls auditor used.
Differences between SOC 2 and SOC 3
SOC 2
SOC 3

A detailed look at an organization's controls

High-level overview showing a company's controls

Restricted-use report only for the organization and client requesting it

General-use reports for public distribution

Type I or Type II reports

Type II report

Has confidential information about the organization's security processes

Has no confidential information

Includes the auditor's report and list of controls used in the testing

Does not include auditor's report or list of controls
Who does SOC 3 compliance apply to?
SOC 3 compliance generally applies to any service provider. Though SOC 3 compliance is voluntary, it is useful for all businesses and other organizations that handle sensitive customer data and want to prove compliance with strong industry standards.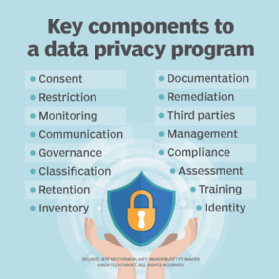 The types of organizations most likely to seek out SOC 3 compliance include the following:
cloud service providers
financial institutions
healthcare providers
retail and e-commerce businesses
government agencies
SOC 3 audit process
The following four steps are part of a SOC 3 audit process:
Auditor. The first step in conducting a SOC 3 audit is to hire an auditor, usually a CPA firm certified by the AICPA.
Assessment. The auditor evaluates the effectiveness of a service organization's security controls and risk management program based on the AICPA's TSC standards. This process can include on-site inspections, systems testing, interviews with employees, document requests and review of documentation. The controls and policies an auditor evaluates often include security protocols, such as encryption, access controls, disaster recovery, intrusion detection, multifactor authentication, firewalls, structured and unstructured data protection, and performance monitoring.
Attestation report. Once the evaluation is complete, the auditor prepares an attestation report that summarizes the results of the assessment, containing only information that can be publicly disclosed. The auditor issues a statement of assurance, stating that the organization has met the standards of data confidentiality, access and integrity.
Publication. An organization is free to post its SOC 3 audit report on its website or include it in marketing or advertising campaigns.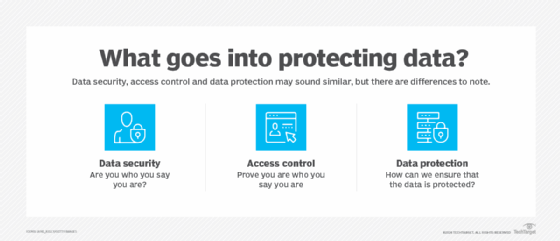 SOC 3 compliance best practices
There are several best practices service organizations can follow to ensure they pass a SOC 3 audit:
Develop a strong data security program based on the AICPA's TSC. This includes establishing clear policies and procedures for how data is collected, stored and processed based on the AICPA's TSC standards and other industry regulations, such as GDPR or HIPAA. These regulations include data access controls, IT incident management systems, regular reviews, monitoring and testing of controls, encryption requirement, and software update and employee training protocols.
Select the controls to be audited. In addition to data security, organizations can choose to have other internal controls audited. For instance, a company might add audits of its disaster recovery and quality assurance controls; ensuring these additional controls are up to date and secure strengthens the overall SOC 3 audit.
Conduct readiness assessment. Companies sometimes run their own version of a SOC 3 audit in preparation for the real one. A readiness assessment helps organizations identify what to address before being officially audited.
Find the right auditor. Organizations should vet potential auditors, looking for affiliation with the AICPA, experience with SOC audits and recent peer reviews.
SOC 3 is all about assessing the effectiveness of an organization's data security compliance. Learn about the 10 key elements of data compliance regulations.
This was last updated in
February 2023
Continue Reading About SOC 3 (System and Organization Controls 3)
Dig Deeper on Data security and privacy