Getty Images
Collaboration tool sprawl challenges and how to address them
Using multiple communication and collaboration tools can cause productivity headaches. There are steps IT can take to avoid these issues and manage collaboration tool sprawl.
Unified communications and collaboration tools are an efficient way of connecting with employees and teams. Organizations have rolled out all kinds of tools to support collaboration among distributed teams, but it's possible to have too much of a good thing.
Collaboration tool sprawl is the result of using an abundance of communications platforms to the point where there are too many to keep track of, confusing users, said Blair Pleasant, principal analyst at COMMfusion LLC.
When rollouts become sprawl
How do you know if you have too many tools? The short answer is: It depends. According to an Enterprise Strategy Group (ESG) study, 44% of organizations have deployed six to 10 communications and collaboration platforms, while another 37% use between 11 and 20 platforms. An organization may have enough IT resources to support any number of tools, but that doesn't mean doing so is always the right answer, said Gabe Knuth, analyst at TechTarget's ESG. However, it's hard to maintain a productive work environment when you're switching from one app to another. Consolidating these apps -- including chat, unified communications (UC) and contact center ­-- would help with the sprawl, he said.
The more tools you have that are in use across different teams, the more difficult interteam collaboration becomes.

Gabe KnuthAnalyst, ESG
"The more tools you have that are in use across different teams, the more difficult interteam collaboration becomes," Knuth said. "They lose that effective collaboration when they start to branch out to other teams that use different things."
On the other hand, using more than four tools could be when users start to experience sprawl challenges, Pleasant said. She noted that Teams, Zoom and Slack are often the three main products organizations use for communications. But it's hard to know what's too many for the average worker, she said.
Common tool sprawl challenges
Users on both ends of the platforms can come across multiple obstacles when working with too many team collaboration tools. According to Pleasant, common challenges include the following:
Switching between apps, which can be distracting for the user.
A lack of interoperability among tools.
Not knowing which tool to use and for which tasks.
Workflow getting impacted.
Decreased productivity.
Security is another factor to consider with tool sprawl -- not that the tools are not secure, but that IT must dedicate more expertise and resources when more tools are in use, Knuth said. For example, if Zoom, Webex and Microsoft Teams are all deployed in an organization, then IT staff need to be knowledgeable of those platforms in order to properly support them, he said.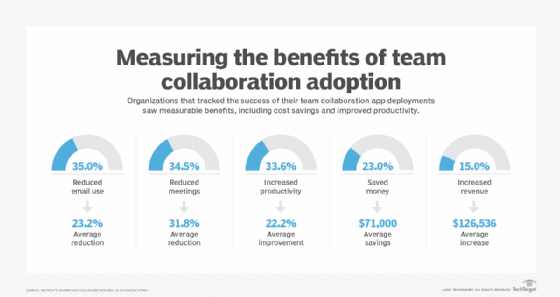 However, if individual teams are allowed to do whatever they want, IT won't always have the ability to manage, support or secure all the platforms. It would be up to those individuals to make sure security measures are correctly implemented, Knuth noted. Without IT involvement, there would be gaps in knowledge of tools being used in the organization, which can create security issues among other things, Knuth added.
One overlooked challenge of tool sprawl is cognitive fatigue. When people are switching back and forth from one platform to the next, users can be left mentally exhausted or burned out, Knuth said. And, though not a lot of time is lost among switches in one instance, it eventually adds up, he said.
"Working in one app and one screen and then suddenly you have to change, that can provide some of that cognitive fatigue because it's more challenging for the brain to kind of switch gears," Pleasant said.
Ways to control tool sprawl
With the challenges come ways to address and manage collaboration tool sprawl. Possible strategies include the following:
Moving to cloud-based UC and collaboration (UCC). This approach offloads management responsibilities so IT leaders can focus on UX and security -- a common driver for organizations choosing the cloud, Knuth said. By developing a comprehensive UCC strategy that prioritizes a common set of tools for all users, employee communications and collaboration can increase, while lightening the load on IT support and security resources, Knuth said.

He added that companies should work with different teams to evaluate products that are already used in the organization to determine what features work and why those teams adopted specific tools. This paves the way for a more effective UCC strategy that increases communication among teams and streamlines operations management from an IT perspective, Knuth said.
Reevaluating applications outside of the productivity suite. Reevaluating applications that live outside of the Google environment, for example, is one way to address sprawl, said Metrigy analyst Irwin Lazar. It also helps organizations save money, he said.
Using separate tools for internal and external communications. Lazar suggested using one tool for external business and one for internal, such as Zoom and Teams, respectively, as well as building Slack connections between partners. Taking advantage of AI features could also prove beneficial, he said.
Training to better understand tools. Identifying what the right tool is for a specific task or situation is another way to help with tool sprawl, Pleasant said. Understanding how each tool works is crucial for user adoption, and organizations should look into training their employees for the most efficient communications, Pleasant said.

How IT promotes user adoption is based on what the tool is optimized for but essentially comes down to user preference, Pleasant added. Putting out a poll or survey for IT to see which platforms are most popular and why can help IT leaders understand the uses behind each application, Pleasant said. Additionally, providing best practices and having videos readily available can make for better UX, she noted.
Consolidating to a single vendor. Organizations could also reduce the amount of deployed apps by consolidating to a provider that can address most collaboration needs.

"Companies like Zoom keep adding more and more capabilities to their tool set so that you can use just one company and one vendor," Pleasant said.
With hybrid work settling in across organizations, employees are using multiple platforms to communicate with each other, no matter their locations. It's important to be aware of the challenges that come with using many collaboration tools within a workplace and understand how to control the issues.