Fotolia
Users can now connect to Microsoft Teams rooms based on proximity
Users of Microsoft Teams can now connect to nearby meeting room systems through proximity-based pairing, a feature already supported in Cisco Webex.
Users of Microsoft Teams can now connect to conference room hardware more easily with the release of proximity-based joining for online meetings. The update brings the app's meeting capabilities more in line with those of rival product Cisco Webex.
The Teams desktop and mobile apps will now automatically detect Microsoft Teams room systems that are within Bluetooth range and available for use. That could help users find empty conference rooms for spontaneous meetings.
After launching a Teams meeting, users will be able to select a nearby room system for audio and video. Conversely, the desktop or mobile app used to start the session will join in content-only mode, which silences the device's microphone and blocks its camera.
Cisco has supported proximity-based, meeting-join options for some Webex video devices since at least early 2018. In March, Cisco said its AI-enabled video gear could detect when a user's mobile phone enters a conference room and would automatically prompt the device to join a meeting.
Vendors are competing to make joining meetings and connecting to conference room gear as simple as possible. Cisco has the advantage of manufacturing its video cameras and room displays, while Microsoft and another Cisco competitor, Zoom, rely on partners like Poly and Logitech.
Microsoft Teams updates mobile app, IT controls
Microsoft enhanced Teams with several other new features over the course of May. One update generates mobile notifications when a scheduled Teams meeting has started, letting users join the meeting by clicking on that pop-up.
Another new meeting function is a "call me" option for connecting to meeting audio. If the option is selected in the prejoin screen or during a meeting, the system will call the user's phone number -- and if it's a mobile number, the call will switch to the cellular network.
For IT administrators, Teams now supports downloading usage reports as CSV files that admins can open in Excel. Plus, users with permission to add members to teams can now do so from their mobile app.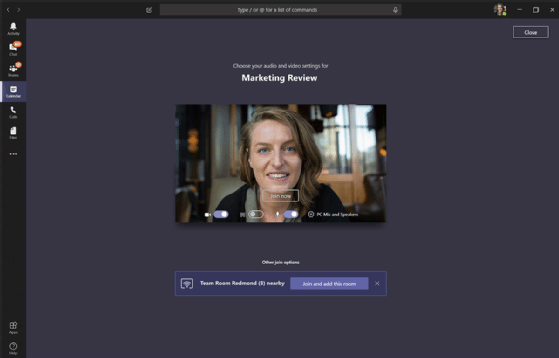 Microsoft plans June updates for Teams
Microsoft recently updated its roadmap for Teams to include several enhancements that are planned to launch this month.
The vendor is preparing to roll out a single toolbar for controlling meetings and phone calls that will display at the bottom of the screen on the desktop and web clients, consolidating bottoms previously spread across the display.
Microsoft will also let users stream audio from their computer into a Teams meeting, allowing users to more easily share audio or video clips stored on their computers.
Other June roadmap items include a tighter SharePoint integration, better usage analytics and the ability to see when colleagues have viewed direct messages sent to them.
Dig Deeper on Video conferencing and visual collaboration