Share this item with your network:
Building the infrastructure for the changing face of IT

Fotolia
Benefits of artificial intelligence in communication
Enterprises that want to enhance their UC strategies can see several benefits of artificial intelligence in communication, collaboration, information access and UC endpoint control.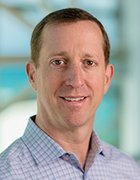 By
Enterprises are beginning to pay attention to the potential benefits of artificial intelligence in communication...
Continue Reading This Article
Enjoy this article as well as all of our content, including E-Guides, news, tips and more.
and collaboration applications. As an emerging technology, AI can transform the way people work with data and with each other. For unified communications, that potential means improved access to information and better control of UC applications and endpoints.
Artificial intelligence describes computer programs' ability to learn based on observation and past experience through machine learning. Thanks to the rapid advancement of computer processing power, AI has gone from concept to practical technology and is now being developed to improve decision-making across industries.
Nearly 41% of enterprises to use AI in their UC applications by the end of 2019, according to Nemertes' 2018 Unified Communications and Collaboration report. The research also found a direct correlation between AI adoption and overall UC success. In addition, AI is a bellwether technology as companies seek to use it to gain competitive advantage, improve customer engagement and streamline business processes in their digital transformation projects.
Benefits of artificial intelligence in communication and collaboration
There are several potential benefits when AI is integrated into unified communications. Here's a look at a few of them.
Ability to improve interaction with data. An AI-based virtual assistant could organize the relevant information, documents and other materials for meetings and team interactions and then present those in collaboration sessions. Consider the following scenarios:
When joining an online meeting, an AI-powered assistant brings you files, instant messages and project task lists, saving you from manually looking for materials relevant to the conversation.
AI, coupled with a virtual voice assistant like Amazon's Alexa for Business, Microsoft's Cortana, Google Assistant or Apple's Siri, could enable natural language data queries. For example, you could say: "Hey Cortana, pull up the Q4 sales figures and projections for Q1 next year."
If deploying an AI engine to listen to discussions in a meeting or read text-based conversations in a team app, the agent could then offer assistance, such as: "Would you like me to schedule a task for John to develop budget projections for the marketing campaign?"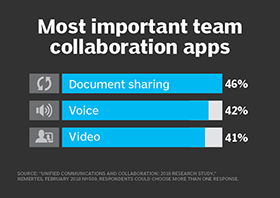 More efficient and effective collaboration. The benefits of artificial intelligence in collaborative sessions include transferring information more easily among globally dispersed teams. For example, AI-driven collaboration offers the following:
Real-time language translation, which enables global workgroups to communicate and collaborate in their native languages and receive native language meeting transcriptions.
Efficient schedules, such as calendar systems or meeting applications enabled to automatically schedule future calls based on a project's schedule and availability, without individuals having to manually search calendars for availability or, worse yet, exchange emails to find an appropriate meeting time.
Quicker feedback by integrating chatbots into team applications to enable native language collaboration capabilities, such as polling team participants for a status update or providing alerts to team members when the AI engine detects an anomaly in a related business process. For example, a systems failure could trigger AI tools to create pop-up messages in the team apps or conversation channels, and it could automatically input relevant data.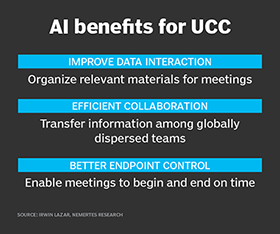 Better endpoint control. AI, integrated with in-room meeting systems, could enable meetings to begin and end more efficiently:
The AI application could recognize individuals as they enter a meeting room, prompting the meeting system to say, "Hi Julie, I see you have a 4:00 p.m. status meeting. Would you like me to start it?" This saves time starting audio, video and web conferencing bridges as well as retrieving digital whiteboards and shared files.
It could take attendance by visually or audibly employees as they join meetings.
And the AI could use data analytics to help facilities and UC managers gain insight into how meeting spaces are being used, how many people are in a typical meeting and how long they use the room.
AI integration points to consider
Despite the rapid advancement of AI and strong demand for the technology, enterprises still need to consider security concerns and appropriate use cases for their organizations:
Compliance and security. IT leaders, especially those in regulated industries, are likely to be wary about AI's access to corporate information and the way that information is stored within AI engines. As AI platforms become targets for attack, expect to pay closer attention to how that data is protected.
Reliance on cloud. The computing power required for AI, as well as the need for rapid application evolution, typically means that AI platforms are cloud-based and use microservices-based architectures. That leads to data security issues, as well the need to ensure that data is stored in accordance with standards like the General Data Protection Regulation.
Business case. Many of the previously described scenarios are difficult to quantify for enterprises trying to determine return on investment. Vendors likely will integrate AI-driven applications into their current offerings rather than sell separate tools requiring their own licenses or software acquisitions. Still, enterprises will incur costs related to training and IT support that they will need to balance with measurable productivity gains and process improvements. IT leaders will want to ensure that they have the necessary visibility into business processes to help identify benefits to using AI.
The various uses of artificial intelligence in communication and collaboration tools are enabling UC vendors to become more competitive in their offerings. This has created somewhat of an arms race as companies seek to rapidly develop their own UC capabilities or engage with partners. Microsoft is using its Azure public cloud capabilities, IBM has integrated Watson into its collaboration tool named Watson Work and Cisco acquired MindMeld. Enterprises can expect continued product enhancements, offerings, vendor partnerships and acquisitions in coming months.
AI offers significant potential benefits for organizations adopting it as part of their unified communications strategy to improve access to data, collaboration and control of UC endpoints. Evaluate your vendor's offerings to determine how best to take advantage of the benefits of AI while remaining in compliance with governance, security and risk management requirements.
Dig Deeper on Team collaboration software