Rawpixel - Fotolia
Design redundancy into VoIP communication systems
Implementing redundancy at the VoIP and network infrastructure levels is an integral part of VoIP communication, ensuring call and business continuity.
VoIP PBX systems have rapidly changed the business environment, helping employees communicate more efficiently...
Continue Reading This Article
Enjoy this article as well as all of our content, including E-Guides, news, tips and more.
and increasing productivity. Businesses today rely heavily on their VoIP communication system, and having uninterrupted service is deemed mandatory.
For many businesses, downtime in VoIP communication systems translates to company losses and lost opportunities. For this reason, VoIP network infrastructure and call continuity should be part of every company's communication plan.
VoIP redundancy involves designing and implementing redundancy at both the VoIP and network infrastructure levels. Looking at each infrastructure, we see how companies can achieve the desired level of continuity in their VoIP services.
A VoIP communications system has several components, each providing a specific function that helps deliver the necessary services to the enterprise and its customers. These components, subject to redundancy, are VoIP PBX, voice gateways and messaging and presence servers.
The VoIP PBX, often called the "VoIP server," is the central processing system that handles call routing, IP phone registration, user accounts, dialing privileges and other similar functions. With modern systems, these servers often leverage virtualization technology to quickly restore a new hardware in the event of a failure.
Depending on the vendor, businesses can combine virtualized servers with multiple physical servers, creating a clustered virtualized environment. With clustered virtualized VoIP systems (e.g., Cisco CallManager -- on VMware ESX), businesses can enjoy the benefits of redundant VoIP servers and increased user capacity as user load is balanced between the virtualized servers.
Voice gateways are where telecommunication providers terminate their circuits and connect with the business via SIP, ISDN and PSTN. Some VoIP solutions have voice gateways along with their PSTN/ISDN interface cards, integrated inside the main VoIP PBX (e.g., Siemens OpenScape Office MX), while others have voice gateways in a separate "box," usually a router (e.g., Cisco Unified Communications Manager and Cisco 3900/2900 series voice gateway/router).
Maintaining multiple voice gateways is beneficial because if one gateway fails, calls can continue to flow through the system using an alternative path. In this scenario, the telecommunication provider must support incoming call routing through multiple paths. Similar to clustered VoIP PBXs, load balancing of calls can also be achieved with multiple voice gateways, assuming the VoIP PBX supports this feature.
It's worth noting that Cisco's voice gateways can also serve as a back-up for CallManager, essentially becoming a third back-up should the CallManager cluster fail. In this case, IP phones are configured to automatically fall back to the voice gateway when they lose contact with the CallManager servers. The voice gateway provides basic call features such as incoming/outgoing phone calls. This fall-back feature, named Cisco Unified Survivable Remote Site Telephony or Cisco SRST, can support up to 1,500 IP phones with a Cisco 3945E voice gateway.
Messaging and presence server VoIP redundancy
The messaging server is mainly responsible for voicemail services. Again, these services might be integrated in the VoIP PBX server but can also be offered as a separate server entirely, like Cisco Unity Connection.
In some cases, as with Cisco Unity Connection, the messaging server can provide auto-attendant functionality. Many companies do not consider redundancy at the messaging server level to be a critical feature. However, some companies, such as financial institutions and call centers, rely heavily on voicemail and auto-attendant features and, therefore, consider the service critical.
Presence, a fairly new feature for VoIP vendors, provides text-messaging capabilities and real-time user status updates, such as on a call, away, in a meeting, busy or offline. Presence services are primarily offered as a separate server or, in some cases, built into the IP PBX.
Depending on your vendor, there might be different VoIP redundancy options available. The most common option is a clustered environment with multiple messaging/presence servers that can simultaneously provide load-balancing capabilities.
A VoIP infrastructure cannot be considered fully redundant without a redundant network infrastructure, for the simple reason that all VoIP components rely on the network infrastructure. Depending on the size of the network, you could have a three-layer network model (core, distribution and access layer) for very large deployments or a two-layer network model (core/distribution and access layer) for smaller deployments.
No matter which network deployment model is used, VoIP components, except IP phones which connect to access layer switches, usually connect using redundant links to the core/distribution layer switches as shown below: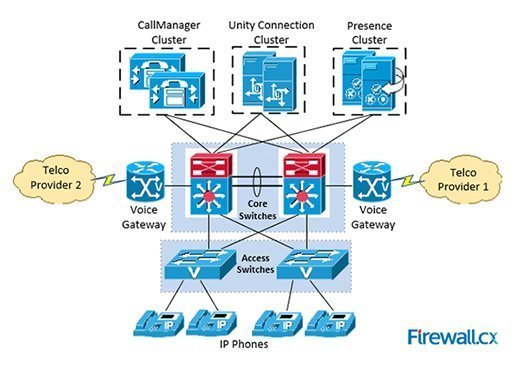 All VoIP components -- clustered VoIP PBX, messaging/presence servers -- connect the core/distribution switches in a mesh configuration using multiple links per physical server. Core switches also connect between each other to provide core-level redundancy.
Finally, the voice gateways are distributed amongst the core switches and the IP PBX system is configured to automatically route calls from one voice gateway to another should any fail.
VoIP technology has changed the way businesses work and collaborate. Despite the technological evolution and increased reliability, a redundant design is considered mandatory, especially for large enterprises. The key ingredient for an effective design is to ensure redundancy is implemented at both the VoIP and network infrastructure.
Next Steps
Getting started: Learn the basics of designing and implementing an end-to-end VoIP network architecture.
Follow these VoIP security best practices.
Be sure to implement the proper VoIP quality of service models.
Dig Deeper on VoIP and IP telephony