pressmaster - Fotolia
Tracking VMware's expansion from humble beginnings
VMware got its start by overcoming the technical hurdles of server virtualization and now faces other barriers as it expands its reach to other markets.
VMware started in 1998 when Diane Greene, Mendel Rosenblum, Scott Devine, Edward Wang and Edouard Bugnion saw the commercial potential for a "virtual machine monitor."
Rosenblum, a Stanford University professor, and his students had written a paper that described running applications in multiple operating systems on a single server, which picked up interest from high-tech companies, such as Microsoft. Using a virtual machine monitor promised to utilize the full capacity of the server's CPU, add stability and reduce the amount of hardware required to run applications.
The group formed a company to develop virtual machine monitors -- or hypervisors as they are more commonly called today -- and rented space in Bungion's Menlo Park apartment to work on the project. Once they crossed multiple technical hurdles -- booting Windows 95 in a virtual machine once took 30 minutes at the start -- and were able to virtualize the x86 platform, the company grew quickly. By the end of 1998, the company had 20 employees.
In 1999, VMware hit $1 million in sales, selling its VMware Workstation product to more than 2,200 universities. By 2000, the company had more than 385,000 users and was licensed in more than 5,000 companies around the world.
The startup's quick rise to IT prominence caught the attention of noted storage company EMC, which beat out several other suitors to acquire VMware for $635 million in 2003. In 2008, as VMware was expecting lower-than-predicted revenues, VMware announced Greene was leaving the company in July. VMware co-founder -- and Greene's husband -- Rosenblum resigned several months later.
EMC anointed Paul Maritz to replace Greene. Maritz had been president of EMC's cloud computing division and used that experience to push VMware from a server virtualization company to a cloud computing contender. Under Maritz, the company also made strides into systems management, network virtualization and desktop virtualization.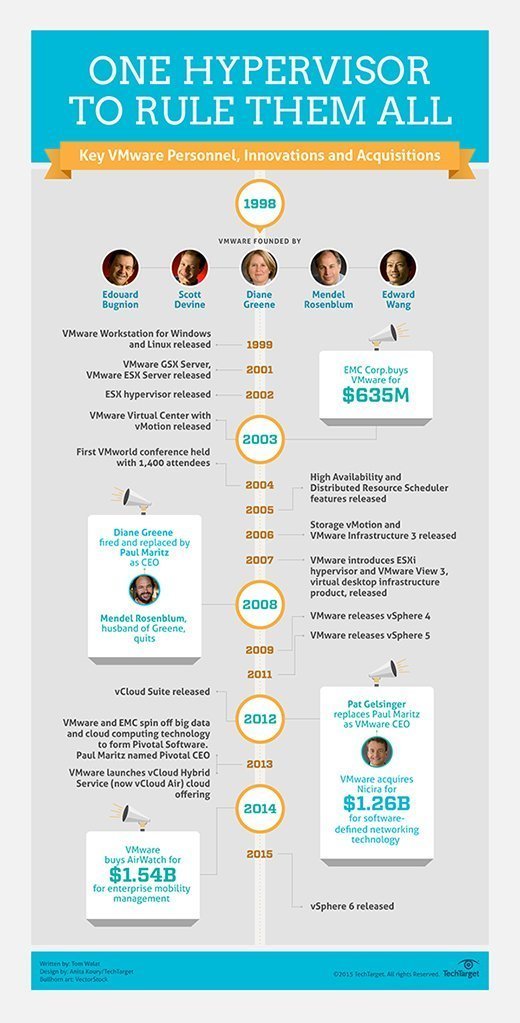 After four years of strong market growth and numerous acquisitions, Maritz ceded control of VMware to another EMC executive, Pat Gelsinger, in 2012. Gelsinger has stated his goal is for VMware to virtualize the entire data center and has pushed software-defined storage as a complement to the company's server and network virtualization offerings.
VMware moved into new frontier when it launched its vCloud Hybrid Service infrastructure as a service (IaaS) in late 2013. The IaaS, since renamed to vCloud Air, allows vSphere-based enterprises to push virtualized workloads from their data centers into the VMware cloud and back again using the foundation of vSphere to facilitate these moves.
In 2014, VMware renewed its push for a spot at the end-user computing table by acquiring AirWatch for $1.54 billion for its enterprise mobility management features.
In February of 2015, VMware made vSphere 6.0 available, the first major release of the company's flagship server virtualization platform in more than three years. Among the 650 new features were the highly touted VVOLs function for storage-based policy management and Fault Tolerance for VMs up to four vCPUs.
Next Steps
Discover VMware vCloud Suite's centralized approach to cloud computing
The five best VMware backup options in the cloud
VMware vSphere 6.0 is ready for its grand entrance
Dig Deeper on VMware ESXi, vSphere and vCenter