Rawpixel.com - stock.adobe.com
Tech events tout sustainability, need meaningful metrics
Some companies are trying to make their events more environmentally responsible, but claims such as carbon offsetting must be examined carefully.
Technology vendors have not always considered sustainability in their event planning and operations, but that may be changing.
Driven by a few main forces such as regulations and demand from customers, suppliers and employees, more companies are focusing on sustainability goals. For example, the number of publicly listed corporations aiming for net zero more than doubled in two years from 417 to 929, according to the June 2023 Net Zero Stocktake report, compiled by experts from four independent research organizations.
Tech events are a high-profile area that some vendors are using to demonstrate their commitment to sustainability by reducing waste and their carbon footprint, even if the overall impact on the environmental bottom line is relatively small.
Most vendors, however, are not. And analysts warn that efforts such as carbon offsetting to travel to an event need to be carefully measured, while some messaging may be more about image, not impact.
Embedding sustainability in event planning, operations
The enterprise systems giant SAP has placed a stake in the ground for sustainability, through setting an ambitious net-zero goal by 2030 as a company and rolling out sustainability-related ERP products over the past few years.
The company has embedded its sustainability focus into the events it runs, including its annual Sapphire conference for customers and partners, according to Nicole Miller, senior programs director for global events at SAP.
In 2019, SAP worked with sustainability experts to assess its events and determine where it could make sustainability improvements, Miller said.
"We committed to a few things that we've tried to standardize across our tier one events portfolio," she said. "We aim to eliminate single-use plastics, reduce our carbon emissions and reduce energy consumption."
SAP partners with the Orange County Convention Center in Orlando, annual site for Sapphire, as well as Dallas-based event coordinator Freeman to plan sustainability goals, Miller said. The company is also working to reduce the overall number of conference attendees by holding smaller events in various global locations and offering the ability to attend virtually, a now-common offering thanks to the COVID-19 pandemic.
"We've heard from our customers that sustainability is important to them, so offering the virtual option has been a positive," she said. "As part of the virtual, we incentivized our viewers so that if you watched 10 sessions, we planted a tree for every tenth session you watched to offset that."
Miller stressed, however, that the in-person event is not going away, as vendors, customers and partners find value in face-to-face interactions.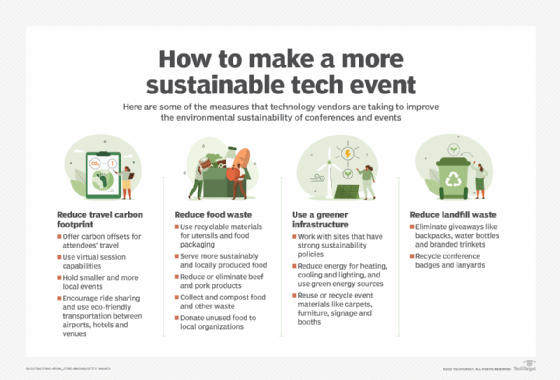 Big events mean big waste
Freeman, SAP's partner in producing Sapphire, works with its partners on how to design and produce events more sustainably, according to Elizabeth Fretheim, the event coordinator's vice president for sustainability. Last year, Freeman produced 2,350 events in 137 cities around the world.
"We offer our customers guidance on how to make their events more sustainable, as well as post-event reporting to help them track their impacts and progress," Fretheim said.
This includes rental programs for items like flooring, booth structures and furniture that can then be reused several times before being repurposed or recycled at the end of life, she said. At Sapphire 2023, Freeman worked with SAP to recycle or reuse all the carpeting used at the conference.
However, trying to include sustainability in event planning is not easy, Fretheim said, as every city and venue is different, which makes it difficult for companies to build standard programs that scale. Planning the sustainability impact of an event can be challenging because so many entities are involved, including general contractors, organizers, caterers, travel providers, hotels, fabricators and freight transport. This makes it difficult to measure the exact carbon footprint of all the elements that go into the event.
"Each has its piece of the service delivery, so getting a complete picture of the impact takes a concerted effort and agreement for transparency," she said. "As well, it can require a lot of estimation because not every piece is discreet to that particular event, like energy in a venue that is hosting multiple events."
The larger an event is, the greater the environmental impact. Some tech vendors beyond SAP have recognized this and taken steps to address sustainability issues.
In 2022, Salesforce's Dreamforce conference drew about 40,000 attendees to San Francisco, where the company is headquartered. It took measures to reduce the event's carbon footprint and waste. Attendees were offered an ability to offset carbon generated by travel to the event and were not provided with customary swag such as backpacks and water bottles, while conference badges and lanyards were recyclable.
Eating is always a big waste generator, but Dreamforce offered 100% non-beef and non-pork lunches, saving on millions of gallons of water that would have been generated in beef and pork production, according to Salesforce. The lunches also used 100% compostable packaging and utensils.
Cisco also had initiatives to measure and reduce waste at its Cisco Live 2023 conference, which drew 20,000 to Las Vegas in June. Cisco partners with MeetGreen, an independent event management firm in Portland, Ore., to plan and audit sustainability efforts at the show.
These efforts included donating unused meals to local needs-based organizations; donating furniture to local nonprofits; donating banner graphics to local animal shelters to be used as shade structures and bedding; and reusing 95% of carpeting for future events, according to the company. Cisco Live also eliminated single-use water bottles and used leafware and bamboo utensils and cups, which were recovered and transformed into compost and topsoil.
Business value in holding in-person events
Although its events are on the smaller side, Acumatica also sees value in holding in-person events, according to Todd Wells, chief marketing officer at the cloud ERP vendor.
The Acumatica Summit conference was attended by about 2,800 customers and partners and serves to build the Acumatica community, Wells said.
"Frankly, [Acumatica Summit] does not hold an ROI, but it's a seminal event for us," he said. "The business-value side of the equation is huge, and it's not something that we want to give up."
Acumatica also values sustainability as a company, so the challenge is how to minimize the environmental impact of the event, Wells explained.
This includes accounting for the carbon emissions generated by associated travel and resources consumed, he said. It's important for the event holder to work with the venue and the sponsoring vendors to reduce waste.
"If the hotel does not believe in ESG [environmental, social and governance], if they haven't managed themselves around ESG, if they don't have the expertise, if they don't have the operational sort of backbone for it, it would be difficult to do," Wells said.
It's important to take everything in account from a sustainability perspective, he said, and seemingly small actions can add up to reduce waste or carbon footprints. For example, Acumatica worked with the venue and partners who had booths at the event to standardize signs and booth size and materials, so they can then be reused at future conferences.
"The booths were all brought in by a single local vendor and were all built and configured with some nominal branding [by independent software vendors]," Wells said. "This negates all of these different ISVs shipping their unique booths to the expo, assembling and disassembling them, then sending them back to where they are stored."
Reducing waste is a top sustainability goal for Workhuman, an HR software firm with U.S. headquarters in Framingham, Mass. The company made it a priority for its Workhuman Live 2023 conference, held in April in San Diego, according to Corri Glydon, senior events manager at Workhuman.
Its efforts include participating in Fill-It-Forward, a program that provides reusable water bottles and water for event attendees to refill the bottles, Glydon said. The initiative directly reduces the amount of single-use water bottles and helps fund water initiatives for communities around the world.
Workhuman also selects venues that align with its waste reduction goals, she said.
"We choose conference centers and hotels that supply sustainable flatware and dinnerware and that donate leftover or unserved food to either local farms or homeless shelters," Glydon said. "We also use recyclable materials for most promotional items, such as registration bags, and avoid printing hard copies of our agendas and other materials."
Sustainability top-of-mind, but dig deeper on claims
Sustainability is becoming much more of a priority for organizations today, and events are one way to demonstrate commitment, according to Craig Wentworth, an analyst at TechMarketView.
This is very much in the mind of almost every company we deal with now, because they want to be seen to be at the forefront of this, so they can lead the charge and demonstrate good behavior.

Craig WentworthAnalyst, TechMarketView
"This is very much in the mind of almost every company we deal with now, because they want to be seen to be at the forefront of this, so they can lead the charge and demonstrate good behavior," Wentworth said.
But the desire to gather people together in-person will continue, he said.
"Some of the smaller events are staying as webinars and so on," Wentworth said. "But the big-league ones, especially where there are sponsors and a lot of partners involved that have such a networking advantage alongside the marketing -- I don't see them going away anytime soon."
While more companies are making intentional -- and public -- efforts to host more sustainable events, the majority are not, said Nitish Mittal, partner in the technology practice at Everest Group.
"We've started to see it a little bit, but we don't see it in the majority of the conferences and vendor events," he said. "It's still maybe 20% or less of the events, but it is increasing."
Also, sustainability benefits of efforts such as carbon offsets must be examined carefully, Mittal said.
"Some of these carbon offsets that people buy -- called RECs [renewable energy credits] -- are not worth the price of paper that they're printed on," he said. "A lot is really about financial wizardry, and a lot of companies say that they're carbon neutral just by buying a lot of offsets versus changing their operations, so there's a fair degree of skepticism around that."
Companies making sustainable headway are offering smaller and more local events and reducing the amount of waste produced, Mittal said.
"I was quite surprised, but pleasantly so, that I've not been getting as many corporate gifts at these events because a lot of them were wasteful, but that's low-hanging fruit," he said. "But that messaging and allowing you to buy carbon offsets, although there is skepticism around it, are good moves overall."
Jim O'Donnell is a senior news writer who covers ERP and other enterprise applications for TechTarget Editorial.
Dig Deeper on Sustainability and ESG strategy and leadership